General Usage Performance
Office Productivity SYSMark 2002
Intel Pentium 4 2.2GHz

Intel Pentium 4 2.0A GHz

AMD Athlon XP 2100+ (1.73GHz)

AMD Athlon XP 2000+ (1.67GHz)

Intel Pentium 4 2.0GHz

AMD Athlon XP 1800+ (1.53GHz)

Intel Pentium 4 1.8GHz

AMD Athlon XP 1600+ (1.40GHz)

AMD Athlon 1.4GHz

Intel Pentium 4 1.6GHz



165

158

153

150

144

141

138

136

132

125



|
0
|
33
|
66
|
99
|
132
|
165
|
198
The performance picture changes considerably in the Office Productivity test suite. Only the Northwoods are able to outperform the Athlon XP 2000+ and 2100+ in this test, the additional L2 cache helps offset the long pipeline penalties of the Pentium 4 among other inefficiencies when it comes to executing conventional integer code.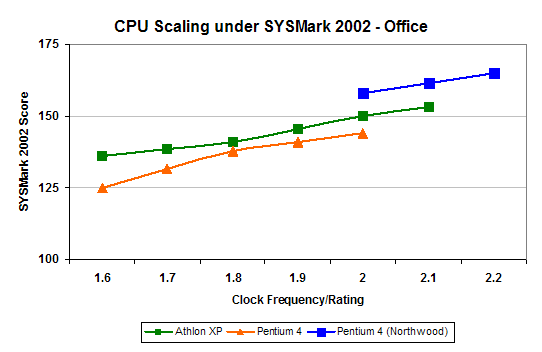 Here we see that the Athlon XP has the ability to scale quite well in this benchmark even as clock speeds increase beyond 1.73GHz (2100+). Additional L2 cache will be necessary however to bridge the gap between the Athlon XP and the Northwood, which could point at a reason for outfitting the Thoroughbred core with more cache.
Overall System Performance
SYSMark 2002
Intel Pentium 4 2.2GHz

Intel Pentium 4 2.0A GHz

Intel Pentium 4 2.0GHz

AMD Athlon XP 2100+ (1.73GHz)

AMD Athlon XP 2000+ (1.67GHz)

Intel Pentium 4 1.8GHz

AMD Athlon XP 1800+ (1.53GHz)

AMD Athlon XP 1600+ (1.40GHz)

Intel Pentium 4 1.6GHz

AMD Athlon 1.4GHz



219

210

186

186

181

176

171

163

160

150



|
0
|
44
|
88
|
131
|
175
|
219
|
263
The overall performance score is derived from the ICC and Office Productivity tests and thus there are no surprises here.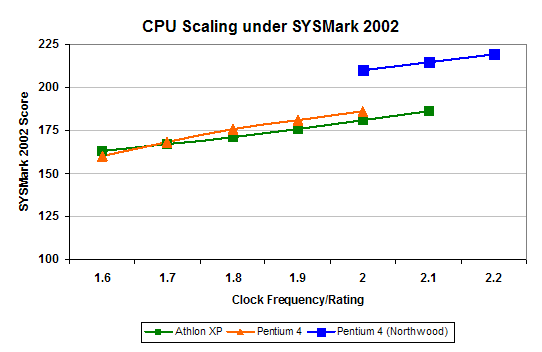 The Pentium 4 and Athlon XP performance curves run pretty much along the same path until the Pentium 4 gets the additional L2 cache courtesy of the Northwood core.
Enter to Win an all expense paid trip for two to the 2002 PC Expo in New York City from AMD and NVIDIA!