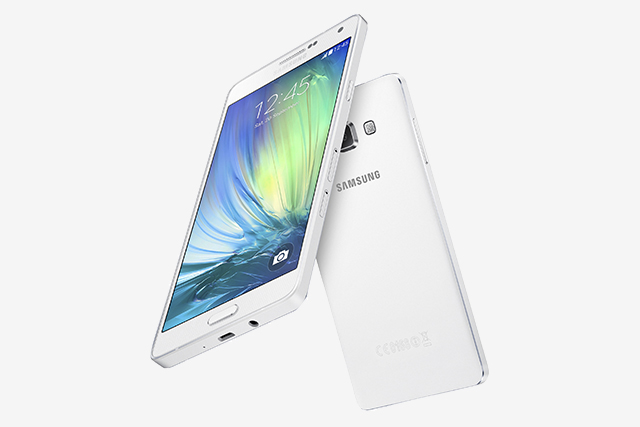 The smartphone space is not as it was a few years ago. There's increasing competition from vendors based in countries like China and India who can put out high quality products at a very low price. In a world where vendors are squeezing them on both the high end and the low end, Samsung has been put under significant pressure to improve their mid-range devices moving into the future. We saw the beginning of this with the Galaxt A3 and A5, which had aluminum unibody designs that seemed to defy their low price point. The latest device to continue this strategy is the Galaxy A7, which is the largest and fastest device of the Galaxy A line. I've laid out its specs in the table below.
Samsung Galaxy A7
SoC
Exynos 5430 or Qualcomm Snapdragon 615
Memory and Storage
16GB NAND + MicroSDXC, 2GB LPDDR3
Display
5.5" HD SAMOLED
Cellular Connectivity
2G / 3G / 4G LTE (Ericsson M7450 or MDM9x25)
Dimensions
151 x 76.2 x 6.3 mm, 141g
Camera
13 MP Rear Facing, 5MP Front Facing
Battery
2600 mAh (9.88 Whr)
Other Connectivity
802.11 a/b/g/n + BT 4.0, USB2.0, GPS/GNSS, NFC
SIM Size
Nano SIM (Dual SIM SKU available)
Operating System
Android 4.4 KitKat
As you can see, the Galaxy A7 is still a mid-range smartphone like the A3 and A5. However, we get some impressive specifications for a mid-range device. The Galaxy A7 comes with one of two similar processors depending on which SKU you buy. The single-SIM LTE model comes with Samsung's Exynos 5430 which has a 1.8GHz 4 x Cortex-A15 cluster and a 1.3GHz 4 x Cortex-A7 cluster. This model uses Ericsson's M7450 Cat4 LTE modem. The dual-SIM LTE/3G model uses Qualcomm's Snapdragon 615 MSM9839 which has a 1.5GHz 4 x Cortex-A53 cluster and a 1.0GHz 4 x Cortex-A53 cluster.
Beyond the SoC, we see what looks to be standard specs for a 2015 mid-range phone. The Galaxy A7 is actually very similar to the Desire 826. It has a 2600mAh (9.88Wh) battery, a 13MP rear-facing camera, 2GB of LPDDR3 RAM, 16GB of NAND, and a MicroSD slot. The Galaxy A7 bests the Desire 826 with its size though. It's smaller, lighter, and much thinner. In fact, with a thickness of only 6.3mm, it's thinner than Apple's flagship iPhone 6 and 6 Plus.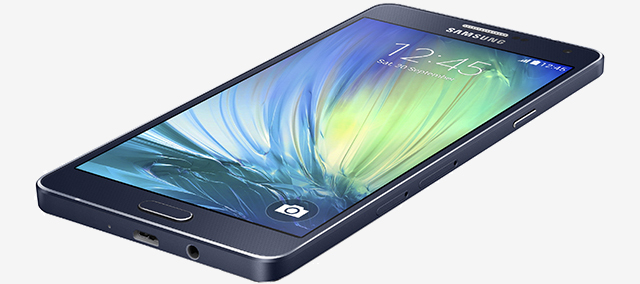 The one listed specification that concerns me is the display. It is described as a 5.5" HD SAMOLED panel, and based on Samsung distinguishing between HD and FHD in previous spec sheets, it's like that the Galaxy A7 uses a 1280x720 display. At 5.5", this would put it at 267ppi which will have visible aliasing and PenTile artifacting. However, if it turns out to be a 1920x1080 display then this will be less of an issue, and we will have to wait until further info is released or the device is in the hands of users before we can make a definite conclusion here.
On the software side, Samsung is advertising many of its camera features such as voice or gesture activated selfie capture, and multi-window app support. Something to note is that the Galaxy A7 will ship with Android 4.4 KitKat despite 5.0 Lollipop being available. This means that the Snapdragon 615 model will have to operate in 32bit mode, at least until Samsung provides an update to Lollipop. Like the Galaxy A3 and A5, the A7 will come in white, black, and gold colors at launch. There's currently no word on price or when the device will ship to specific markets.
Source: Samsung Tomorrow