Power Consumption and Thermal Performance
The power consumption at the wall was measured with a 1080p display being driven through the HDMI port. In the graphs below, we compare the idle and load power of the Zotac ZBOX CI320 nano with other low power PCs evaluated before. For load power consumption, we ran Furmark 1.12.0 and Prime95 v27.9 together. The numbers are not beyond the realm of reason for the combination of hardware components in the machine.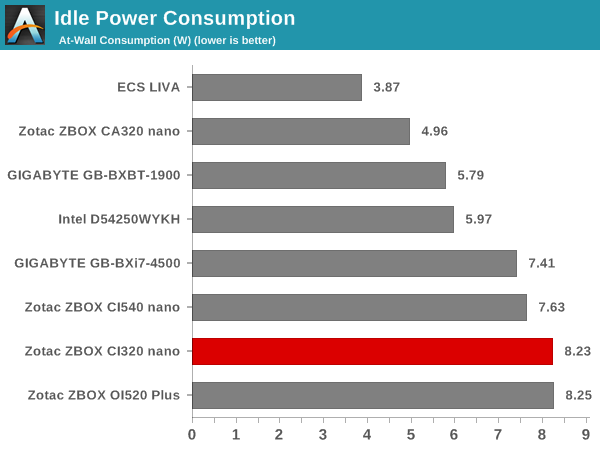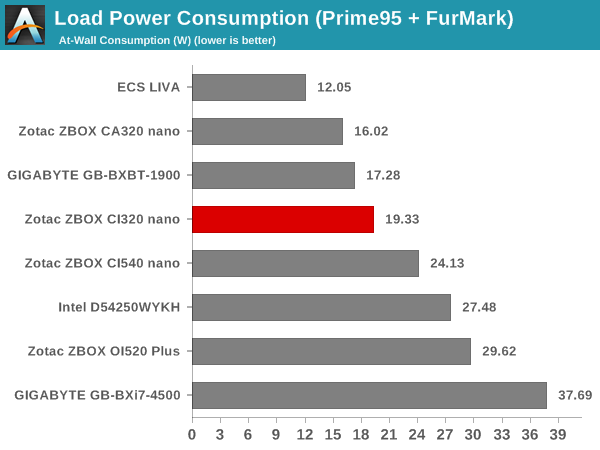 Reasonable power aside, there does seem to be a BIOS default configuration issue causing the idle power to be a bit on the high end. One of the possible reasons was revealed in our evaluation of the thermal performance (discussed below).
The various clocks in the system as well as the temperatures within the unit are presented below. We start with the system at idle, followed by 30 minutes of pure CPU loading. This is followed by another 30 minutes of both CPU and GPU being loaded simultaneously. After this, the CPU load was removed, allowing the GPU to be loaded alone for another 30 minutes.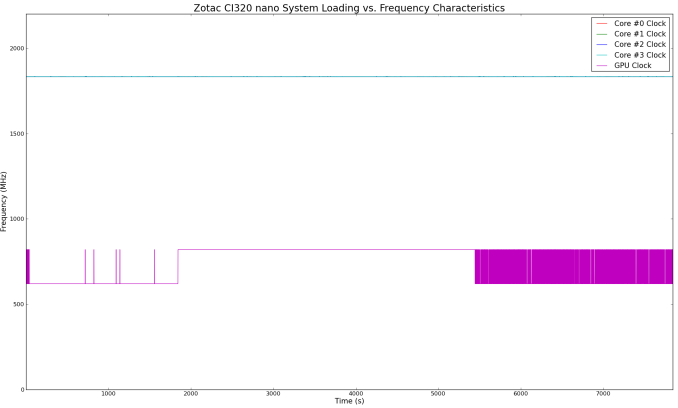 A look at the frequencies above indicates that all the cores are pegged at 1.83 GHz throughout our evaluation (even at idle). On the other hand, the GPU frequency varies between 600 and 800 MHz depending on the GPU load. The junction temperature of the Celeron N2930 is 100 C. The cooling system is efficient and manages to keep the SoC temperature below 93 C even under extreme duress.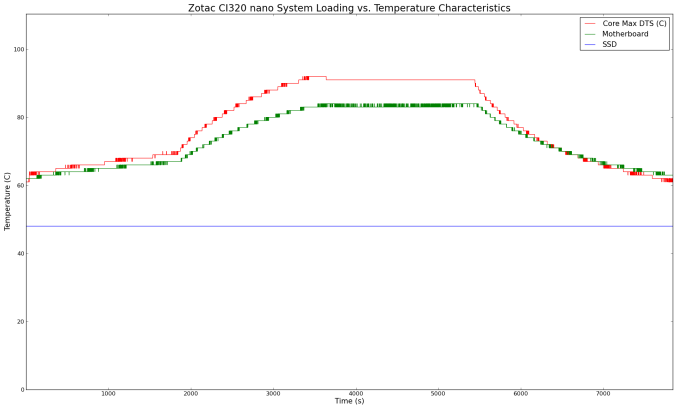 Another important aspect to keep note of while evaluating fanless PCs is the chassis temperature. Using Seek Thermal's thermal imager, we observed the chassis temperature after the CPU package temperature reached the steady state value in the above graph.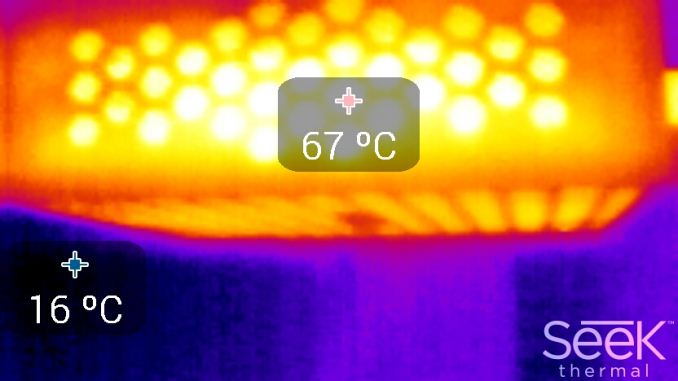 Surprisingly, the chassis temperature was less than 70 C even after heavy loading. Though this is not as low as the 56 C we observed in the CA320 nano, it is better than the 75 C+ that we saw in the CI540 nano.