Final Words
With the Tegra X1, there have been a great deal of changes when compared to Tegra K1. We see a move from Cortex A15 to A57 on the main cluster, and a move from a single low power Cortex A15 to four Cortex A53s which is a significant departure from previous Tegra SoCs. However, the CPU design remains distinct from what we see in SoCs like the Exynos 5433, as NVIDIA uses a custom CPU interconnect and cluster migration instead of ARM's CCI-400 and global task scheduling. Outside of these CPU changes, NVIDIA has done a great deal of work on the uncore, with a much faster ISP and support for new codecs at high resolution and frame rate, along with an improved memory interface and improved display output.
Outside of CPU, the GPU is a massive improvement with the move to Maxwell. The addition of double-speed FP16 support for the Tegra X1 helps to improve performance and power efficiency in applications that will utilize FP16, and in general the mobile-first focus on the architecture makes for a 2x improvement in performance per watt. While Tegra K1 set a new bar for mobile graphics for other SoC designers to target, Tegra X1 manages to raise the bar again in a big way. Given the standards support of Tegra X1, it wouldn't be a far leap to see more extensive porting of games to a version of SHIELD Tablet with Tegra X1.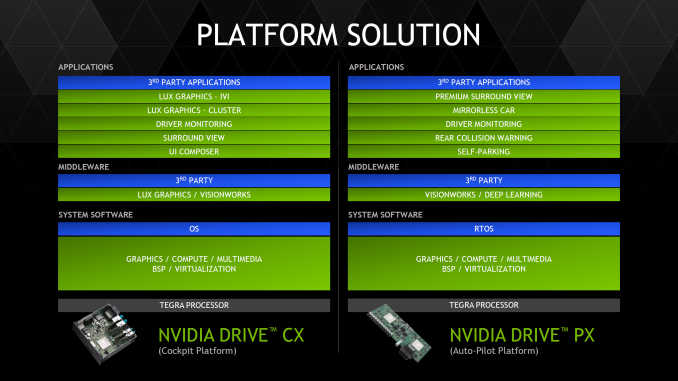 NVIDIA has also made automotive applications a huge focus in Tegra X1 in the form of DRIVE CX, a cockpit computing platform, and DRIVE PX, an autopilot platform. Given the level of integration and compute present in both DRIVE CX and PX, there seems to be a significant amount of value in NVIDIA's solutions. However, it remains to be seen whether OEMs will widely adopt these solutions as car manufacturers can take multiple years to implement a new SoC. Compared to the 3-4 month adoption rate of an SoC in a phone or tablet, it's hard to pass any judgment on whether or not NVIDIA's automotive endeavors will be a success.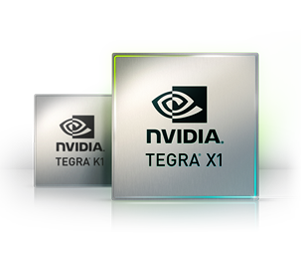 Overall, Tegra X1 represents a solid improvement over Tegra K1, and now that NVIDIA has shifted their GPU architectures to be targeted at mobile first, we're seeing the benefits that come with such a strategy. It seems obvious that this would be a great SoC to put in a gaming tablet and a variety of other mobile devices, but it remains to be seen whether NVIDIA can get the design wins necessary to make this happen. Given that all of the high-end SoCs in the Android space will be shipping with A57 and A53 CPUs, the high-end SoC space will see significant competition once again.