Wearable Products in 2014
Microsoft
In 2014, seemingly out of nowhere (as there were no leaks or press ahead of time), Microsoft launched their first wearable since 2004 with the Microsoft Band. The Microsoft Band utilizes a Cortex-M4 processor and thus runs an embedded OS, not Windows NT. As with other devices using microcontrollers, its first focus is fitness tracking and not smart watch functionality (although that is also included). Microsoft however does fitness slightly differently than their competitors and actually regards this as the launch of both the Microsoft Band and their health platform, Microsoft Health.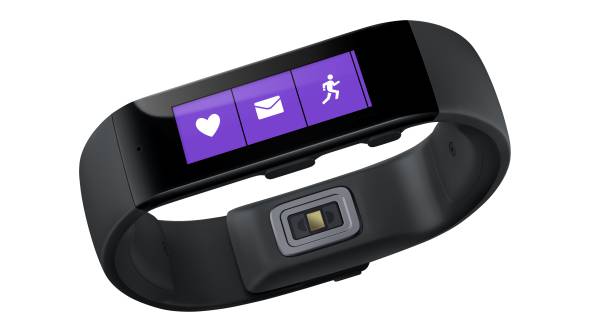 Microsoft Health is a cloud service, such as OneDrive, that aims to help improve the health of its users through data analysis and actionable feedback. Activity tracking devices and apps that connect to Microsoft Health publish data, with your permission, to the Microsoft Health server. Microsoft claims their cloud data framework and analysis provides the only total health service available. Additionally, the Microsoft Health framework is referred to as an open platform, therefore other companies can interface with it as both publishers of data and subscribers of analysis. Microsoft Health also connects to the existing Microsoft service, HealthVault, which contains personal and family medical information and lab results.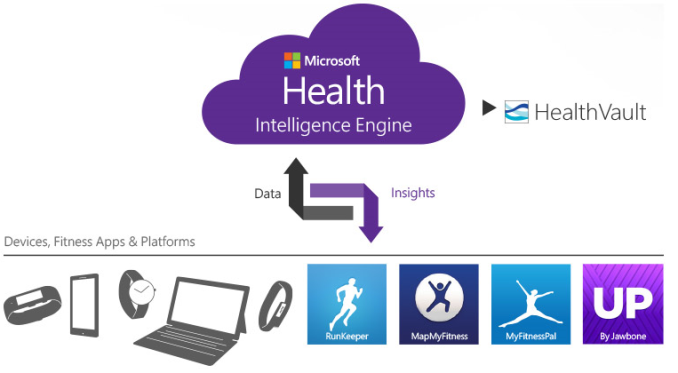 The Microsoft Band itself is the combination of 10 sensors, including some interesting ones such as skin temperature, UV light, and galvanic skin response. Uniquely, the Microsoft Band works with all three major mobile operating systems (iOS, Android, and Windows Phone) by connecting to the corresponding Microsoft Health app. However, you can perform activities (such as running) without a paired device.
Another unique feature is the continuous heart rate monitoring. Other devices, such as Android wear, only periodically query the wearer's heart rate. Microsoft claims this allows them to do better holistic analysis of health. In my experience with the Moto360, depending on how tight you wear the device, the heart rate sensor may not work. Comparatively, the Microsoft Band is mechanically designed so the best way to wear it is always in close contact with your skin. Finally, Microsoft will even license the electronics and software design of the Microsoft Band for other companies to create their own wearables connected to Microsoft Health.
The band itself provides some smart watch features such as calendar, email, and messaging notifications. When paired with a Windows Phone, Cortana support is also available for similar functionality to Google Now. One difference between Android Wear and the Microsoft Band is with app interfacing. As mentioned previously, Android Wear relies on apps running alongside (on your smartphone) or on the device to do things such as run tracking. The Microsoft Band instead has built in support for run tracking, and can publish that data to both Microsoft Health and any compatible app like RunKeeper. Therefore, the Microsoft Band out-of-the-box has several fitness related functionalities without relying on 3rd party apps.
Given my less-than-stellar experience with RunKeeper providing run tracking on Android Wear, a first party approach to fitness is appealing. However, it remains to be seen if Microsoft can keep pace with the wide open field Android Wear provides to app makers.
All of this combined makes a strong argument that Microsoft is ahead of their competition for health related wearables. Google has Google Fit, which plans to provide similar cloud-health functionality and already has some APIs for apps to connect with it, but the web site for Google Fit is downright embarrassing and looks like a simple placeholder with almost no valuable information. Google also had Google Health, which was similar to Microsoft HealthVault, but Google shut down the service in 2011.
I have requested a Microsoft Band for review to analyze how well Microsoft has executed both the Band and Health launches. There are of course other aspects to the Band (such as guided workouts) I will cover at that time.
Apple Watch
While this is a 2014 year in review article and Apple technically did not launch anything in 2014, it is worth mentioning their announcement of the Apple Watch. In America at least, it is often the case that a technology will arrive on the market well ahead of Apple's embrace and not see widespread acceptance. When Apple finally deploys the same technology, the technology crosses the chasm and sees widespread proliferation. NFC payment and Apple Pay are a good example. I saw one or two places offering NFC payment before Apple Pay; now there are dozens. Therefore, Apple announcing the Apple Watch is a watershed moment for wearables.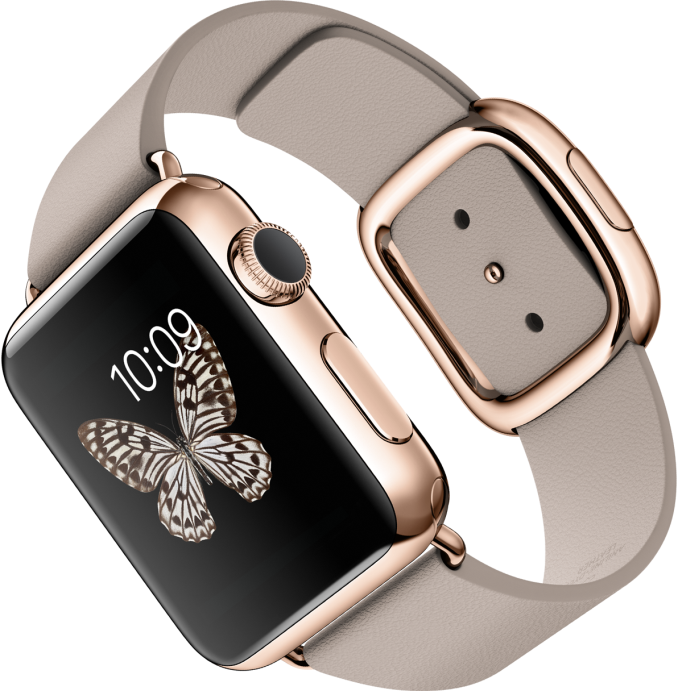 Officially coming to market in spring 2015, the Apple Watch experience appears to be more similar to Tizen based Samsung devices than Android Wear. To start with, the device itself contains WiFi in addition to Bluetooth and therefore should have more freedom than a standard Bluetooth enabled wearable. The core functionality of the device also does not revolve around Siri but appears to be a full blown iOS style launcher.
The Apple Watch likely uses an application processor (AP) and does not rely entirely on a microcontroller. This also correlates with the Apple estimated battery life of one day due to high consumer usage, as an AP will draw more power than a microcontroller when in use. The exact quote from Tim Cook is, "I think given my own experience, and others around it, that you're going to wind up charging it every day. Because you're going to use it so much." Utilizing an AP opens the doors to more use of frameworks and APIs than low-level embedded coding, and therefore facilitates the 3 party app model.
Apple intelligently recognized the need for personalization and styling in a wrist worn wearable and will offer a staggering 34 different models of the device with varying cases, sizes, bands, and editions (Sport, Standard, Gold). Two interesting innovations set to launch with the device are a pressure based touch screen and a tap feedback output, providing a tap sensation in addition to a traditional vibration. We will have more coverage of the Apple Watch when it launches in 2015.
Others
Several other wearables exist (and are more popular in the case of Pebble and Fitbit), but these are going to face an increasingly difficult battle for relevancy in the face of efforts from the main software ecosystem players – Apple, Microsoft and Google. However, Microsoft's strategy of licensing hardware design and Android's more off-the-shelf operating system approach means we should continue to see unique wearables going forward.
Pebble Steel
Pebble is likely the most mature smart watch wearable at this point, given its launch in 2013. Pebble devices possess many days of battery life, a unique perk over the competition. Pebble owes its battery life to the use of a low power microcontroller, low resolution e-paper display, non-touch screen, and only three sensors (accelerometer, compass, light sensor). Therefore, this is certainly not a smartphone on your wrist.
Interfacing with Pebble is accomplished with the set of four buttons on its sides. Pebble began as a dedicated notifications assistant, relaying notifications from paired devices, but has since expanded with some simple apps from 3rd party developers like QR code display to more complex apps such as GoPro control and RunKeeper. In 2014, Pebble launched the follow up, Pebble Steel. The Pebble Steel upgrades the mechanics from plastic to metal, and as I noted with my time using the leather banded Moto360, metal is much appreciated.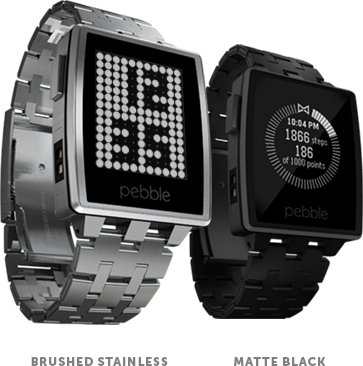 Pebble boasts the best water resistance of the lot, at an incredible 50 meters of depth. Other devices sporting IP67 are only okay up to a meter for 30 minutes, meaning if you jump into a pool you need to be very careful how far you let your arm drift down so you might as well take the device off.
FitBit Charge and Surge
Fitbit launched as an activity tracker in 2008 and has since been iterating on their designs. The first several revisions were clip on devices attached to your clothing, but since the Fitbit Flex in 2013 all have been wrist worn. I personally see wrist worn Fitbit devices everywhere and even worn as fashion accessories. My sister wears a Fitbit that is so decorated with 3rd party accessories it is difficult to discern it as a Fitbit instead of a simple bracelet.
These devices track steps taken, calories burned, and distance traveled. They can also do sleep tracking if you wear them 24 hours a day. Groups of coworkers or friends can use a connected smartphone app with social features to compete on how many steps taken and individuals can set personal step goals.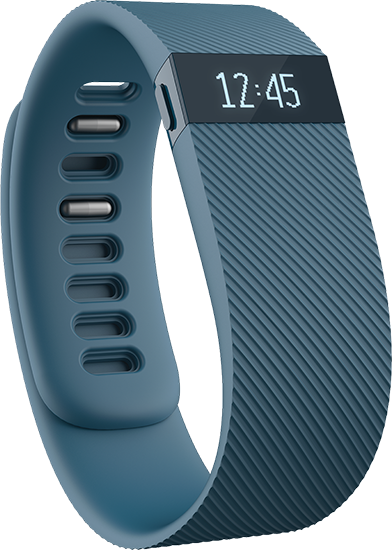 The Fitbit Charge launched in November 2014 and contains a small OLED display that boosts the utility of the Fitbit. The display shows the time, how many steps taken, and displays caller ID if your paired smartphone rings. The time and steps taken display are of notable utility as they prevent a trip to a pocket or purse to find the same information.
The Fitbit Charge HR supplements the Charge with a heart rate sensor. This expands the Fitbit further into a fitness device and begins pushing Fitbit into active activity tracking, such as running or cardio workouts. Alongside launching the Charge HR, Fitbit also expanded their app to record workouts, food eaten (through a barcode scanner or manual entry), and badge earning through workout goals. This was a significant launch for Fitbit to leverage their popular steps tracking position into remaining competitive with the bigger smart watch players.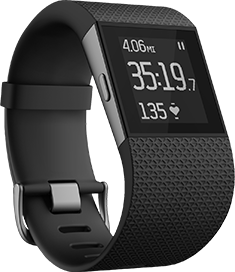 The Fitbit Surge was announced in 2014 but will launch in early 2015. The Surge adds GPS and an LCD display to extend Fitbit's activity tracking and smart watch functions.