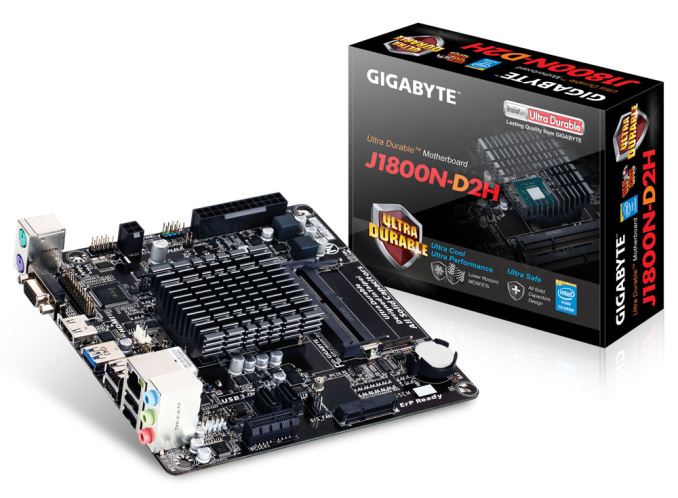 Our recent review of the HP Stream 11 by Brett Howse, featuring a dual core Bay Trail-M, made me wonder about the utility of such a desktop system with Bay Trail-D. Despite testing the J1800N-D2H earlier in the year but not writing a review, I thought it best to polish of the data and see if it still relevant alongside the $200 offerings and worth the potential extra cost for a full build to fill out a motherboard in exchange for the potential extra functionality (2T2R WiFi rather than 1T1R, SATA drives rather than eMMC).
The 10W Celeron J1800 SoC sits at the bottom of Intel's Bay Trail-D range, featuring a dual core with a 2.41 GHz base allowing a turbo mode up to 2.58 GHz with dual channel memory at DDR3-1333.
Intel Bay Trail-D
Celeron
J1750

Celeron


J1800

Celeron


J1850

Celeron


J1900
Pentium
J2850
Pentium
J2900
Cores
2
2
4
4
4
4
Threads
2
2
4
4
4
4
Base Frequency / MHz
2410
2410
2000
2000
2410
2410
Turbo Frequency / MHz
-
2580
-
2420
-
2670
TDP
10 W
10 W
10 W
10 W
10 W
10 W
Tmax / ºC
100
105
100
105
100
105
Integrated Graphics
HD (Bay Trail)
IGP Frequency / MHz
688
688
688
688
688
688
IGP Turbo / MHz
750
792
792
854
792
896
DRAM Channels
2
2
2
2
2
2
DRAM Frequency
DDR3-1333
Tray Price
-
$72
-
$82
-
$94
In terms of competition, AMD's Kabini launch in the middle of the year was a direct competitor to Intel's Bay Trail-D line, offering 25W socketable APUs with better graphics and DDR3-1600 memory, albeit single channel.
Intel Bay Trail-D vs AMD Kabini
Celeron
J1800
Celeron
J1900
Sempron 2650
Sempron 3850
Athlon 5150
Athlon 5350
Cores
2
4
2
4
4
4
Threads
2
4
2
4
4
4
Base Frequency
2410
2000
1450
1300
1600
2050
Turbo Frequency
2580
2420
-
-
-
-
TDP
10 W
10 W
25 W
25 W
25 W
25 W
Tmax / ºC
105
105
90
90
90
90
Integrated Graphics
HD (Bay Trail)
HD (Bay Trail)
R3
R3
R3
R3
IGP Frequency
688
688
400
450
600
600
IGP Turbo
792
854
-
-
-
-
DRAM Channels
2
2
1
1
1
1
DRAM Frequency
DDR3-1333
DDR3-1333
DDR3-1333
DDR3-1600
DDR3-1600
DDR3-1600
Tray Price
$72
$82
$31
$39
$49
$59
AMD also competed on price, offering a motherboard and APU combo in the $65-$110 range, depending on a dual core or quad core configuration. For a comparison point the J1800N-D2H on review today retails for $69. You can read our review of the Kabini APUs here.
Back to the comparison, in terms of on paper performance the HP Stream 11 is a little down in terms of base frequency and DRAM, though does benefit from the mobility aspect, a lower TDP and the stress free 'purchase and use' that you don't get with a self-build system. That being said, a system integrator may be able to provide something very competitive.
Intel Bay Trail-D vs Bay Trail-M
GIGABYTE J1800N-D2H
Celeron J1800
HP Stream 11
Celeron N2840
Cores
2
2
Threads
2
2
Base Frequency
2410
2167
Turbo Frequency
2580
2580
TDP
10 W
7.5 W (4.5 W SDP)
Tmax / ºC
105
105
Integrated Graphics
HD (Bay Trail)
HD (Bay Trail)
IGP Frequency
688
311
IGP Turbo
792
792
DRAM Channels
2
2
DRAM Frequency
DDR3-1333
DDR3L-1333
Tray Price
$72
$107
GIGABYTE J1800N-D2H Overview
Similarly to our review of the HP Stream 11, at such a low price point for an integrated system, we shouldn't expect much from the J1800N-D2H. Technically the SoC from Intel has a tray price of $72, making the motherboard worth $3 below zero. At a 10W TDP for the SoC, the motherboard combination comes with a passive heatsinks, two SATA 3 Gbps ports, a single USB 3.0 port, a Realtek network and ALC887 audio solution and a PCIe 2.0 x1 for good measure. This last factor limits some upgradeability, especially in the graphics or connectivity department but there is a mini-PCIe for a WiFi card (though this is a separate purchase).
On the layout side of the equation for the motherboard itself, the main power connector and front panel header is on the edge of the motherboard, although the mini-PCIe slot, a fan header and the two SATA ports might be compromised by any large PCIe x1 card being used.
Trying to match the HP Stream 11's price point, including a display and keyboard/mouse is tough, and when the 12 months of Office 365 is factored in, impossible unless you get most of the components from old builds or a number of refurbished parts. The big plus with going through a desktop route would be storage, allowing for a good SSD or two and potential of 8GB DRAM, though as we add in a case/power supply the overall cost might hit $200 before the display/mouse/keyboard is taken into account. I once purchased a 1024x768 VGA display for £15 delivered from eBay last year, so going down that route might be feasible. The laptop is more portable however. But desktop computing on the cheap (with more storage space) is possible with something like the J1800N-D2H.
Visual Inspection
At the sub $100 price point, it can start to get difficult to differentiate products in terms of design. When every penny goes towards functionality or research, especially on a small motherboard, it helps to start on the right foot in terms of layout. GIGABYTE take the 10W J1800 processor and understandably fit it with a passive heatsink, and due to the flexible nature of soldered-on processor-based motherboards, there is no visible x-y dimension restriction.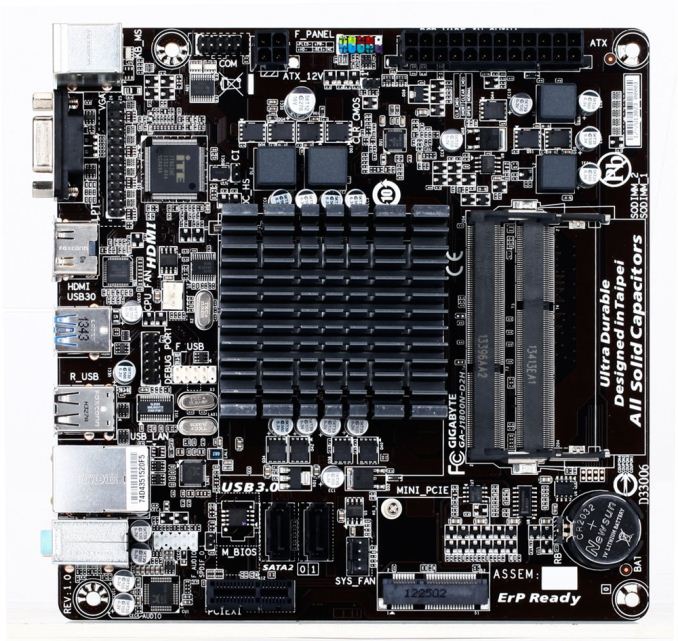 There are still fan headers on board in order to create a cooler system environment – the CPU fan header is a three pin in white to the left of the heatsink, and the other fan header on board is a four-pin SYS next to the SATA ports at the bottom. The power connectors are found at the top, including a 4-pin CPU power connector. The top of the motherboard also houses an LPT header near the rear panel and a COM header.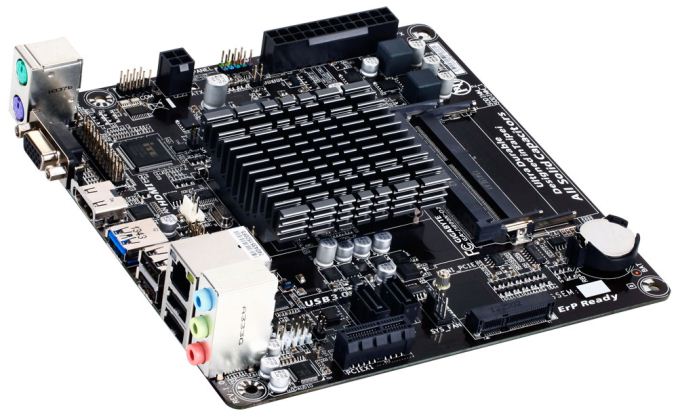 As Bay Trail-D is limited to 1333 MHz memory frequency, manufacturers do not have to adhere to XMP profile design, or limit themselves to full-sized DIMM slots. Here GIGABYTE has equipped the J1800N-D2H with two SO-DIMM slots, with the upper flipped around due to the dual channel nature of the SoC. The use of SO-DIMMs also helps keep the overall z-height down.
At the bottom of the motherboard there is a mini-PCIe for users to add in a WiFi module, the two SATA 3 Gbps ports from the SoC, and a PCIe 2.0 x1 slot that is not open ended. Typically these systems are not designed for discrete GPUs, and the chipset limits the GPU to an x1 prompting a severe bottleneck. In before 'how about a GTX980?'! However, some PCIe 2.0 x1 GPUs do exist if extra functionality is needed.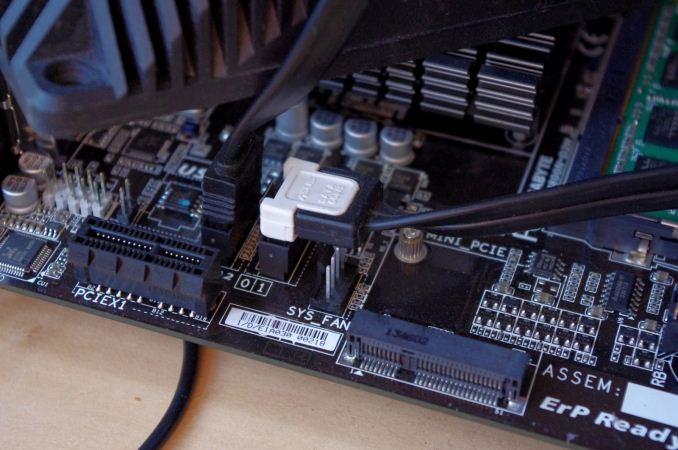 Audio and network are supplied by Realtek, with the J1800N-D2H using an ALC887 on the former. Given that the SoC is a sizable chunk of the cost of this motherboard (assume ~$35-$40 to the manufacturer, giving a ~$25-$30 motherboard), GIGABYTE does not have a lot of room for additional controllers or upgraded audio.

The rear of the motherboard uses two separate PS/2 ports, a VGA output, a HDMI output, the sole USB 3.0 port from the SoC, four USB 2.0 ports, the gigabit Ethernet port and a trio of audio jacks.
Board Features
GIGABYTE J1800N-D2H

Price

Link

Size

Mini-ITX

CPU Interface

Soldered

Chipset

Bay Trail-D Dual Core

Memory Slots

Two DDR3/L SO-DIMM slots supporting up to 8GB
Up to Dual Channel, 1333 MHz

Video Outputs

VGA (2560x1600)
HDMI (1920x1080)

Onboard LAN

Realtek

Onboard Audio

Realtek ALC887

Expansion Slots

1 x PCIe 2.0 x1
1 x Mini-PCIe

Onboard SATA/RAID

2 x SATA 3 Gbps

USB 3.0

1 x USB 3.0 (SoC) [rear panel]

Onboard

2 x SATA 3 Gbps
1 x USB 2.0 Header
2 x Fan Headers
1 x LPT Header
1 x COM Header
Front Audio Header
Front Panel Header

Power Connectors

1 x 24-pin ATX
1 x 4-pin CPU

Fan Headers

1 x CPU (3-pin)
1 x SYS (4-pin)

IO Panel

PS/2 Keyboard Port
PS/2 Mouse Port
VGA
HDMI
1 x USB 3.0
4 x USB 2.0
Realtek NIC
Realtek ALC887 Audio Jacks

Warranty Period

3 Years

Product Page

Link