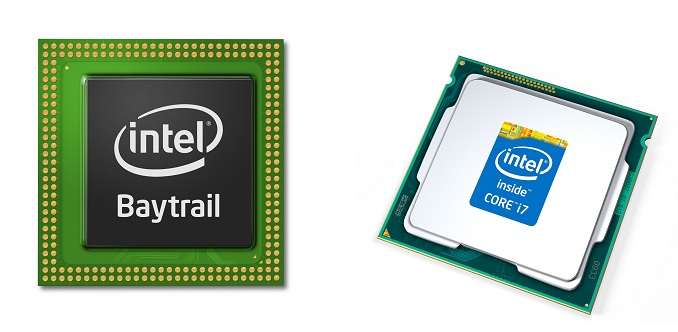 According to a report this evening from the Wall Street Journal, in an email sent to employees by Intel CEO Brian Krzanich, Intel has announced plans to merge their struggling Mobile division with the PC Division. The newly created Client Computing Group would be led by Kirk Skaugen, who currently heads the PC division for Intel. The change in reporting is announced to commence in the beginning of calendar year 2015.
The Mobile and Communications Group, which currently is responsible for tablet and smartphone platforms as well as RF transceivers, GPS, Wi-Fi, and Bluetooth will be broken up. The teams which focus on SoC development will join the Client Computing Group, and those which focus on RF technologies will form a new wireless R&D group.
As we reported in Intel's most recent earnings report, the Mobile and Communications Group had an operating loss of $1.043 billion for Q3 2014. Intel had a goal of putting Atom in to 40 million tablets in 2014, and the plan to do this was to offset the costs of using Bay Trail instead of ARM SoCs, as well as help cover the engineering costs of moving to an Intel platform. While Intel is on track to exceed the original 40 million goal, it has done it at the cost of just over $3 billion to the Mobile and Communications Group bottom line for the nine months ended September 27th.
While this may seem at first glance as a way to move the losses into a profitable division, Intel has not yet decided whether the new divisions will be reflected in their financial reporting structure. So clearly this is not just about the numbers. What this appears to mean is that mobile and desktop will now be given the same priority, and possibly the same access to fabs. In the past, the newest fab nodes have been available for the Core processors first, with the lower margin Atom processors getting access at a later date. The Core processors moved to the Tick-Tock design process where each year a Die shrink (Tick) is alternated with a new microarchitecture (Tock) in 2006, but the Atom processor has just had its first new microarchitecture since 2008 with Silvermont replacing Bonnell. This puts Atom on 22 nm, and a schedule to move to 14 nm in 2015 with Airmont.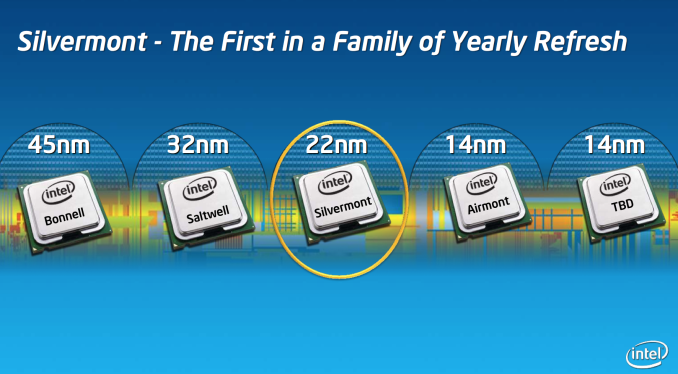 On the Core side, the Tick Tock strategy has been almost flawless, with Intel now dominating desktop processor benchmarks and sales. The strategy would likely work well for the mobile sector as well if it had been started several years ago. According to Chuck Malloy, a spokesman for Intel, "The idea is to accelerate the implementation and create some efficiency so that we can move even faster."
At the same time this may also be a sign that Intel is reevaluating their chip design strategy, and where the line is drawn between Atom and Core. While Silvermont has proven to be no slouch, it is still a mobile focused chip with a narrow pipeline, as opposed to the wider pipeline, higher IPC designs of the Core family. In that sense Core has so far been something of a premium brand for Intel, reserved for higher value (higher margin) devices while Atom has gone into cheaper devices.
If Intel were to shift Core-like high-IPC designs into the Atom family - a distinct possibiltiy now that development for both is under the same roof - that could have a significant impact on Intel's performance in the mobile market. Apple has already pursued a variant of this strategy to great effect, their Cyclone family of CPUs being very Core-like in design and frequently topping the performance charts in the process. However in the process Apple has thrown some very large (120mm2+) SoCs into their devices, something that helps their performance but would certainly give margin-centric Intel pause for thought.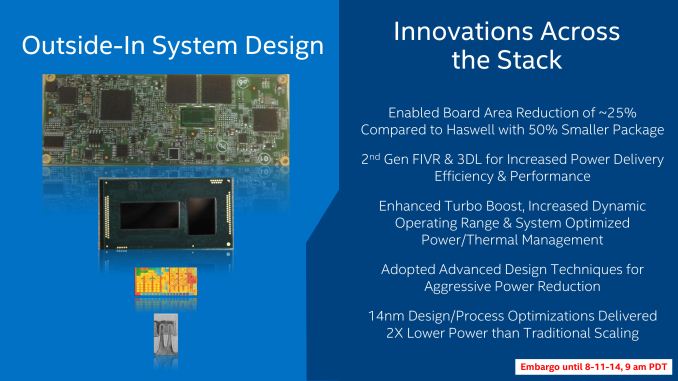 Overall, although details are light this could signal a big change in the way Intel does business. If mobile gets the same sort of priority as the flagship Core series and the same sort of top-tier architectures, this could be of great benefit to Intel's CPU performance in the mobile space. At the same time, the PC division may also benefit from some of the mobile experience. As we have seen with Core M, Intel has focused a lot on overall package size and thickness. Moving the expertise in that area into the same division as the people responsible for the Core series could have benefits as well.
With this change just coming into effect at the start of 2015, it will not likely have any impact on Skylake or Airmont, however we could see some synergy in the follow up products.
Source: Wall Street Journal, Bloomberg, PCWorld