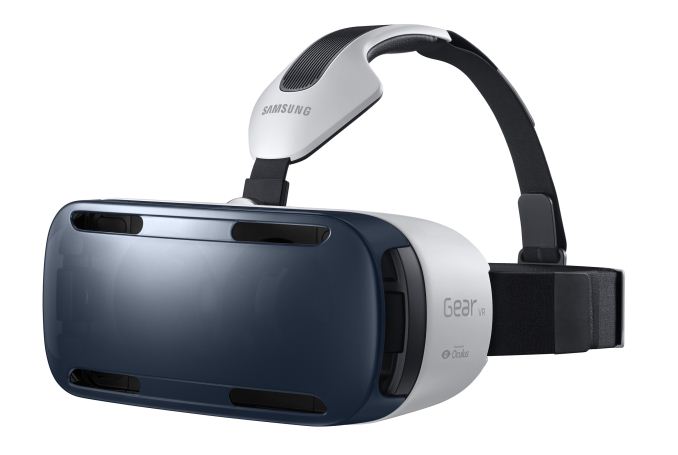 Today Samsung announced that their Gear VR Innovator Edition will be available in the United States starting in early December of this year. The Gear VR Innovator Edition is Samsung's head-mounted display that was developed in partnership with Oculus. Unlike the upcoming Oculus Rift, the Gear VR doesn't have an internal display. Instead, it acts like an accessory by using the Galaxy Note 4 as its display.
With the launch of the Gear VR Innovator Edition, Oculus will make its Oculus Mobile SDK for Gear VR available to developers. Samsung has also partnered with Oculus and other companies to make a variety of demos and services available for the Gear VR upon launch, which I've included in the list below.
As part of the Marvel's Avengers: Age of Ultron partnership with Samsung, Gear VR users will gain exclusive access to Tony Stark's Lab inside the all new Avengers Tower.
Cirque du Soleil Media presents a 360° live-action 3D VR experience, featuring an act from Zarkana filmed by Felix & Paul Studios.
DreamWorks VR from DreamWorks Animation allows Samsung Gear VR users to interact and laugh with DreamWorks characters and content in a whole new way like never before.
Harmonix Music VR takes your music library and transports you to a fully immersive, musically responsive environment, allowing you to relax in a vibrant soundscape and explore visualizations set to your favorite tracks.
M-GO Advanced, a new paradigm for digital video VR applications, offers an unmatched interactive search and discovery experience with Samsung Gear VR.
Oculus Home – Your VR home screen and content discovery center, which includes a Samsung section
Oculus Store – An application that lets you browse and download new content from the Oculus platform
Oculus Cinema – A VR movie theater and cinema where you can watch your favorite movies in an immersive virtual environment
Oculus 360 Videos and Photos – Be immersed in 360° videos and panoramas like never before from within Gear VR
Protocol Zero from DENA enables Samsung Gear VR players to infiltrate enemy grounds undetected in blackout conditions with hi-tech optics including night vision, X-ray vision, and thermal vision.
Temple Run VR is the latest edition in Imangi's Temple Run series, challenging Samsung Gear VR players to run as far as they can through a perilous winter wonderland as they escape the clutches of Arctic Demon Monkeys.
Vevo offers more than 100,000 HD music videos, live concert events and original programming that can be enjoyed in an immersive, full-screen theater experience on Samsung Gear VR.
WemoLab's theBluVR allows users to immerse themselves in the dream-like majesty of marine life.
It certainly seems like Samsung has done a good job with making partnerships to provide content for the Gear VR. However, Samsung still hasn't given any firm details regarding pricing, which will definitely be a major part of what determines the success of the Gear VR. There have been rumors that it will be around $199, but Samsung is still not advertising an official price. Hopefully we'll get more details as the release date for the Gear VR Innovator Edition approaches. More details and some of the specifications for the Gear VR and the accompanying Galaxy Note 4 are available in the source below.
Update: Oculus has confirmed the $199 pricing in a blog post, along with a $249 price for the model with an included Bluetooth gamepad.
Source: Samsung Mobile Press