GPU Performance
In the graphics department we're matching up Qualcomm's Adreno 420 versus the Mali T760MP6. The Adreno is running at 600MHz and is able to benefit from almost double the memory bandwidth at 25.6GB/s versus 13.2GB/s due to the Snapdragon's increased 128-bit memory interface. Let's look at how both compare in our overall benchmarks: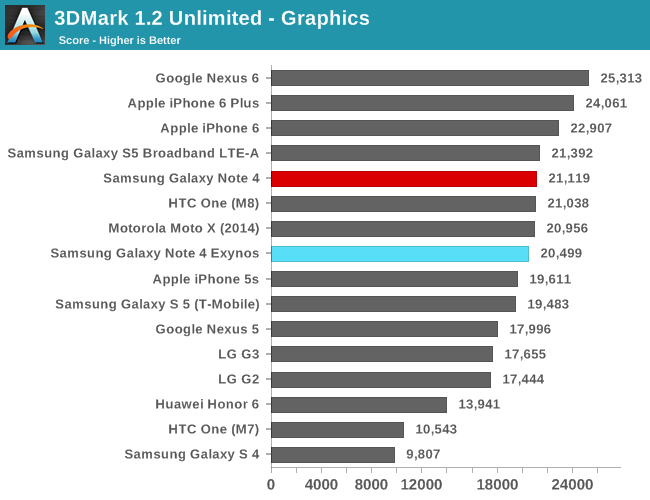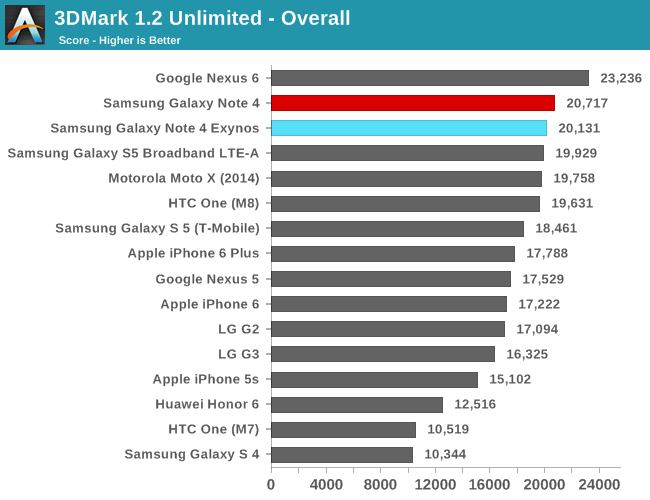 In 3DMark Unlimited the Exynos version comes just short of a few fps behind the Adreno 420. What is also surprising is that the Exynos 5433 performs much better in the physics score than I had anticipated; the same test on Huawei's SoCs limited the thread onto the little cores in the default settings giving mediocre performance results. However, it seems the A53 is performing much better and is able to match Qualcomm's offering now.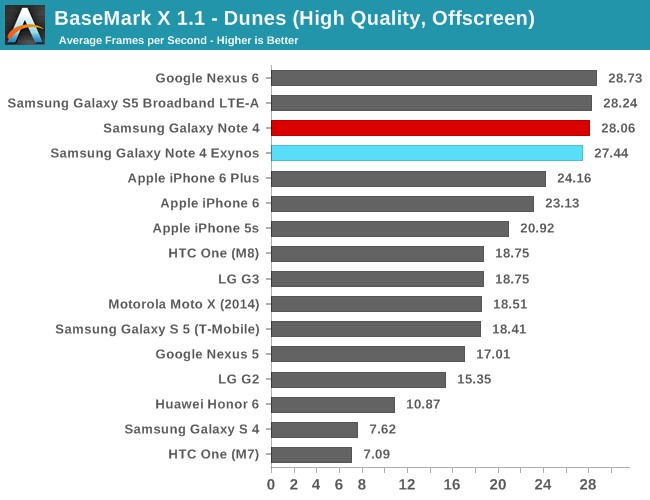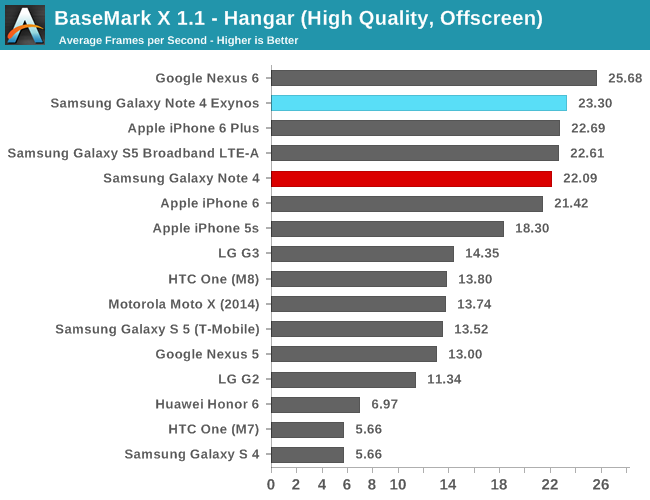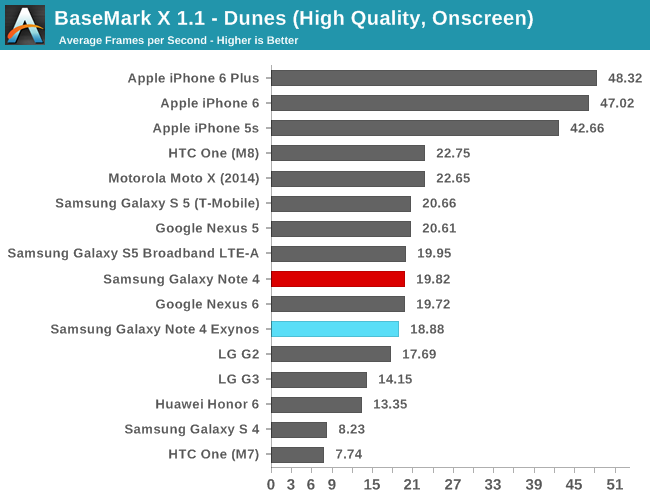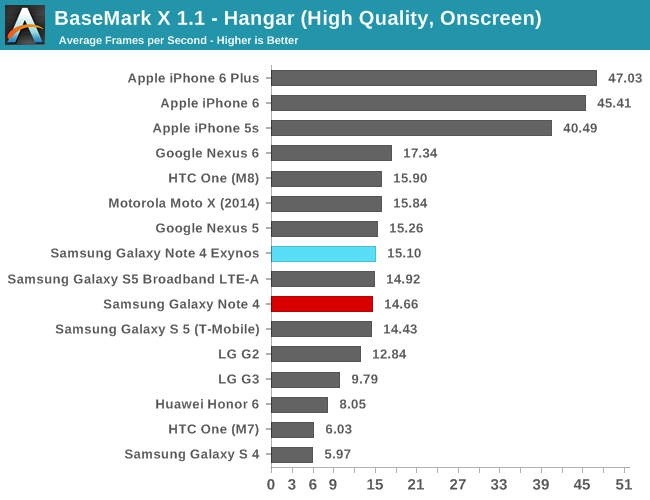 In BaseMark X 1.1, the Exynos is again neck-and-neck with the Snapdragon version. It loses by a slight margin in the Dunes benchmark while winning in the Hangar scenes by a similarly small margin. BaseMark X is again one of the benchmarks that can trigger the 700MHz state of the Mali GPU, offering higher performance at a much higher power draw depending on which scene is currently rendered on both tests.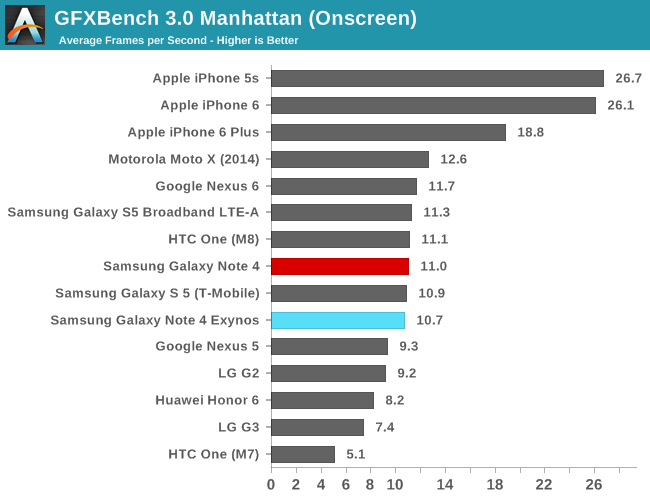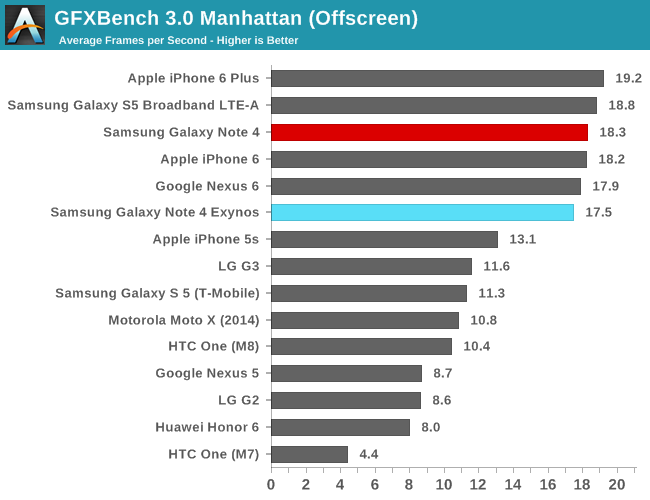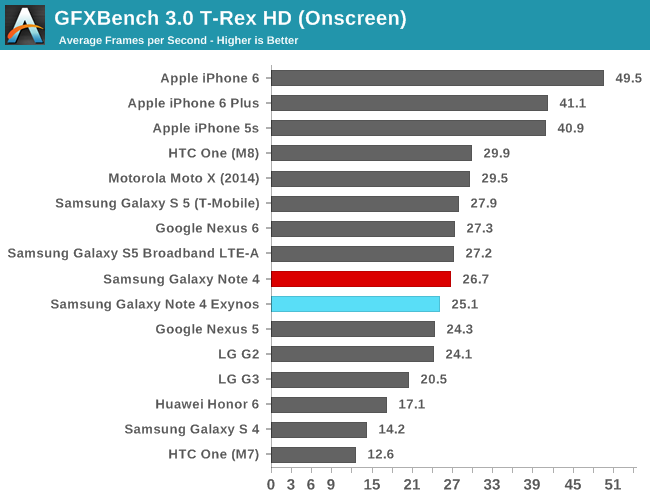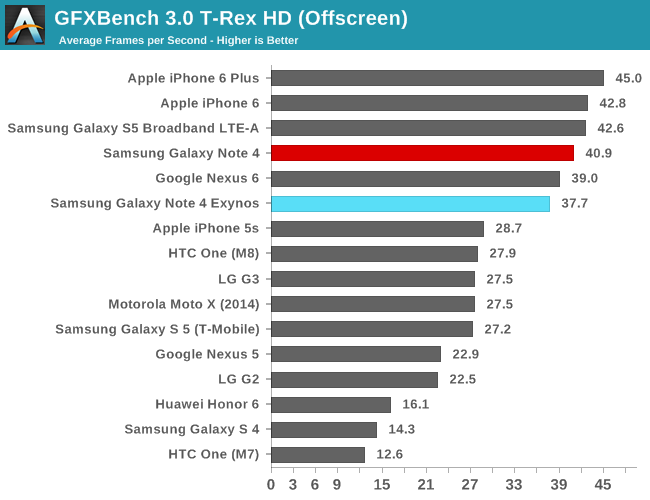 Again we continue to see the same pattern in GFXBench's scenario benchmarks, with the Exynos version lagging a few frames behind the Qualcomm GPU in both Manhattan and T-Rex, in both on-screen and off-screen results.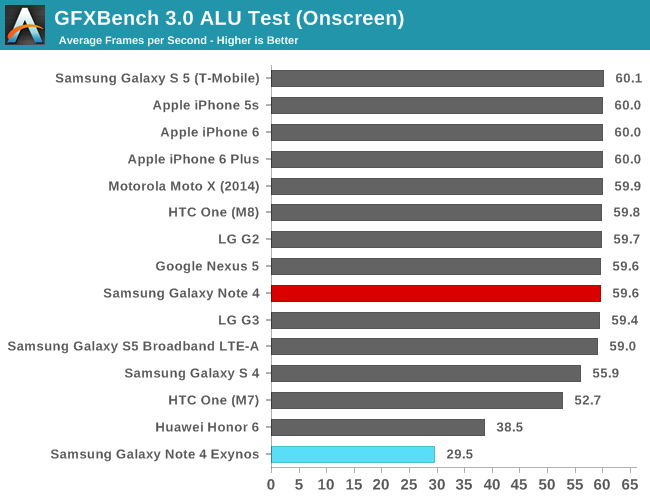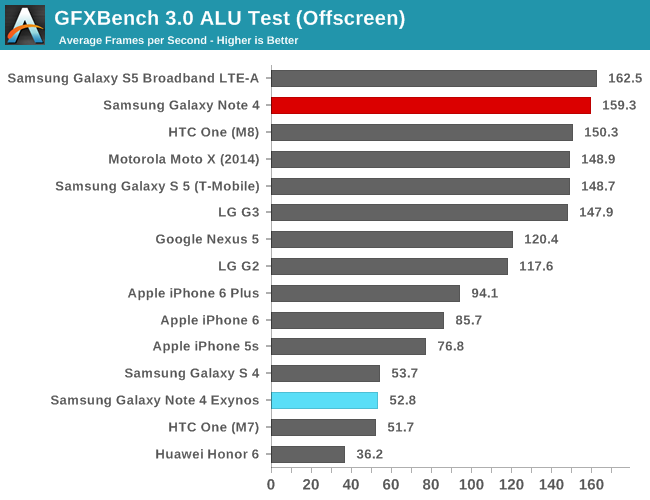 It's on the synthetic tests that we finally see some major deviation between the two architectures. ARM's Mali simply can't seem to keep up with the ALU throughput of Qualcomm's architecture. Both the Adreno 330 and 420 have a clear computational power advantage, exceeding even Imagination's PowerVR GPUs in the iPhones, leaving Mali strictly on the lower end of the performance spectrum.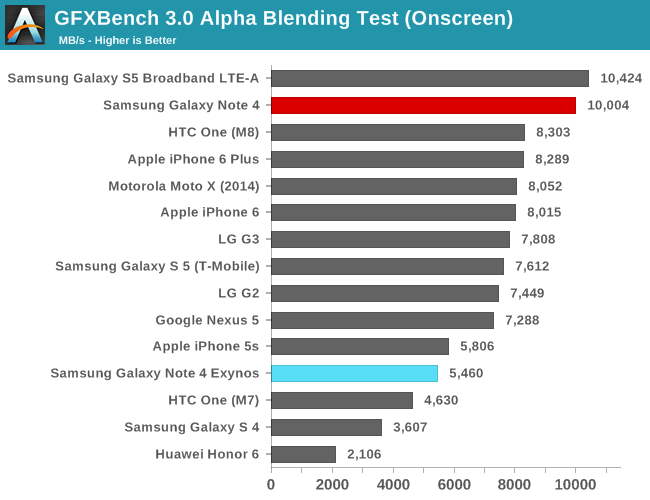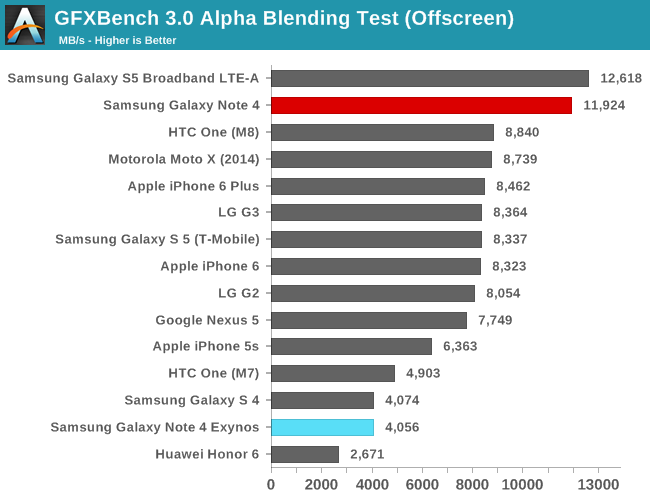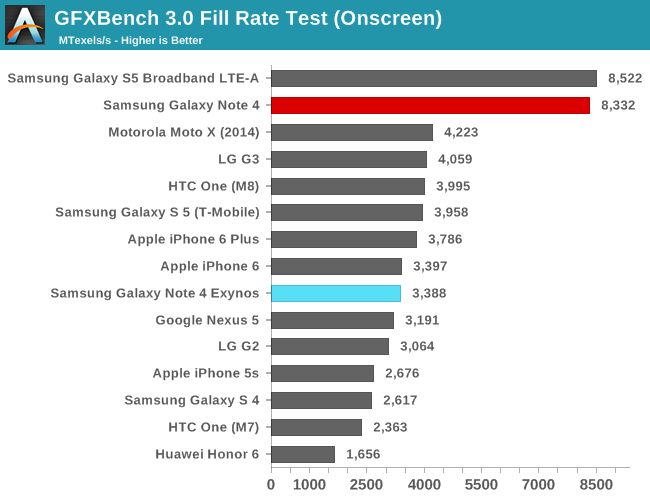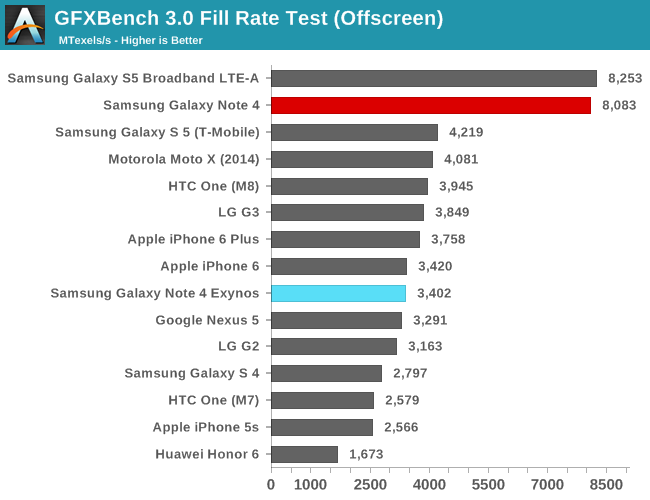 We see a similar situation in the Alpha Blending and Fillrate tests, as the Adreno offers 2-3x the throughput. Utilizing the extra memory bandwidth here seems to be key to the success of the Snapdragon 805's graphics performance.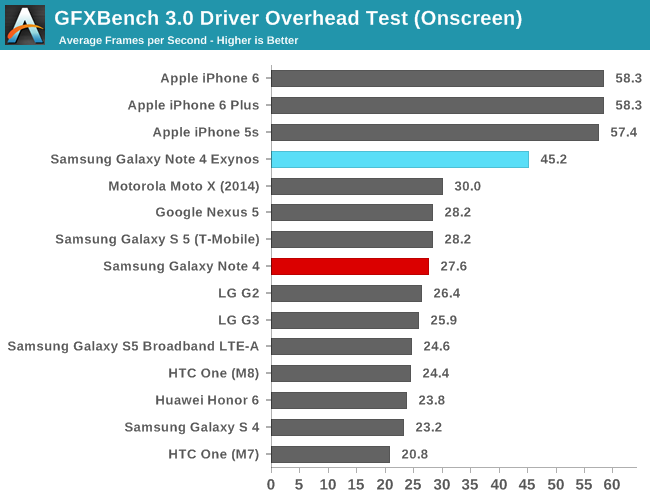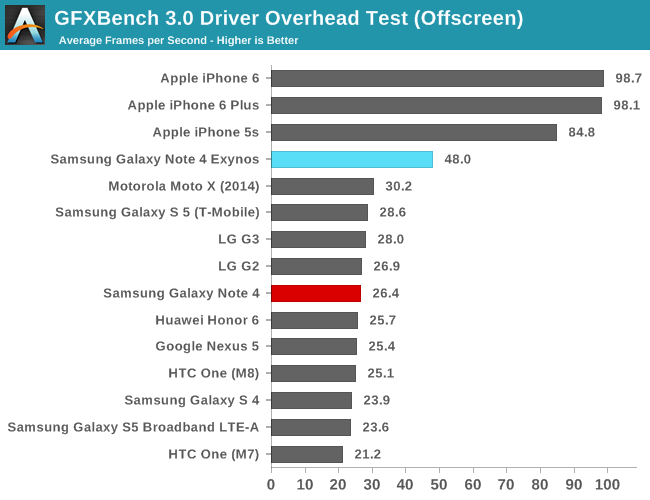 I've already mentioned the Driver Overhead score in the the more in-depth analysis of the T760. It's the first Android device to truly stand out from the rest of the crowd, finally making some progress into trying to catch up with Apple's excellent performance on iOS. Here's hoping more vendors concentrate on improving this metric in future driver updates.
I did some extensive power measurements on the Note 4 Exynos in this review, so naturally we're keen to see how this transforms into our battery benchmarks on the next page.