Performance Estimates
Wrapping things up, as Imagination is an IP licenser there isn't any specific hardware to talk about or benchmark today, but Imagination has provided some performance estimates. As always these should be taken with a grain of salt, but until SoCs are released using the Series7 designs later next year, these are the best estimates we are going to see.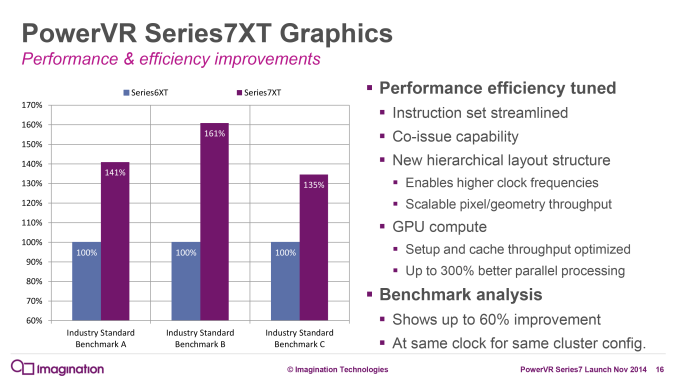 Ultimately the overall performance gains from 6XT to 7XT will depend on the application and the specific design goals of the SoC integrator, with Imagination's internal data looking positive. At equal clockspeeds and cluster configurations, Imagination is showing performance gains of 30-60% for Series7XT. It should be noted that these numbers do not hold power consumption equal – higher utilization means transistors doing more work and burning energy more often – so real-world performance gains in power/heat limited scenarios would not be as great. But we are told to expect that at equal power levels performance should still be greatly improved over Series6XT, and even more over older Series6 devices.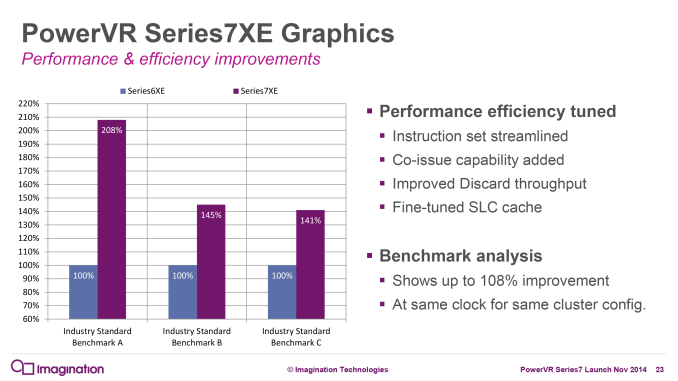 Meanwhile from a performance perspective Imagination's numbers paint 7XE as looking even better than 7XT on a relative gain basis. Once more holding core configurations and clockspeeds equal, performance is improved over 6XE by anywhere between 40% and 100%. No official explanation is provided for why 7XE benefits more than 7XT, but as 7XE has fewer USCs it also faces fewer bottlenecks from scaling, which can certainly be an advantage.
Closing Thoughts
All told, from top to bottom Series7 is designed to scale by a factor of 32; from ½ of a cluster up to 16 of them. With such a large range of configurations, Imagination is anticipating being able to cover the entire market with Series7, from wearable devices up to notebooks and even server compute clusters.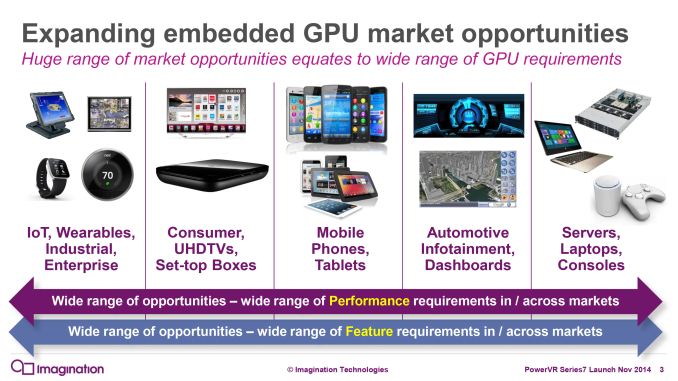 Meanwhile Imagination estimates that we should start seeing Series7 appear in retail roughly a year from now. This would be consistent with Series6XT/6XE, which were formally introduced at CES 2014 and hit the consumer market late in Q3 in devices such as the iPhone 6. We should see Series7 devices in roughly the same timeframe and consequently at this point it's not unreasonable to expect Series7 to appear in Apple's next SoC, judging from their history with Series6 and Series6XT.
With that said, it will be interesting to see how the SoC GPU market evolves over the next year leading up to Series7. Though very successful in supplying GPU IP to Apple, Imagination has been locked out of a number of potential Android devices due to Qualcomm's strong position in that market and their own vertical integration. The launch of Android 5.0 "Lollipop" and its 64bit support serve as a potential catalyst for change in the Android hardware ecosystem, and while this is a battle that will initially be fought by Series6XT (as Cortex-A57 and A53 are already available), the transition time and the lead-in time required for SoC development means that Series7 will still play a big part in that.
Ultimately Series7 will be going up against stiff competition from a variety of competitors, so design wins will be hard-fought. In the GPU licensing space Imagination's principle competition will be ARM and the recently-announced Mali 800 series (which will be available at roughly the same time). Meanwhile integrated SoC designers like Qualcomm and NVIDIA will also have competitive products such as the Adreno 400 series and Maxwell based Erista SoC respectively. So for 2015 as has been the case through 2013 and 2014, the SoC GPU space continues to be a busy and crowded market for Imagination, PowerVR Series7, and its competitors.