2wire HomePortal 100w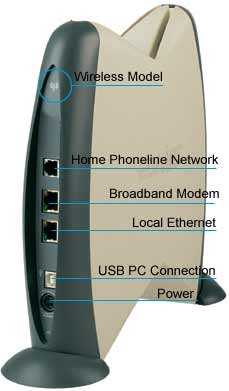 The HomePortal 100x series of broadband routers from 2wire is truly and interesting product line. The most basic unit is simply called the 2wire HomePortal 100 and contains a 2 port broadband router (one WAN, one LAN), a HomePNA 2.0 bridge AND a USB interface option. The unit we had a chance to test is the 2wire HomePortal 100w, which integrates an 802.11b wireless LAN into the package along side the HomePNA 2.0, USB and Ethernet interfaces. The 2wire 1000 and 1000w series are identical to the 100x series, but in addition, they include a fully-capable aDSL modem, allowing it to become a stand-alone DSL modem, broadband router, USB NIC and Ethernet/wireless/PNA bridge.
Cost
The functionality comes at a cost. The 2wire 100 costs $199 and the 100w fetches $399. 2wire does not sell through distribution channels and therefore only certain retailers sell these products. CompUSA and Office Depot are amongst these retailers, but because of the limited distribution, pricing is very uniform with no variation from retailer to retailer. The 1000 line is only available directly through your local DSL provider. Currently Verizon DSL offers this as an "extra" with their service.
Management
The gateway's web-based management interface allows the configuration of most options, including internal and external IPs, NAT port forwarding and wireless encryption and access control. Our impression of it, however; is that the interface is designed for network novices and tends to be somewhat quirky. For example, it does not refresh the list of clients on the network frequently, but it relies on the list to enable certain administration functions with that host or its IP. In addition, this router is designed for a very specific purpose. You cannot disable NAT, nor can you disable the DHCP server. There is no ability to place systems in a DMZ to allow more unregulated access to the Internet as is required for many servers. 2wire did not intend this router to be used for servers, nor is it intended to behave when it is not the core of a network's routing. It is designed for home users and features such as DMZ were determined to be unnecessary and even dangerous for most home users.