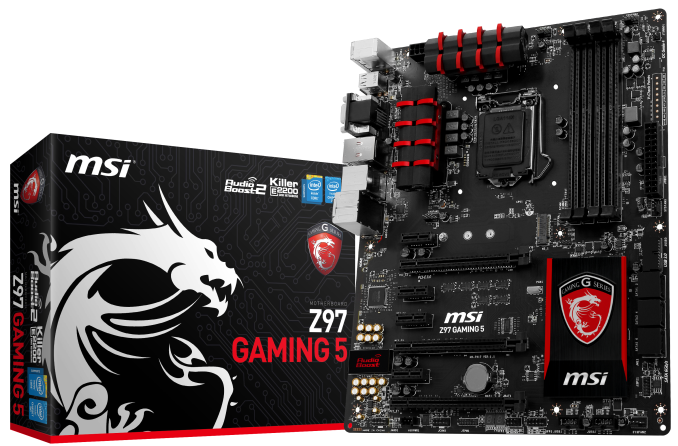 Sometimes it feels odd to review the cheaper elements of the motherboard market. The more expensive models have more to play with, whereas the sub $160 market for Z97 comes down to the choice of an individual controller or two. Here is where brand loyalty and styling seem to matter more than absolute feature set. To make matters worse for MSI, one of the other manufacturers is also branding their motherboards with 'Gaming X', making it harder to forge that nomenclature as a brand. Today we are looking at the MSI Z97 Gaming 5 at $160, which at the time of writing is sold out on Newegg.
MSI Z97 Gaming 5 Overview
One of MSI's main focus points of the last twelve months has been style. This typically means fashioned heatsinks, almost-invisible traces and if possible a reduction of on-the-board components (trying to balance price as well). MSI wants its motherboards to be shown off, rather than hidden inside a case, such that other users can show it off to their friends and perhaps entice them into a similar build. The Gaming 5 aims to the more cost conscious Haswell build while still maintaining a full ATX size in the red and black livery featuring the MSI Gaming logo.
On the gaming side of the hardware equation the Gaming 5 is fitted with a Killer E2205 network port which comes with application prioritization software, as well as an enhanced Realtek ALC1150 audio solution via Audio Boost. For users with USB DACs there is a feature to offer enhanced power to a pair of USB ports as well to improve power signal quality. There is also M.2 support for 22x42mm to 22x80mm devices up to PCIe 2.0 x2 speeds, and all the fan headers onboard are 4-pin.
One of MSI's positive points of late has been the BIOS and software combination, which for the gaming range is boosted by a six-month premium subscription to XSplit. The box also contains a door hanger to let people know you are gaming and an MSI Gaming case badge to affix to the build.
Performance at stock is a bit of a mixed bag. We get a good array of CPU results due to MSI's aggressive MultiCore Turbo, along with low idle power consumption and DPC Latency, but MSI's tri-annual USB speed bug rears its head again. POST times are also longer than expected, being north of 14 seconds in both stock and stripped mode. Despite our audio tests also performing poorly, MSI has informed us of a driver update that should improve performance.
The best point of comparison for the Gaming 5 will be the Z97 Guard Pro at $110 we reviewed previously. Compared to the Guard Pro, the Gaming 5 gets SLI support, Killer NIC over Realtek, ALC1150 over ALC892 audio, HDMI rather than DisplayPort, support for 3 full-length PCIe devices, more rear panel USB ports, more in the package and perhaps a nicer looking product overall. This amount might be a sufficient difference to account for the $50 upgrade, although whereas the price of the Guard Pro might suit a Pentium build, the Z97 Gaming 5 really indicates a good i3 or i5 build.
Visual Inspection
One of the first things I noticed about the Z97 Gaming 5 is the PCB, especially in the socket area. MSI would seem to have a knack for making a PCB look polished, especially on these lower end models where there are fewer components. Like other gaming ranges, MSI uses a red on black theme here, with the heatsinks being the main source of red on the motherboard. The slots and port connectors are all in black, and even the power delivery chokes are an off gray as to not interfere with the general look.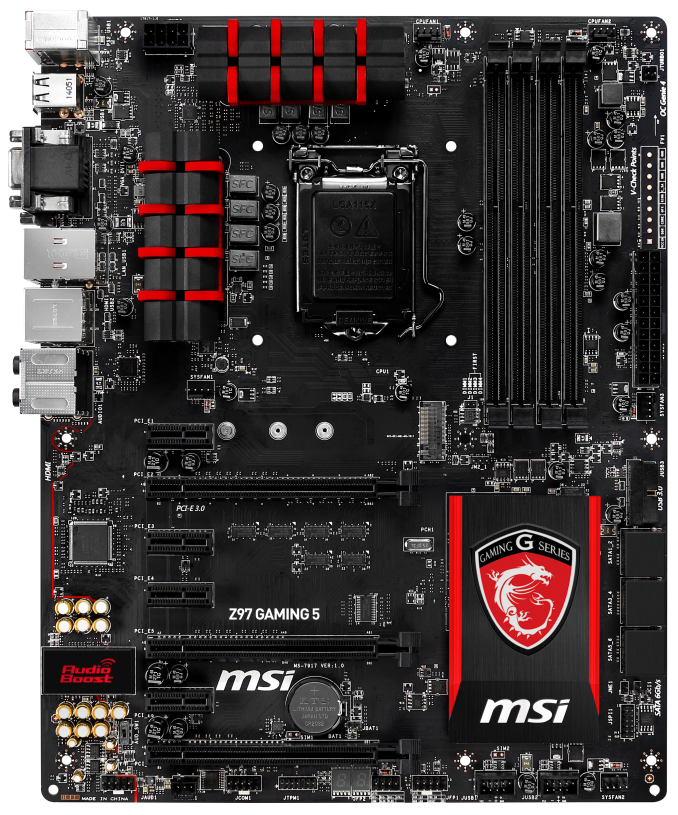 The power delivery heatsinks use an odd surface area design and are not conjoined by a heatpipe, but feel sturdy enough for four phases each. The socket area is not outlined by the typical white box denoting the Intel minimum distances, although we had no issue fitting our CPU heatsink here. The socket area has access to four fan headers – two CPU headers to the top right, one SYS header just above the first PCIe slot and a final one below the 24-pin ATX power connector. The other fan header is at the bottom right of the motherboard.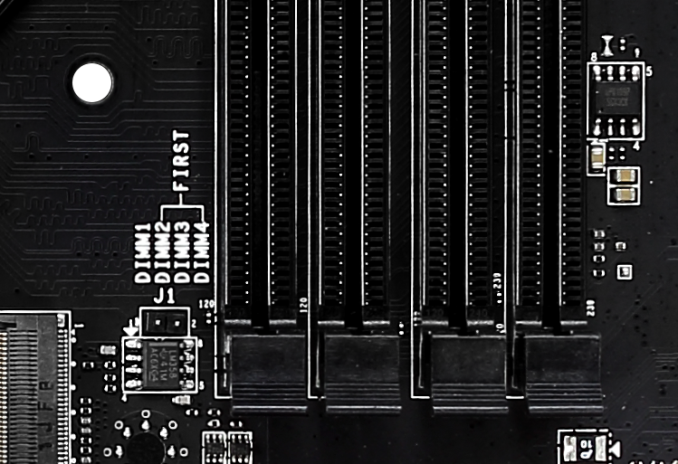 As the DRAM slots are not color coordinated to indicate to users where to install the first memory stick, MSI puts in a handy diagram on the motherboard.

On the right hand side of the motherboard are the voltage check points. This is more of an overclocker tool, hence MSI has only placed pads here rather than an easier-to-use molded array with bundled connectors. Further down the board is the USB 3.0 header which MSI has placed at right angles to the motherboard to align with the SATA ports but also to not get in the way of any PCIe devices.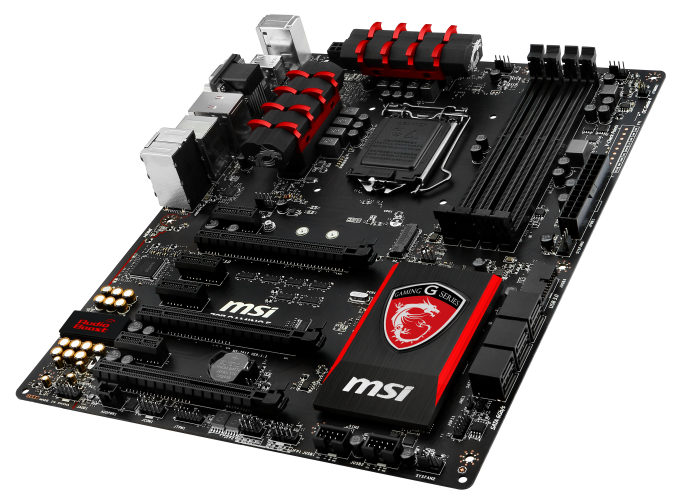 MSI uses the six SATA 6 Gbps ports from the chipset, all of which are RAID 0/1/5/10 capable. SATA_5/6 share bandwidth with the M.2 when the M.2 is in SATA mode, so there is a small amount of mental juggling to perform when installing storage. This is despite M.2 is still a few quarters away from mainstream sales. Note that there is no SATA Express, perhaps indicating that SATAe should be reserved for the more expensive produce on the shelf.

The bottom of the motherboard has the front panel headers, two USB 2.0 headers, a TPM header, a COM header, and an interesting addition as the 'Audio Power' header. One of MSI's features is better USB power – this uses a bundled adapter and a 4-pin molex to drive a fresher 5V signal into the USB on the rear panel to give a power signal with less jitter. The concept being that it would benefit USB Audio users for better signal transmission.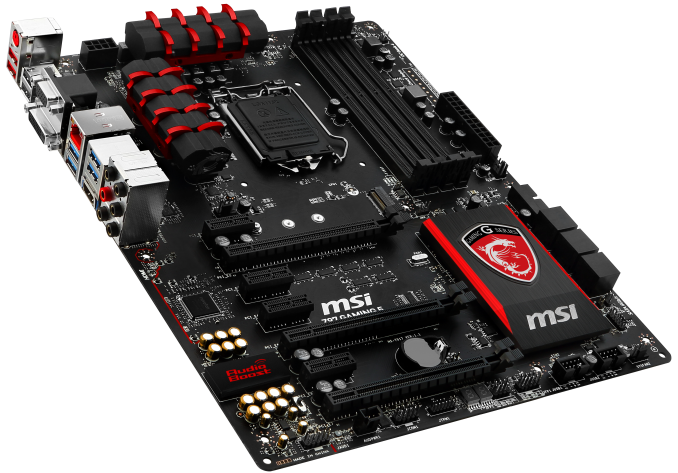 The PCIe layout of the motherboard uses x16, x8/x8 and x8/x4/x4 when the full length slots are in use, with four x1 PCIe slots from the chipset added in for good measure. Note that if a device is installed into the bottom PCIe slot then SLI will not work, as the first two main PCIe slots will then run at x8/x4, and SLI needs x8/x8 minimum to work.

The rear panel is a main focus for some of MSI's gaming features. On the far left are a combination PS/2 port and two USB 2.0 ports, with these USB 2.0 ports being part of the 'Gaming Device Port'. MSI's marketing materials say that with 3x more gold in the connector, the port is more responsive and has a 10x longer lifetime. While the latter statement is most likely true, the first statement is dubious – more gold would mean less impedance for signals, although without overriding software to increase the polling rate I doubt it would do anything for responsiveness.
Elsewhere on the rear panel we get another two USB 2.0 ports, VGA/DVI-D/HDMI video outputs, four USB 3.0 ports, the Killer E2205 network port and audio jacks with extra gold plating.
Board Features
MSI Z97 Gaming 5
Price
US (Newegg)
Size
ATX
CPU Interface
LGA1150
Chipset
Intel Z97
Memory Slots
Four DDR3 DIMM slots supporting up to 32 GB
Up to Dual Channel, 1066-3300 MHz
Video Outputs
HDMI (4096x2304 at 24 Hz or 2560x1600 at 60 Hz)
VGA
DVI-D
Network Connectivity
Qualcomm Atheros Killer E2205
Onboard Audio
Realtek ALC1150 via Audio Boost
Expansion Slots
3 x PCIe 3.0 x16 (x16, x8/x8, x8/x4/x4)
4 x PCIe 2.0 x1
Onboard Storage
6 x SATA 6 Gbps, RAID 0/1/5/10
1 x M.2 x2
M.2 shares bandwidth with SATA_5 and SATA_6.
USB 3.0
6 x USB 3.0 from Z97 (one header, four rear panel)
Onboard
6 x SATA 6 Gbps
1 x M.2 x2
1 x USB 3.0 Header
2 x USB 2.0 Headers
5 x Fan Headers
1 x TPM Header
1 x COM Header
Two Digit Debug LED
Front Audio Header
Front Panel Header
Voltage Check Points
Audio Power Header
Power Connectors
1 x 24-pin ATX
1 x 8-pin CPU
Fan Headers
2 x CPU (4-pin)
3 x USB (4-pin)
IO Panel
1 x PS/2 Combination Port
4 x USB 2.0 Ports
4 x USB 3.0 Ports
1 x Killer E2205 Network Port
VGA
DVI-D
HDMI
Audio Jacks
Warranty Period
3 Years
Product Page
Link
I have seen numerous discussions regarding the good and bad parts of an x8/x8 + x4 PCIe layout against the x8/x4/x4 orientation. Ultimately, I believe the former wins out, due to the fact that tri-Crossfire users are low in number and more likely to go to X99. With x8/x8 + x4 a user can still have an extra PCIe card while maintaining SLI. If a user needs three PCIe x4 cards for their build, chances are at least one of them is not PCIe bandwidth bound, which makes the PCIe 2.0 x4 slot preferred. What MSI has done is use x8/x4/x4, because this frees up the chipset PCIe lanes to be split into four PCIe 2.0 x1 slots. It would be interesting to see a user that has a situation where all those need to be filled.