ASRock X99 WS: The New
The clue is in the name, and ASRock's WS line is aimed at workstation like builds. Historically we are more accustomed to 'WS' being another manufacturer's product, but it would seem that terms like 'Gaming' and 'Formula' are now being wielded by many of the motherboard players. This is not ASRock's first WS product – ASRock Rack has a number of WS products mostly based on server chipsets, but the Z77 WS and Z97M WS are still part of that product line.
ASRock's big plug with the X99 WS is going to be workstation level features. This means a supersized heatsink, an enhanced power delivery system to improve efficiency as well as longevity while using a 160W processor and a total z-height sufficient to allow the motherboard to be included within a 1U chassis with an appropriate heatsink. ASRock is also claiming DDR4 ECC and RDIMM support with Xeon processors, dual Intel NICs (I217-LM with vPro and I210-AT) and support for 4-way PCIe devices. Ultra M.2 x4 with PCIe 3.0 is supported, although this reduces PCIe bandwidth of a fourth PCIe device.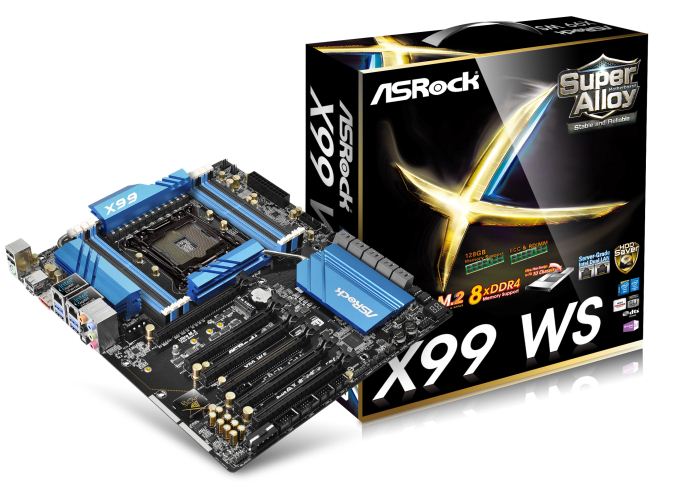 Despite the WS name, the motherboard does support the Core i7 processors and non-ECC UDIMMs, although ASRock's main selling point will be the combination of their consumer platform (BIOS + software stacks) while still having Xeon + ECC RDIMM support for a workstation. This is compared to a server, as this motherboard does not support LRDIMMs, although the 1U z-height integration means that it can be server capable. One limitation, or benefit depending how it is looked at, will be the use of X99 rather than the C612 chipset.
Regular functionality comes in the form of 10 SATA slots (all from the chipset), a TPM header, two COM headers (for WS), six fan headers, a Thunderbolt header, Realtek ALC1150 audio under Purity Sound 2, six USB 3.0 ports, an eSATA port and the extra PCIe power supplied by two molex connectors. Relatively new to ASRock from Z97 and carried to X99 is the HDD Saver feature, allowing users to connect two SATA drives via the included cable and power these drives down while in the OS in order to keep them safe from viruses that corrupt data or improve longevity by only being enabled when needed.
All of this will retail for $324, and aims to be one of the cheapest 'WS' X99 motherboards on the market. The only issue there is that some other manufacturers might not advertise Xeon support, but the QVL lists will confirm this. ASRock's claim then comes from the workstation level equipment on board (power delivery, dual Intel NIC), the BIOS and software ecosystem, and that these other Xeon-capable motherboards might not be ECC/RDIMM capable.
ASRock X99 Visual Inspection
ASRock's 'XXL' power delivery heatsink design uses a total of four heatsinks, connected in pairs. The big addition is the heatsink to the left of the DRAM slots – while it covers some of the ICs in that region, its main purpose is to provide more bulk and surface area to aid in cooling the twelve power phases underneath the heatsink at the top. If you were not sure what chipset is being used here, the big X99 logo at the top tells you.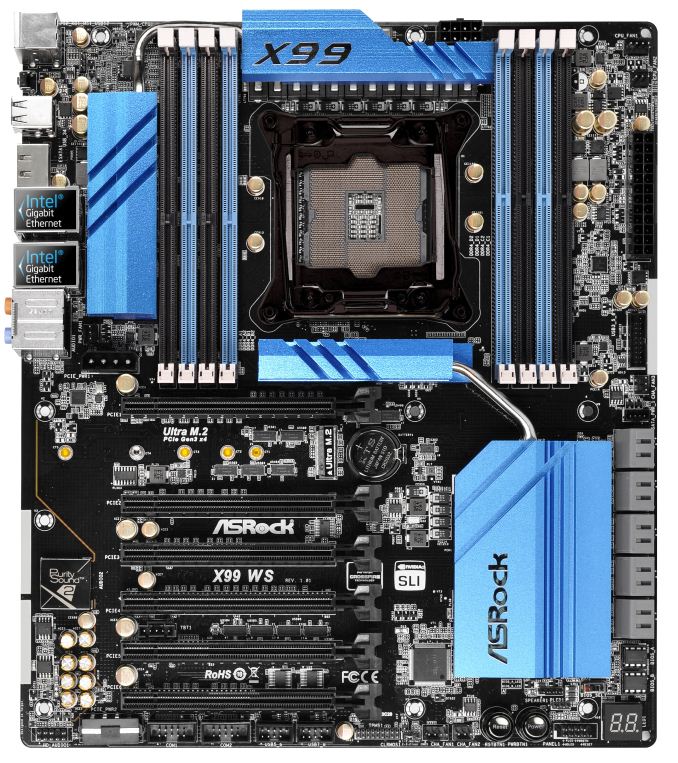 The X99 WS uses a two DIMM-per-channel design, with the slots having a single sided latch design due to the close proximity of the first PCIe slot. The DRAM slots are color coded, though nothing specifically tells the user to use the black slots first. I would assume that when the user is in 1DPC mode, this allows the blue color to come though.
The socket area has access to four fan headers: two in the top right, one just above the PCIe molex power and another below the USB 3.0 header. The final two are at the bottom of the motherboard. Out of these six, only two of them are 4-pin headers which is perhaps a little disappointing.
Beneath the USB 3.0 header on the right hand side of the motherboard is the HDD Saver header for the cable included in the box. The ten SATA ports then follow, with RAID supported on the six SATA3_x ports rather than the four S_SATA3_x ports. The S_SATA3_3 connector is shared with the eSATA port on the rear, meaning only one can be used at a time. Ideally I would have liked ASRock to color code the SATA ports, indicating which are RAID capable and which were not. Notice there is also no SATA Express here, perhaps indicating how ASRock feels the storage market is evolving.
The somewhat large chipset heatsink is above a BIOS select switch next to two removable BIOS chips. Power and reset buttons are handy to have on any workstation/server motherboard, and these are included here in the bottom right hand corner as well.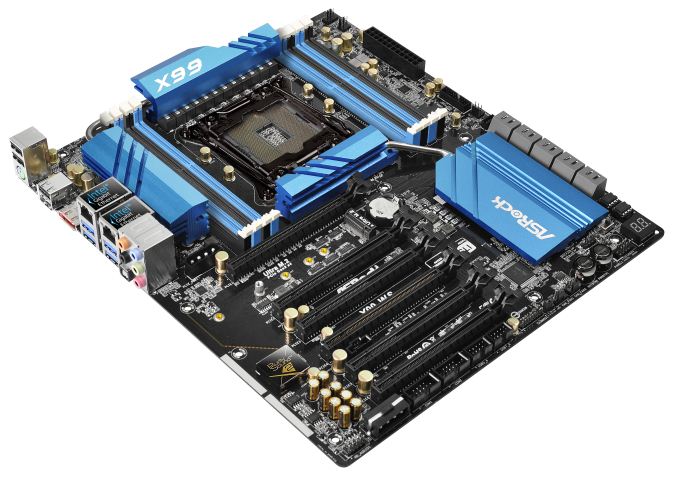 As workstation users can work with any number of requirements, ASRock has included a TPM header as well as two COM headers, with two USB 2.0 headers in-between.
The PCIe layout is geared towards four-way GPU/PCIe device layouts, although the configuration differs depending on using a 40 lane PCIe processor or a 28-lane PCIe processor (such as the i7-5820K) with the following arrangements:
40 Lane PCIe: PCIe 1/2/3/4/6 at x8/x8/-/x8/x8
28 Lane PCIe: PCIe 1/2/3/4/6 at x8/x8/x4/x8/x0
PCIe 5 uses four lanes from the PCH, while PCIe 1 and 4 use 15 micron gold connectors as these are used for the first two GPU slots. Interestingly, when four-way GPU is used with a 40 PCIe lane processor, the system does not enable the full 40 lanes (x16/x8/x8/x8). This would suggest that the motherboard lacks the additional external clocks required to enable this orientation, while the ASUS and GIGABYTE motherboards in this review have this feature. That being said, we have not seen a use case where x16/x8/x8/x8 wins out against x8/x8/x8/x8. More investigation would be needed.
Another point of contention for the PCIe layout will be the source of additional PCIe power. While having two extra sources of power is appreciated, the fact that it comes from a molex connector is unfortunately short-sighted. Molex connectors are bulky, and the top power connector being in the middle of the board is frustrating. It means stretching a cable over most of the motherboard, destroying any potential aesthetic and potentially disrupting the airflow.

The IO panel is basic for an X99 platform but covers the bases: a PS/2 combination port, four USB 2.0 ports, four USB 3.0 ports, a ClearCMOS button, an eSATA port, two Intel network ports and a set of audio jacks from the ALC1150 codec.
ASRock X99 WS Board Features
ASRock X99 WS
Price
US (Newegg)
Size
ATX
CPU Interface
LGA2011-3
Chipset
Intel X99
Memory Slots
Eight DDR4 DIMM slots, up to Quad Channel 128GB
1600-3200 MHz Non-ECC UDIMM


ECC/RDIMM at JEDEC

Video Outputs
None
Network Connectivity
Intel I217-LM (vPro enabled)
Intel I210-AT
Onboard Audio
Realtek ALC1150 via Purity Sound 2
Expansion Slots
5 x PCIe 3.0 x16
- 40 PCIe Lane CPU: x16, x16/x16, x16/x16/x8, x8/x8/x8/x8
- 28 PCIe Lane CPU: x16, x16/x8, x8/x8/x8, x8/x8/x4/x8
1 x PCIe 3.0 x4 (Shared with M.2)
Onboard Storage
6 x SATA 6 Gbps, RAID 0/1/5/10
4 x S_SATA 6 Gbps, no RAID
1 x Ultra M.2 3.0 x4
USB 3.0
4 x USB 3.0 Ports, Rear IO
1 x USB 3.0 Header
Onboard
10 x SATA 6 Gbps
1 x USB 3.0 Header
2 x USB 2.0 Headers
6 x Fan Headers
2 x COM Headers
1 x TPM Header
Power/Reset Buttons
Two Digit Debug
HDD Saver Header
Thunderbolt Header
Front Audio Header
Front Panel Header
BIOS Select Switch
Power Connectors
1 x 24-pin ATX
1 x 8-pin EPS 12V CPU
2 x 4-pin Molex for PCIe
Fan Headers
2 x CPU (4-pin, 3-pin)
3 x CHA (4-pin, 2x 3-pin)
1 x PWR (3-pin)
IO Panel
1 x Combination PS/2 Port
4 x USB 2.0 Ports
4 x USB 3.0 Ports
ClearCMOS Button
1 x eSATA 6 Gbps
2 x Intel GbE Network Ports
Audio Jacks
Warranty Period
3 Years
Product Page
Link
I am not sure how I feel about the $324 cost of this motherboard. For the most part we are getting the basics, whereas we get something different with the GIGABYTE around the similar price and something more with the ASUS at $400. ASRock would counter this and point to the server grade components. It seems odd to discuss a more expensive ASRock board without extra functionality you can physically use, although the use of a vPro enabled NIC does allow for Windows Server applications.