ASUS X99-Deluxe: The New
What color works best for a motherboard? ASUS has been playing around this idea for several generations, offering blue, red, brown, gold and grey in recent times for their various channel/gaming/TUF ranges. But now the buck gets passed on to a white livery featuring a long protective shield reaching from the IO down to the bottom of the motherboard to improve the overall look. The power delivery heatsink at the top and the chipset heatsink both continue the theme, with the extra space between the CPU and PCIe slots used for a third but black heatsink. The slots and SATA ports are a combination of black and grey. This is the first motherboard in recent history to play with a black and white theme, allowing system modifiers (who often target high performance systems) to be liberal in how they style their creations.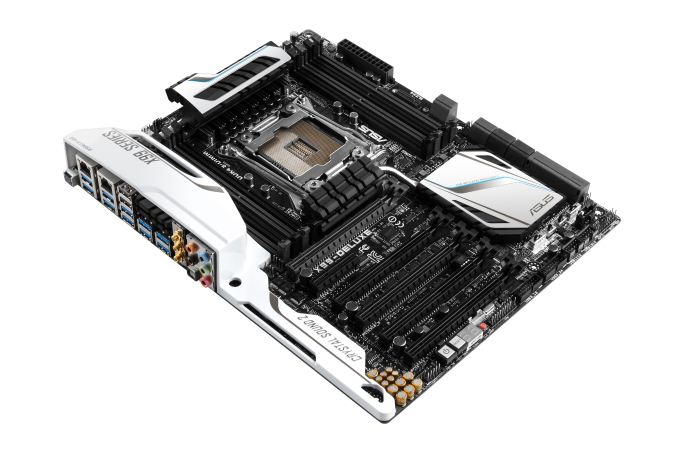 For X99 ASUS has upgraded its hardware prowess in several key areas. The first one to tackle is the one that seems to be most talked about: the ASUS OC Socket.
The principle behind the OC Socket is this: some of the pads on your LGA2011-v3 processor are not designed for normal use. They are either not listed in the motherboard manufacturers guides or are used as internal diagnostic aids (either Intel only or for motherboard manufacturers as well). With these extra pads motherboard manufacturers can probe certain parts of the CPU for pre-testing but then in the retail versions of the socket there are no pins to mess around with. Intel validates the CPU for use with certain pins, with the unlabeled or diagnostic or pins always in a state of 'beta/never fully validated' type miasma.
What ASUS has done is equipped the 'OC Socket' with some of those pins, and then by using proprietary circuitry claim to offer extended performance in both extreme CPU overclocking and memory overclocking.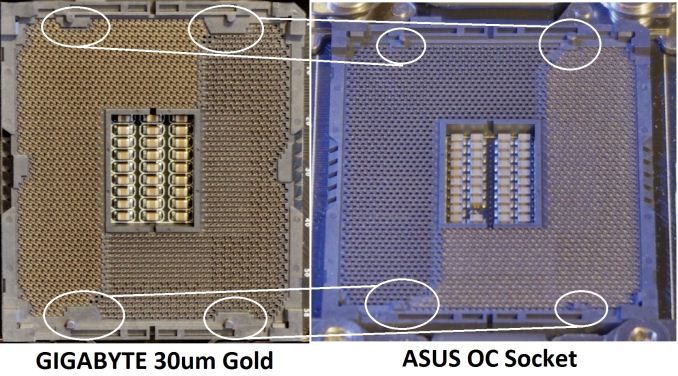 What exactly ASUS has done is not 100% clear in function, although it should be obvious that these pins are not for adding in voltage. (Voltage is always routed via the FIVR on Haswell/Haswell-E, so there is not a way of getting more into the system. Plus, the BIOS already can add voltage by adjusting numbers.) ASUS is patenting the socket design in order to stop others using their innovation. What could be happening is akin to an internal adjustment, allowing extra parameters to be used. For example, if you are old enough to remember the Commodore C64, the 6581 SID (audio) chip could have certain voltage levels adjusted to enable an extra virtual audio channel beyond the design specifications. ASUS is keeping quiet on what the OC socket specifically does, at least until the patent clears.
There have been some worries about whether this OC Socket is a valid design improvement recognized by Intel. Because it adjusts the way the CPU interacts outside normal specifications, there has been a worry that Intel will not honor warranties. Intel's official stance to media in general so far for modifications is that:
'our partners consistently deliver innovations … for questions on specific 3rd party products and their implementation, please contact them'
That specific phrasing does not swing either way as affirming or denying the specific situation, no matter how some journalists interpret that wording. Until Intel provides an official report into the OC socket, to extrapolate extra meaning or declare the situation resolved without a line referring specifically to the technology is erroneous.
Our verdict on the OC Socket is this: ASUS has stated that these pins do not deliver extra voltage to the CPU (makes sense, as that is taken care by the FIVR) but open up additional functionality to extend overclocking margins. Intel stated directly via email to us that 'of course when overclocking all warranties are void', and given ASUS' explanation of the feature it which suggests that the effect of the OC socket is essentially zero at stock speeds. So even if the CPU goes kaput in the ASUS motherboard (at stock), Intel will most likely honor the warranty. Although an official statement from Intel would clear up the matter. Given how infrequently CPUs are DOA at stock, this should not be an issue for any users picking up an X99-Deluxe today.
Next is the SLI/Crossfire switch that indicates which PCIe slots should be used for multi-GPU setups: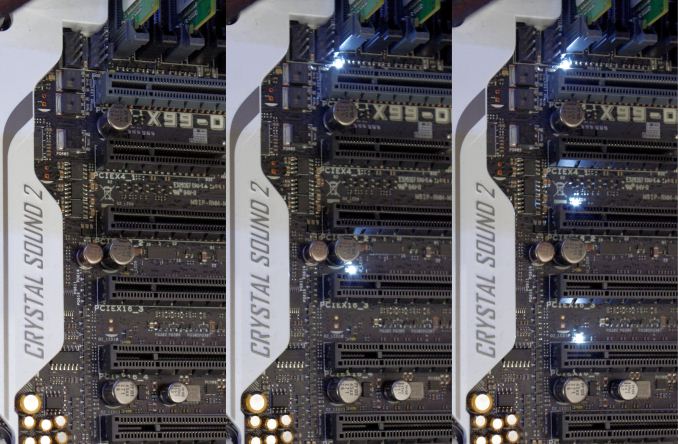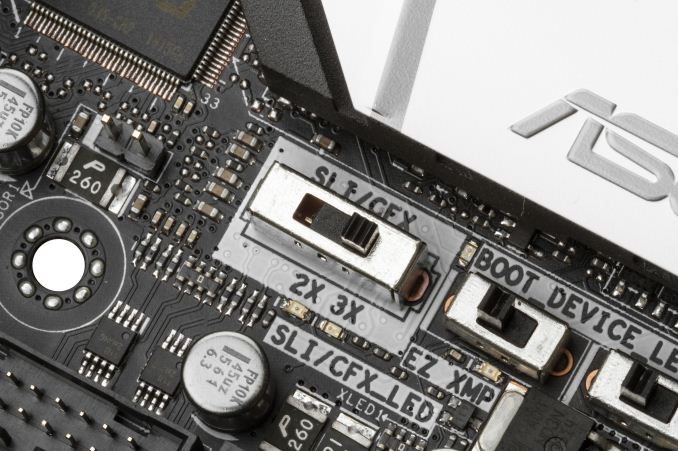 ASUS' technical PR mentioned that this feature was added because one common question on the ASUS/ROG forums was 'where do I put my 2nd/3rd graphics card'? This information is always in the manual, however in order to aid users straight away, a small switch was added under the chipset to light up these LEDs next to the slots. Note that this switch only turns the LEDs on and off – when I saw the feature I assumed it also adjust PCIe lane assignments, but I can confirm that it is more a dumb switch as it still requires the user to place the cards in the right place.
The next new feature is one I am very happy to see on a motherboard. Users who follow my Twitter may have noticed that over time I often reminisce about increasing the networking throughput on the motherboard – usually by upgrading to 10G-BaseT. However there is another way to increase bandwidth: more cowbell WiFi. For the X99 Deluxe, ASUS has equipped the system with a 3T3R 802.11ac WiFi card via mini-PCIe, allowing for connection speeds up to 1300 Mbps: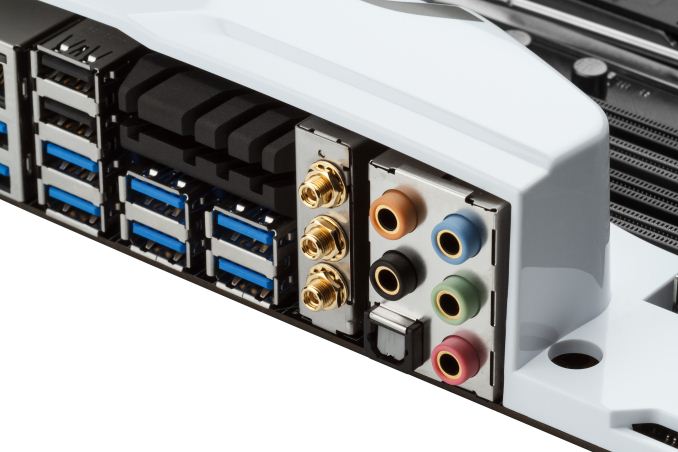 Note that this requires a 3T3R capable router to get the full performance, which depending on where you are in the world might be hard to find. I asked about what the price difference between the 2T2R 802.11ac module found on previous motherboards and this add-in would be, and the best answers I could find were in the +50% range. I am hopeful for the future that this comes down however, given that 2T2R solutions are the standard on any new motherboard that uses WiFi. It may be that the upgrade to 3T3R allows motherboard manufacturers to make that distinction with their high end models (like what ASUS is doing).
ASUS is also tackling PCIe storage head on. They were the first company to experiment with SATA Express, and Kristian tested ASUS' first implementation back in March. Since then we have had the mainstream Z97 chipset which is awash with SATAe and M.2 connectivity. For X99, Intel has added support for PCIe storage, and ASUS here has gone with both M.2 and SATAe, although the M.2 solution is a little different to normal. With the X99-Deluxe, bundled in the box is a Hyper M.2 x4 card allowing for M.2 drives up to 22x110 but specifically to be placed into one of the PCIe slots on board: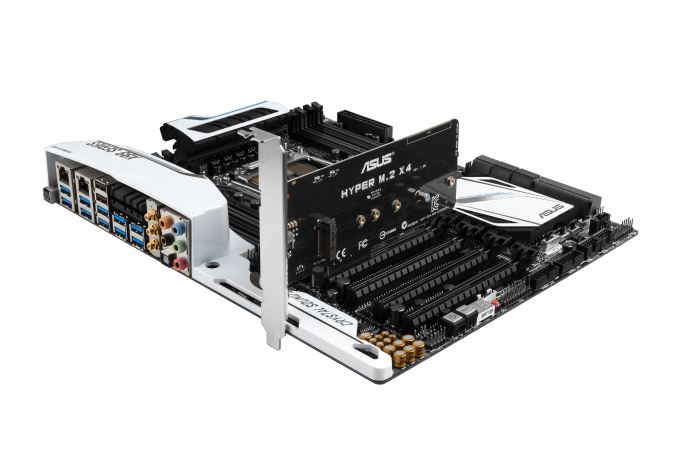 The card itself is just an M.2 slot that has pathways through the PCIe layer. We saw this card back at Computex, and it looks to be another differentiation point for ASUS' high end.
That is not all to the M.2 story, as ASUS went slightly crazy and also installed a vertical M.2 x4 slot. Yes, you read that correctly.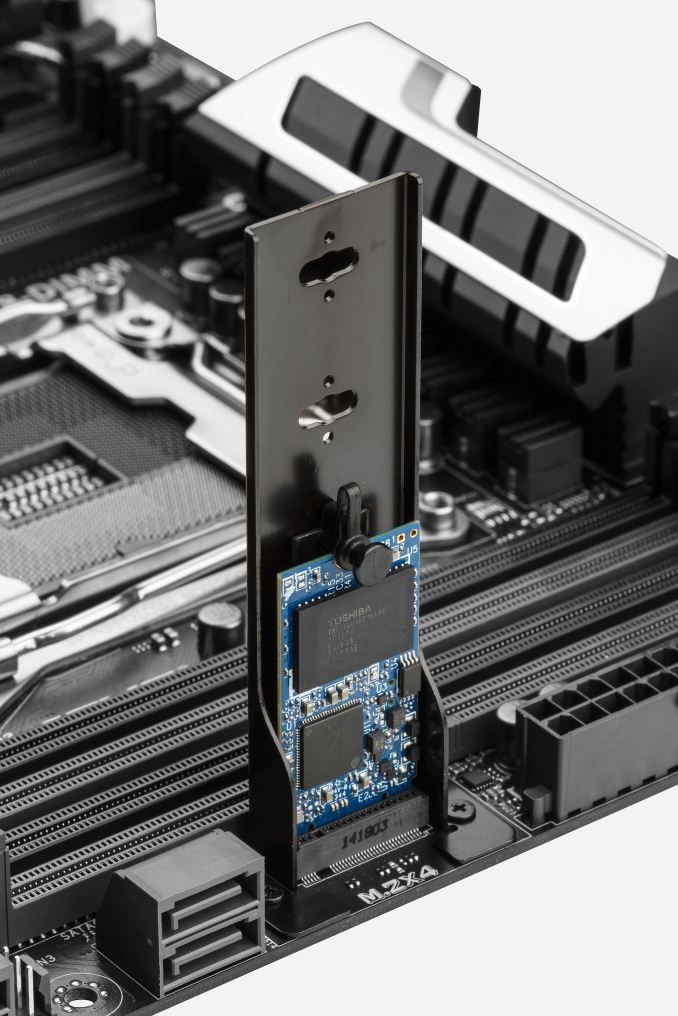 In the area normally reserved for termination resistors and other electronics, ASUS placed a pad and included a bracket for an M.2 drive up to 2280 to be used in PCIe 3.0 x4 mode.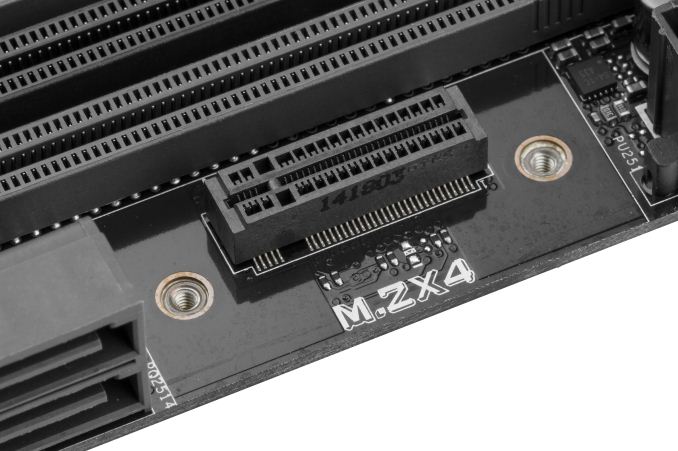 So while this new feature springs out of the motherboard by 8-10cm, CPU heatsinks are often taller than this. As a result, the device might adjust the airflow around a small portion of the motherboard. Users who enjoy tidy cable management might be affected as well, depending on how you like to make the system light up. I could see a modder adorning this latch with LEDs to make some rainbow motif.
SATA Express is also in force, with a combination of Intel and ASMedia ports for two drives. When not in use, this gives the motherboard a total of 12 SATA ports: 10 from the chipset (6 RAID capable) and two from the ASMedia controller.
Next in the bag of tricks is regarding the fan headers. It would seem that ASUS has had requests for more than the 6 fan headers it normally places on the high end products. ASUS recently upgraded most of its range so that all the fan headers would accept DC or PWM fan control, but now system modders just want more of them. With the Rampage IV Black Edition, this was provided by the bundled OC panel, however with the channel motherboard, ASUS has included an extra movable PCB to offer extra headers: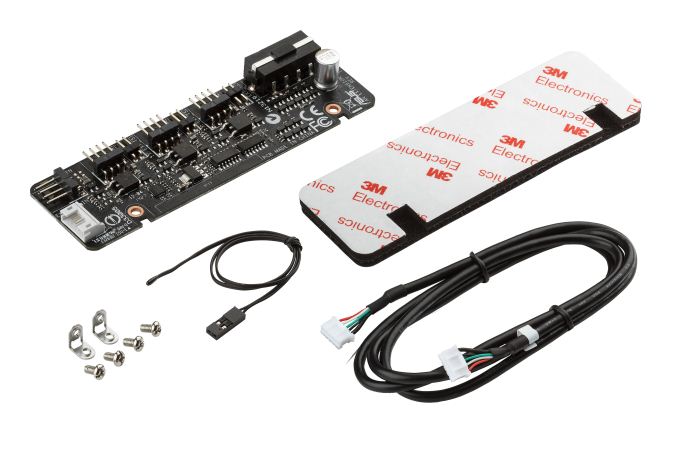 Here we get a PCB that requires one molex connector for power to give three extra fan-out headers with one fan-in. It requires the white dual ended cable to be connected to motherboard in order to pass on information and adjust fan profiles, and the big 3M thing is a double sided sticky pad to affix the fan controller card to a case if the screws are not used. The cable in the middle is a thermistor, providing an extra temperature reading when placed in the controller card and can be adjusted around the case so users can customize their fan responses. This gives the motherboard a total of nine fan headers. I would not be surprised if this extends out to other motherboards as a way to save PCB space, although it might be interesting if ASUS offered a way to bolt it on to the Hyper M.2 card or offer a combination card.
The final new major hardware element change for the X99-Deluxe is the audio system. Having seen first-hand how ASUS test the audio, at the time I got talking to the engineers about what aspects of audio they care most about and how they go about creating better audio. The results of their efforts have been piled into Crystal Sound 2, which uses updated versions of shielding, EMI protection, PCB separation, amplifiers, de-pop circuits and impedance detection methods. One of the features mentioned to me back at ASUS' HQ is that they are prepared to add in components to improve the frequency response at the low end (a common issue for digital audio) even if it means shaving off a few dB from the peak dynamic range results.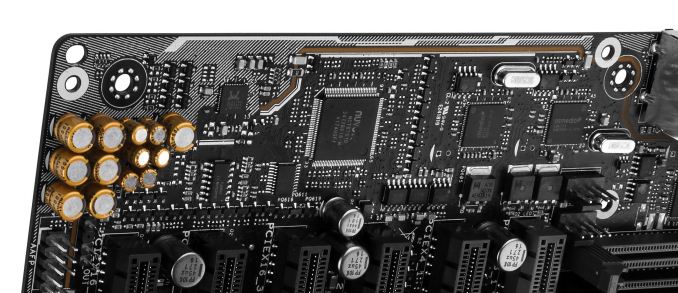 The Overview
Aside from all the new stuff, anyone used to an X79 motherboard will feel right at home with an X99 unit. The socket levers are slightly different, requiring the lever to be pushed in then up, rather than out then up. Due to the LGA2011-3 designation, all LGA2011-0 coolers will work because the screw holes for coolers are all in the same place. There are technically two versions of the LGA2011-3 socket, although we will only see this square version on consumer motherboards – the other 'narrow' classification is more for server products.
On the X99-Deluxe we have already mentioned the white heatsinks, with ASUS using heatpipe connected heatsinks to create two pairs of cooling surfaces. We get the full complement of DRAM slots, and the CPU socket has a single 8-pin power connector. There are four fan headers immediately around the socket – two CPU headers in the top left and two on the bottom left. A fifth is slightly further away between the SATA ports on the right, and a sixth is underneath the SATA ports.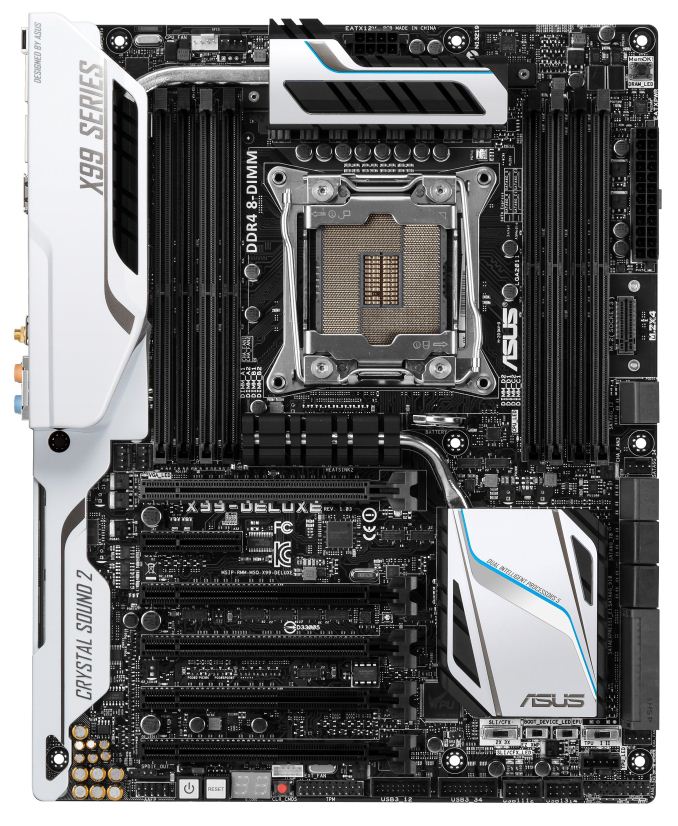 The right hand side has the MemOK button, followed by the 24-pin ATX power connector and the vertical M.2 x4 slot. The SATA arrangement follows, with the following combination:
The four SATA 6 Gbps ports in grey at the top are RAID capable.
The four SATA 6 Gbps ports in black underneath these are not RAID capable.
The other SATA ports are in the SATAe complex: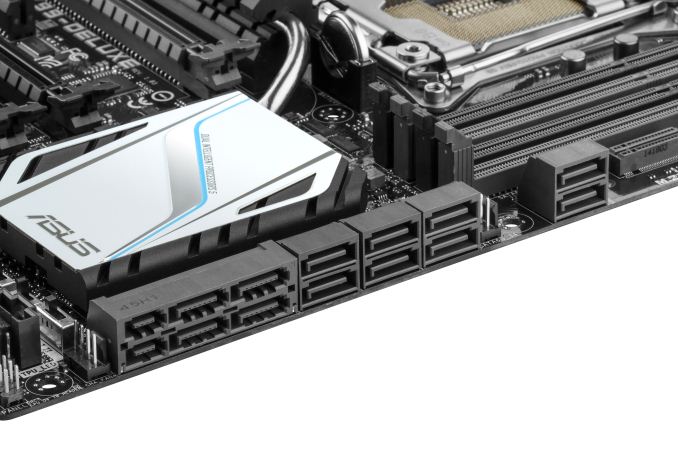 The top SATAe section is powered by the Intel X99 Chipset, and these SATA ports are RAID capable. The bottom SATAe is powered by the ASMedia controller, and it is suggested that only data-based hard drives are used in the SATA ports.
Confused yet? The safest way to look at it is the top four are for RAID, and the rest is for anything else, except the bottom two SATA ports in the SATAe block which should not be used for optical drives.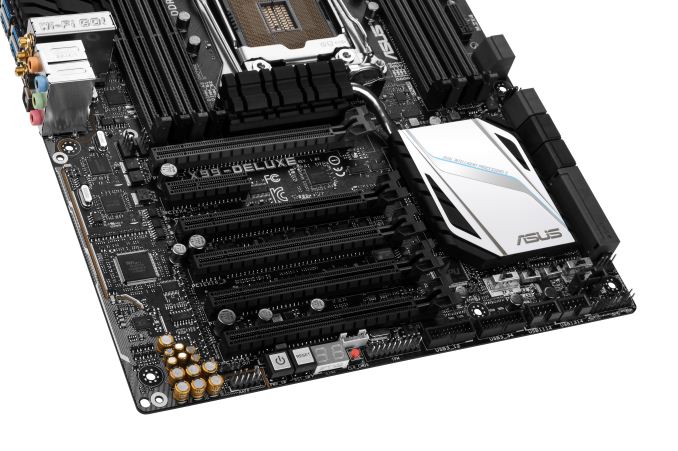 The bottom of the motherboard is also a mélange of headers and switches. Underneath the chipset heatsink we have the following:

The SLI/CFX switch, as mentioned above, enables LEDs next to the appropriate PCIe slots for 2x and 3x operation. The switch to the right of this is the EZ XMP switch, which tells the motherboard to enable the high speed memory installed. Next is the EPU switch for power saving, and finally a two-stage TPU offering two types of overclock.
The header below the TPU switch is part of the Thunderbolt functionality, which allows a TB add-in card (sold separately) to be used: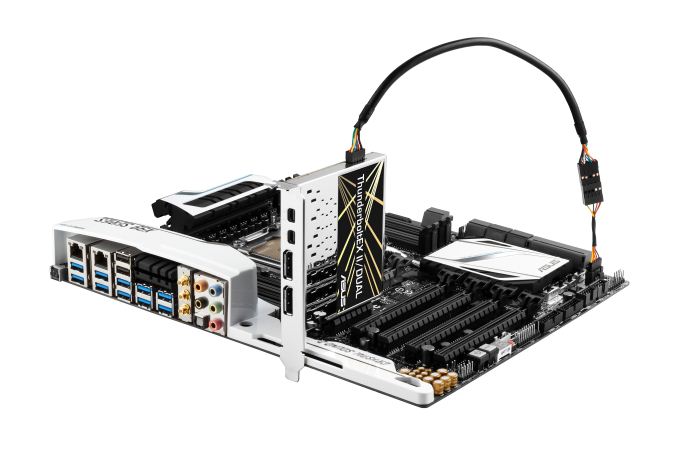 Also on the bottom of the motherboard are two USB 2.0 headers, two USB 3.0 headers, a TPM header, power/reset buttons, a two digit debug, a ClearCMOS button and the fan extension header.

The rear panel does away with PS/2 ports this time around, and the only button here is a BIOS Flashback button. The two network ports are for the Intel I218-V and I211-AT controllers that both support teaming and the ASUS Turbo LAN software. All ten of the USB 3.0 ports are powered by ASMedia controllers (because we have spare chipset lanes), which leaves two USB 2.0 ports, the Broadcom based 3x3 802.11ac card and the gold plated audio jacks.
Board Features
ASUS X99 Deluxe
Price
US (Newegg)
Size
ATX (305x244mm)
CPU Interface
LGA2011-3
Chipset
Intel X99
Memory Slots
Eight DDR4 DIMM slots supporting up to 64 GB
Up to Quad Channel, 2133-3200 MHz
Non-ECC UDIMMs
Video Outputs
None
Network Connectivity
Intel I218-V
Intel I211-AT
Broadcom 802.11ac 3T3R WiFi
Onboard Audio
Realtek ALC1150 with Crystal Sound 2
Expansion Slots
5 x PCIe 3.0 x16
- 40 PCIe Lane CPU: x16, x16/x16, x16/x16/x8, x8/x8/x16/x8, x8/x8/x8/x8/x8
- 28 PCIe Lane CPU: x16, x16/x8, x8/x8/x8
1 x PCIe 2.0 x4 (Shared with SATAe + USB3_E12)
Triple-GPU Config set at x8/x8/x8 due to lane sharing with M.2.
Disable M.2 for higher performance
Onboard Storage
6 x SATA 6 Gbps, RAID 0/1/5/10
4 x SATA 6 Gbps
2 x SATA 6 Gbps (ASMedia via SATAe)
1 x SATAe (Intel)
1 x SATAe (ASMedia)
1 x M.2 PCIe 3.0 x4 up to 2280
USB 3.0
4 x USB 3.0 via PCH, 2 headers
10 x USB 3.0 via ASMedia, 10 rear ports
Onboard
12 x SATA 6 Gbps
2 x SATAe
1 x Vertical M.2
2 x USB 3.0 Headers
2 x USB 2.0 Headers
1 x TPM
6 x Fan Headers
1 x Fan Extension Header (for 3 more fans_
1 x Thunderbolt Header
EZ XMP Switch
SLI/CFX 2/3 Way Switch
EPU Switch
Two-Stage TPU Switch
Thermal Sensor Header
DirectKey Header
MemOK Button
Power/Reset Buttons
Clear CMOS Button
Two-Digit Debug
Power Connectors
1 x 24-pin ATX
1 x 8-pin CPU
Fan Headers
1 x CPU (4-pin)
1 x CPU-OPT (4-pin)
4 x CHA (4-pin)
3 via fan extension PCB (4-pin)
All PWM and DC Controllable
IO Panel
USB BIOS Flashback Button
Intel I218-V NIC
Intel I211-AT NIC
2 x USB 2.0
10 x USB 3.0
3T3R 802.11ac WiFi Module
Audio Jacks
Warranty Period
3 Years
Product Page
Link
Ten USB 3.0 ports on the rear panel of a motherboard is pretty impressive, and we had no issues installing an OS via USB while also having a mouse and keyboard attached. The 3T3R 802.11ac WiFi solution will be something that separates the ASUS from the rest, with small features like EZ XMP and the SLI/CFX switch both being positive additions.
The only port of call that might be a concern is the lack of extra PCIe power, although ASUS is not alone in this issue. If a user was to place a motherboard with the maximum compliment of GPUs and then order up some scalable game or compute, the motherboard might not be able to supply each device with 75W via PCIe and rely on the 6/8-pin power connectors. This suggests that multi-GPU users with 3-4 cards might need a robust power management plan in place.