Battlefield 4
Our latest addition to our benchmark suite and our current major multiplayer action game of our benchmark suite is Battlefield 4, DICE's 2013 multiplayer military shooter. After a rocky start, Battlefield 4 has finally reached a point where it's stable enough for benchmark use, giving us the ability to profile one of the most popular and strenuous shooters out there. As these benchmarks are from single player mode, based on our experiences our rule of thumb here is that multiplayer framerates will dip to half our single player framerates, which means a card needs to be able to average at least 60fps if it's to be able to hold up in multiplayer.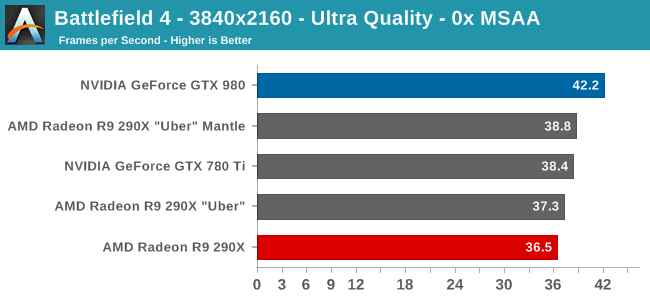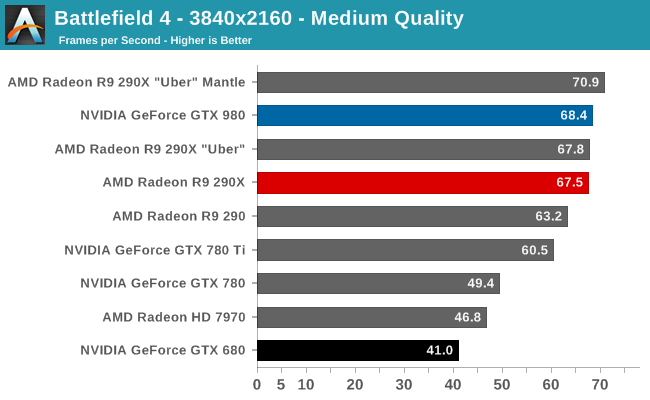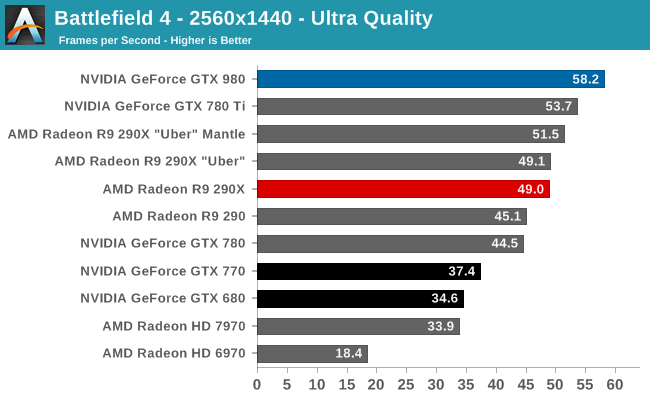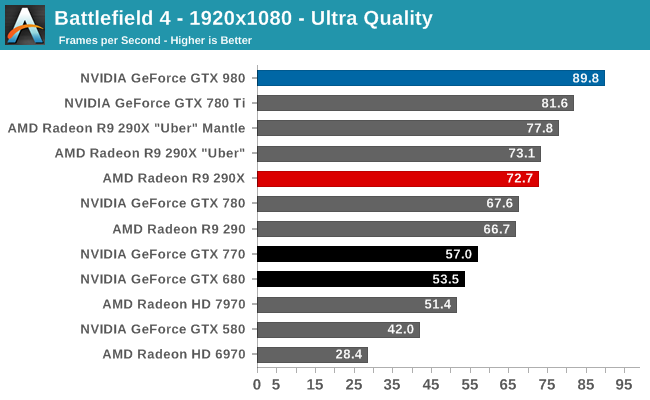 Battlefield 4 is one of our tougher games, especially with the bar set at 60fps to give us enough headroom for multiplayer performance. To that end the GTX 980 turns in another solid performance, though the dream of averaging 60fps at 1440p Ultra is going to have to wait just a bit longer to be answered.
Overall on a competitive basis the GTX 980 looks very strong. Against the GTX 780 Ti it further improves on performance by 8-13%, 30%+ against GTX 780, and 66% against GTX 680. Similarly it fares well against AMD's cards – even with their Mantle performance advantage – with the exception of one case: 4K at Medium quality. With maximum quality settings, at all resolutions the GTX 980 can outperform AMD's best by around 15%. But in the case of 4K Medium, with the lesser shader overhead in particular the R9 290XU gets to pull ahead thanks to Mantle. At this point NVIDIA is losing by just 4%, but it goes to show how close the race between these two cards is going to be at times and why AMD is never too far behind NVIDIA in several of these games.
In any case for Ultra quality you're looking at the GTX 980 being enough for 1080p and even 1440p if you flex the 60fps rule a bit. 4K at these settings though is going to be the domain of multi-GPU setups.


Meanwhile delta percentage performance is extremely strong here. Everyone, incuding the GTX 980, is well below 3%.