On Tuesday we brought you our initial coverage of Fall Comdex 2001. While it's definitely the slowest Comdex we have seen since we started covering the show three years ago, we were able to run into some interesting things during our trip to Vegas.
The recent economic decline and increases in Comdex fees (a large presence at Comdex can easily set a company back over $500,000) have directly contributed to the decline in attendance. Fears surrounding another terrorist attack prompted increased security at this year's show which made getting on the floor for regular attendees a little more difficult than usual.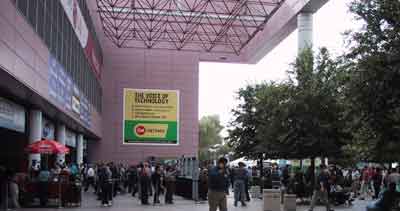 Clearly absent from this year's show floor were the Taiwanese motherboard manufacturers who almost collectively decided that it simply wasn't worth it to have a presence on the floor. With the exception of ABIT and DFI, most motherboard manufacturers found themselves in hotel suites in the Venetian, the Mirage and the Bellagio resorts among other locations along the Vegas strip.
Our second day at Comdex was spent hotel-hopping, visiting all of the motherboard manufacturers and getting an idea for exactly what we should expect to see out of Taiwan as we head into 2002.
General Expectations
What was most interesting about this year's Comdex was that motherboard manufacturers were prominently displaying Intel Pentium 4 solutions, much more so than they were showcasing Athlon motherboards. With the release of the SiS 645 and the pending release of Intel's 845 chipset with DDR SDRAM support, motherboard manufacturers are eagerly embracing Intel's Pentium 4 processor.
At the same time, VIA's P4X266 chipset has all but vanished from the show floor. Most motherboard manufacturers were very hesitant to display their P4X266 boards and generally stated that they would not be manufacturing any P4X266 based solutions. Their reasoning is very easy to understand; with the SiS 645 being the cost effective Pentium 4 DDR solution and Intel's 845 (w/ DDR support) being the more expensive yet still mainstream solution, most manufacturers are not willing to get on Intel's bad side by supporting a controversial (or as Intel would say, illegally produced) chipset that offers no real advantages over the aforementioned two.
On the Athlon side of things, the VIA KT266A chipset is clearly the chipset of choice for the majority of the manufacturers we visited. Not only is it a very affordable solution but the Taiwanese manufacturers have had a lot of experience with VIA's Athlon line and are quite pleased with the performance. Unfortunately NVIDIA's nForce has not been met with such great enthusiasm by motherboard manufacturers. The five launch partners for the nForce are still dealing with various issues in their designs in spite of the fact that NVIDIA's reference boards have been running just fine. One manufacturer even told us that they weren't sure if their nForce board would hit before the end of the year.
We were also lucky enough to run into a sample of Intel's Plumas chipset; their first dual-channel DDR solution that will debut next year for use with the 0.13-micron Xeon processors. We'll let you do the legwork as far as finding the board goes, but it's somewhere in this article :)