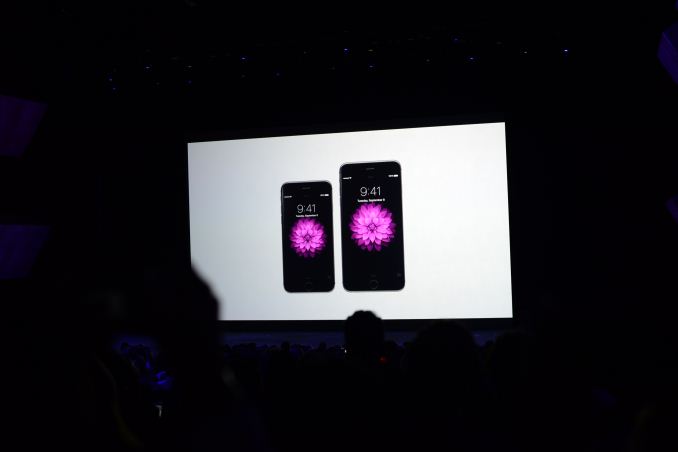 Today, Apple is launching the new iPhone 6 and iPhone 6 Plus. One of first changes is that the new iPhone 6 has a 4.7" 1334x750 display, and the iPhone 6 Plus has a 5.5" 1920x1080 (1080p) display. The thickness of of the 4.7" model is 6.6mm and the 5.5" model is 7.1mm.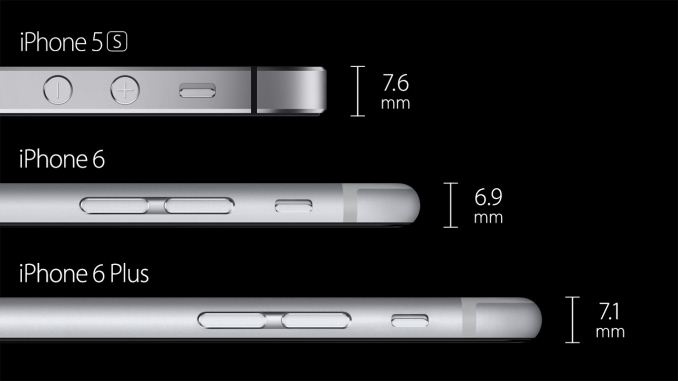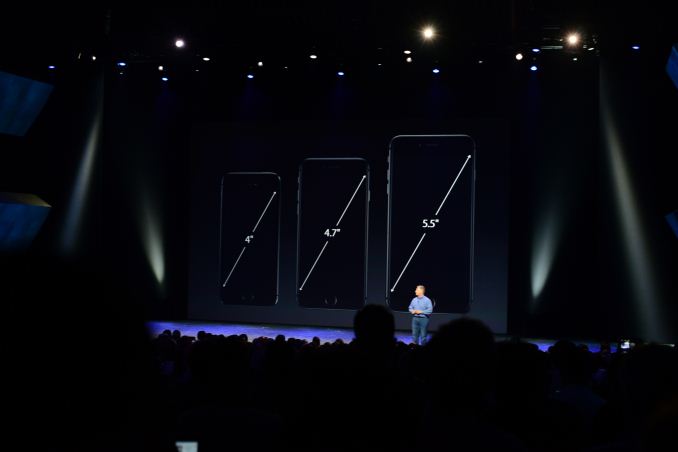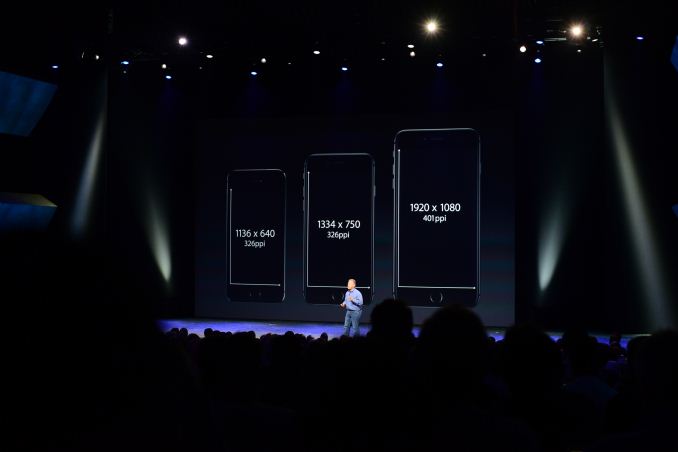 The displays will have higher contrast, better peak brightness, and better viewing angles according to Apple. This suggests that the iPhone display has a chevron shape to its subpixels to improve viewing angles. The glass also has a 2.5D curve similar to the HTC One X and Samsung Galaxy S3 for a smooth feel when swiping off the edge of the phone.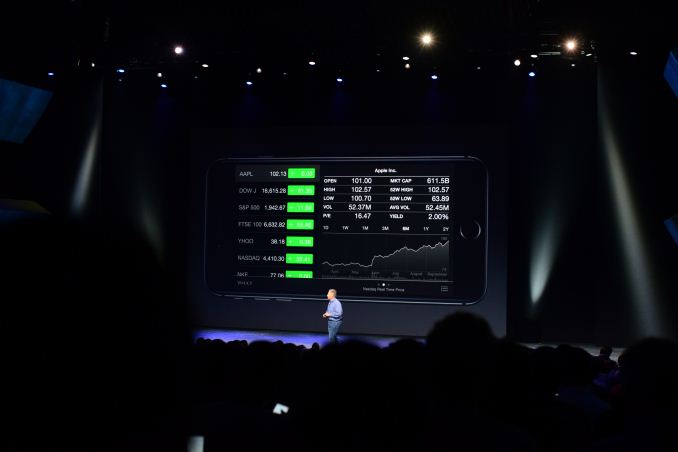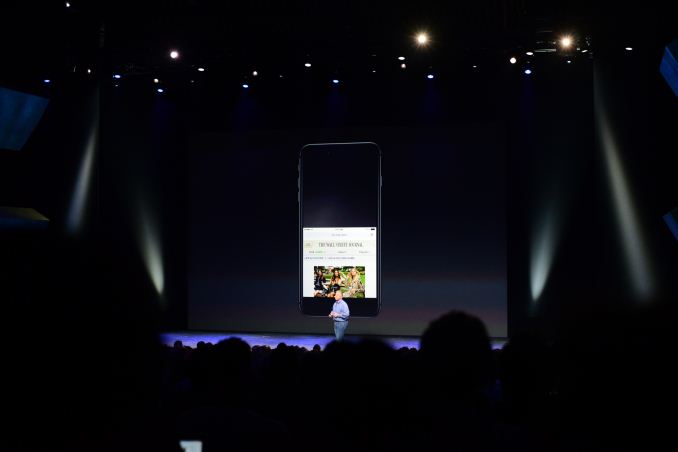 iOS is also adapted to the new larger iPhone 6 Plus' display by adding landscape views for many native applications that are two pane. In addition, in order to work with the differing resolutions Apple has added a "desktop-class scaler" to avoid incompability issues with applications that aren't aware of the new displays. This in turn implies that Apple is not doing integer scaling/doubling in all cases, and that we'll see fractional scaling used. These displays are known as Retina HD. There's also a one-hand mode for the iPhone 6 Plus in order to deal with the larger display size.
The new A8 powers both of these iPhones, and has 2B transistors compared to 1B the A7. It's also built on 20nm but it's unclear whether this is TSMC, Samsung, or both.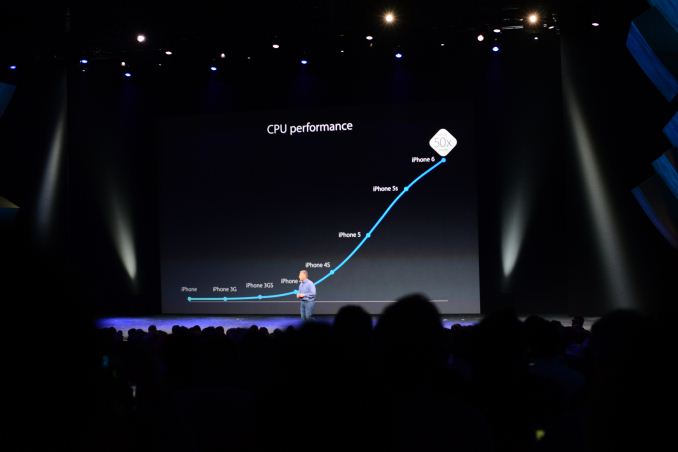 Apple also claims 25% higher CPU performance on the A8 and is also emphasizing that this new SoC can do better sustained performance over time compared against other smartphones. The GPU is supposed to be a GX6650.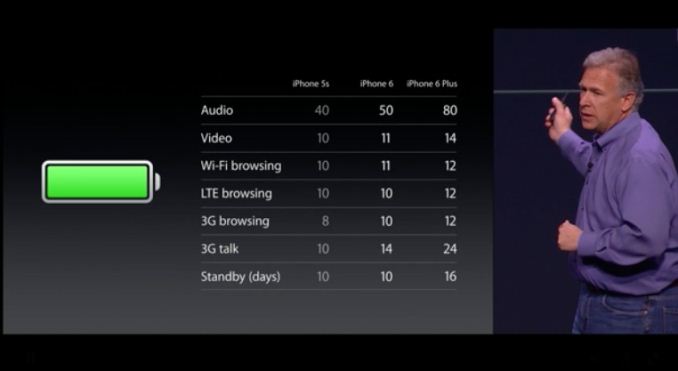 Image Courtesy Engadget
Apple is also emphasizing that battery life on the iPhone 6 and how it compares to the iPhone 5s. WiFi browsing battery life is slightly increased over the 5s while LTE browsing battery life is unchanged, meanwhile the iPhone 6 Plus improves to 12 hours for both WiFi and LTE.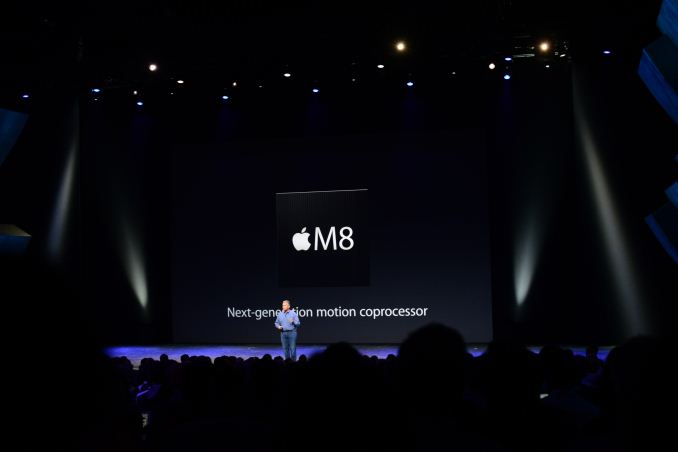 There's also a new M8 coprocessor which makes use of a new barometer sensor to measure relative air pressure and compute distance and elevation for better fitness tracking, which is used for the health application in iOS 8.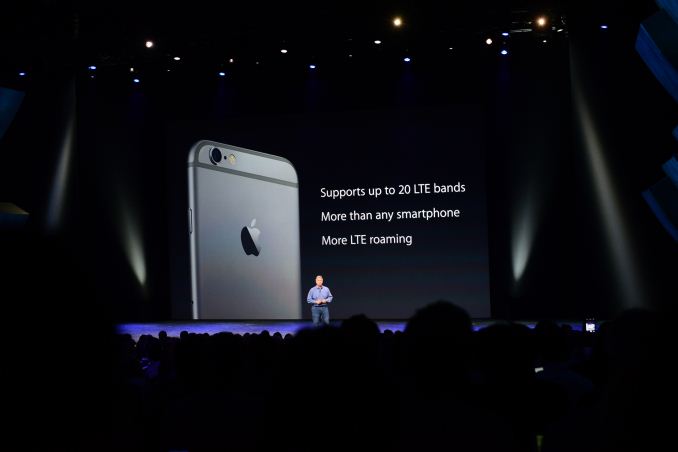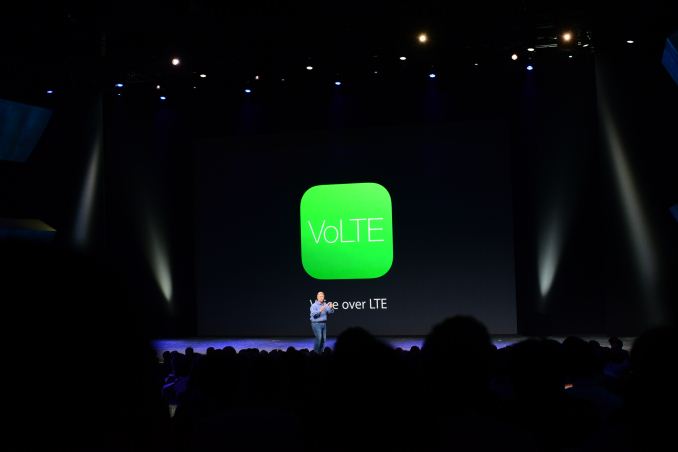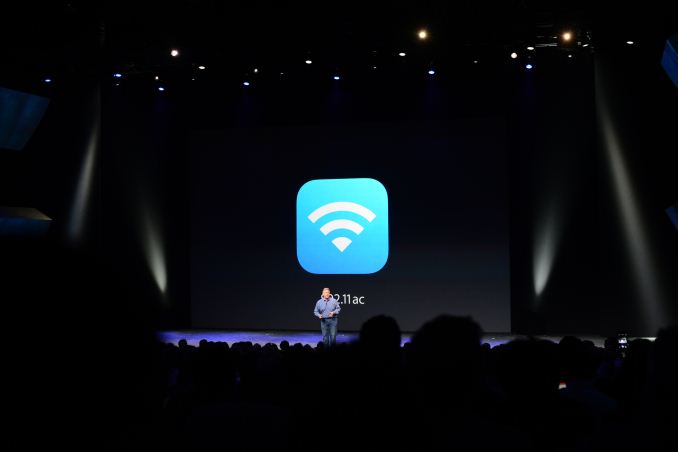 Apple is also finally introducing MDM9x25 with carrier aggregation and VoLTE. This means that there's a dual transceiver solution in the iPhone 6 devices. On the same line, Apple is finally adding 802.11ac to its smartphones and has worked on enabling seamless WiFi calling that goes from WiFi to cellular networks.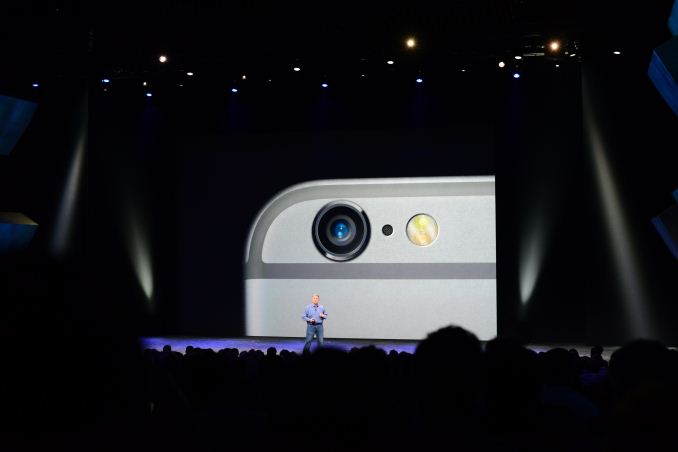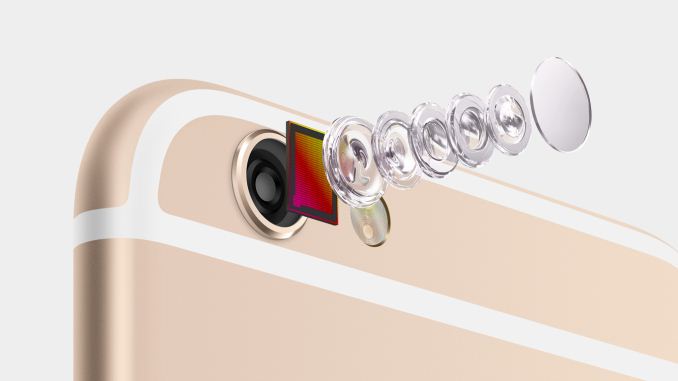 On the camera side, we see a new 8MP sensor which adds phase detection auto focus for faster autofocus, which is touted to be able to focus at up to 2x speed. There's also better local tone map and better noise reduction in addition to the PDAF system that was first seen in the Samsung Galaxy S5. Panoramas can now be up to 43MP in total resolution and a better gyroscope reduces stitching errors.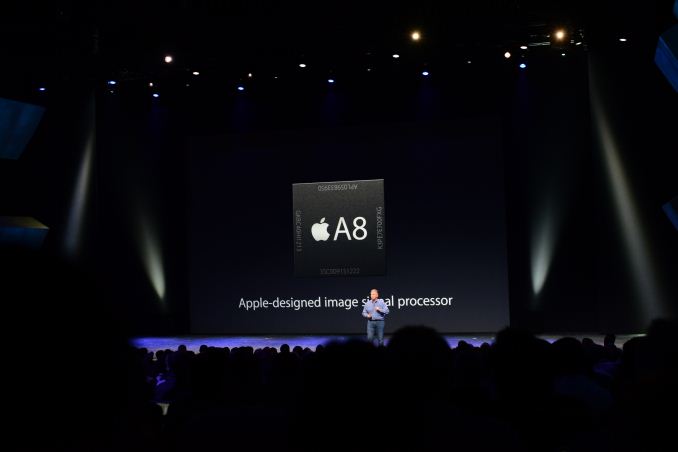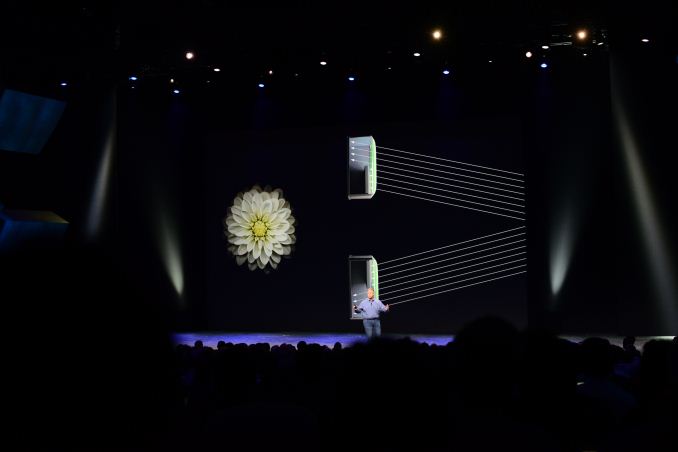 There's a brand new ISP in the A8 SoC as well, which is likely to be named the H7 ISP if we follow from the A7. Furthermore there's one feature that the iPhone 6 Plus does have that the iPhone 6 doesn't have for the camera, which is optical image stabilization (OIS) to reduce shaking. It appears that the entire module is floating instead of just a VCM-based lens stabilization system. There's also a timelapse feature. The PDAF also helps with continuous AF in video that avoids all of the breathing effects that come with conventional contrast-based focus.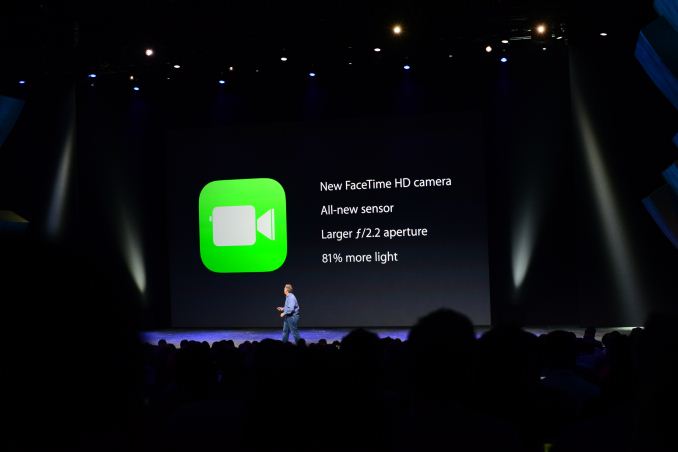 The front facing camera also has a better sensor, f/2.2 aperture, single photo HDR, HDR video, and burst shot on the front facing camera.
Both will launch with iOS 8, which has QuickType that we've talked about at the WWDC keynote in addition to Extensibility which allows for TouchID auth in third party apps.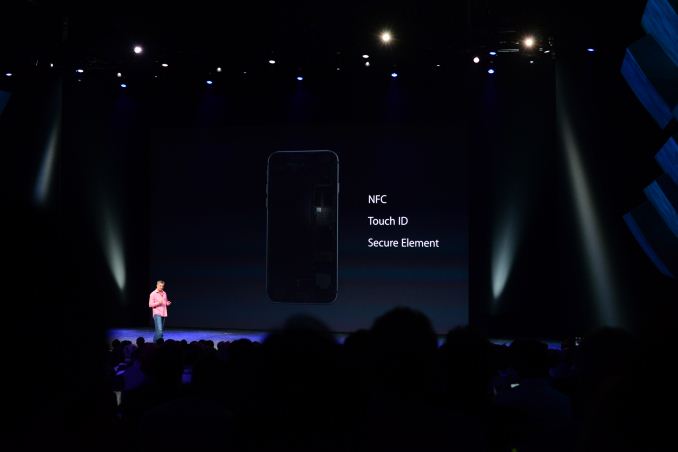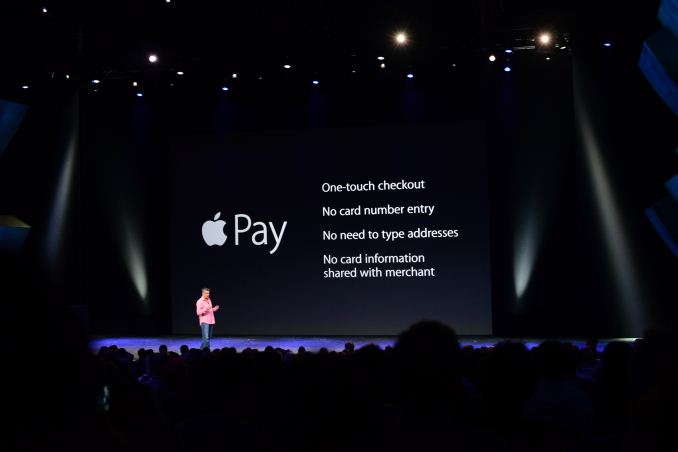 Also new to the iPhone 6 family is Near Field Communication (NFC) hardware, which is being used to power Apple's new payment system, Apple Pay. The iPhone 6 family utilizes an encrypted secure element (likely on the NFC chip itself) and credit cards are added through Passbook and validation for a purchase can be done using TouchID.
Apple has reassured security concerns by saying that Apple cannot know what is purchased and the cashier cannot see the credit card number or any information to ensure security. Online payment is also handled by Apple Pay which is a one-touch solution using TouchID and one time number from the secure element. Groupon, Uber, Target, Panera, MLB, and Apple store applications are all already supporting this system. Another example cited was OpenTable which allows for one to pay for a dinner check through an app. The system launches in the US in October as an update and will have an API open to all developers to implement in their applications.
Apple iPhone 5s
Apple iPhone 6
Apple iPhone 6 Plus
SoC
Apple A7
Apple A8
Apple A8
Display
4-inch 1136 x 640 LCD
4.7-inch 1334 x 750 LCD
5.5-inch 1920 x 1080 LCD
WiFi
2.4/5GHz 802.11a/b/g/n, BT 4.0
2.4/5GHz 802.11a/b/g/n/ac, single stream, BT 4.0, NFC
Storage
16GB/32GB/64GB
16GB/64GB/128GB
16GB/64GB/128GB
I/O
Lightning connector, 3.5mm headphone
Size / Mass
123.8 x 58.6 x 7.6 mm, 112 grams
138.1 x 67 x 6.9 mm, 129 grams
158.1 x 77.8 x 7.1 mm, 172 grams
Camera
8MP iSight with 1.5µm pixels Rear Facing + True Tone Flash
1.2MP f/2.4 Front Facing
8MP iSight with 1.5µm pixels Rear Facing + True Tone Flash
1.2MP f/2.2 Front Facing
8MP iSight with 1.5µm pixels Rear Facing + True Tone Flash + OIS
1.2MP f/2.2 Front Facing
Price
$99 (16GB), $149 (32GB) on 2 year contract
$199 (16GB), $299 (64GB), $399 (128GB) on 2 year contract
$299 (16GB), $399 (64GB), $499 (128GB) on 2 year contract
There are new silicone and leather cases with gold, silver, and space gray. The iPhone 6 starts at the usual $199 for 16GB, $299 for 64GB and $399 for 128GB. The iPhone 6 Plus comes in the same colors at $299 for 16GB, $399 for 64GB and $499 for 128GB. The iPhone 5s is now $99 on 2 year contrast, and the iPhone 5c is free. The new phone will ship on September 19th and preorders begin on September 12th.