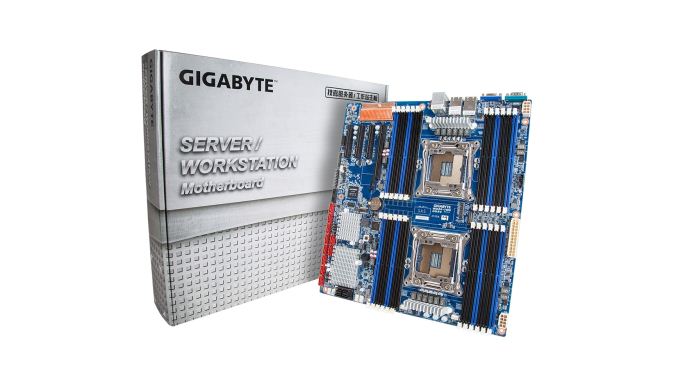 We had the big consumer Haswell-E CPU launch just over a week ago, and today marks the release of the Xeon counterparts. Johan's large deep-dive into what makes Haswell-EP tick is well worth a read. Alongside the CPUs come the motherboards, and the GIGABYTE Server division sent us over some info regarding their entrants into this category. As GIGABYTE Server now sells direct to the end-user via retailers like Newegg, their hardware and packaging is coming under more scrutiny and we are getting one or two of these models in for review.
The two main features GIGABYTE is promoting with its launch starts with DDR4-2133 support in 1 DIMM per channel, 2 DPC and 3 DPC configurations. This makes sense given that the CPUs have DDR4-2133 support, however GIGABYTE is claiming that other motherboards will have reduced limits at higher DPC counts. The second aspect is almost a transfer of IP from the consumer group – updating the BIOS without a CPU or DRAM installed. This can be done over the IPMI 2.0 management interface or via the command line over the network.
Unfortunately I have no clue how to decipher the motherboard names, but on release will be a single workstation motherboard, the MW50-SV0: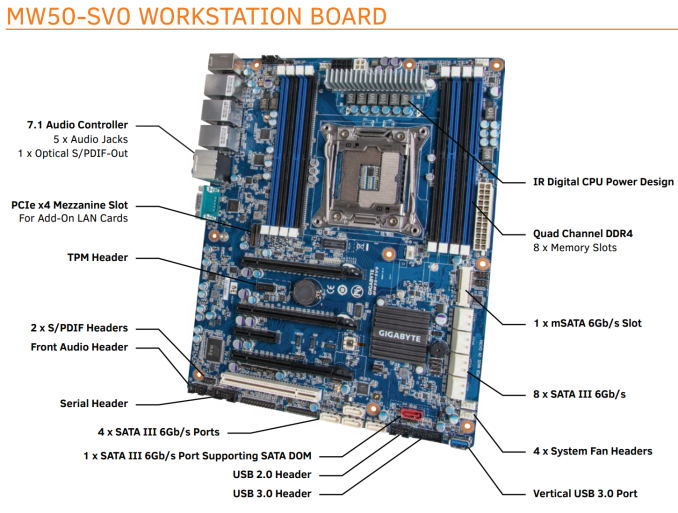 Perhaps surprisingly we still see an mSATA here rather than an M.2 port. Also, the TPM header is slap bang in the middle of the first two PCIe slots, making any GPU + TPM user lose that first PCIe slot.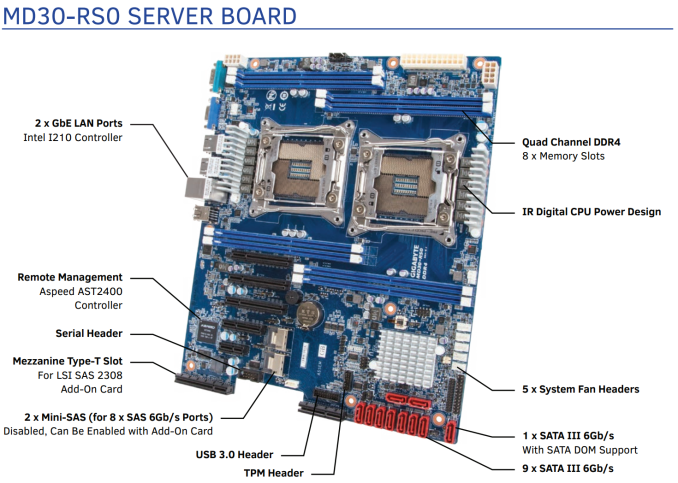 The server motherboards are all 2P, and GIGABYTE Server's rep indicated to me that this generation is going to have extensive use of the mezzanine type-T slot for the add-in cards. Due to the ATX dimensions of this MD30-RS0, we are limited to 1 DPC in a stacked arrangement, but all 10 SATA 6 Gbps ports are here. Note that if a user wants to equip both SAS drives and a double slot PCIe device here, they will be out of luck.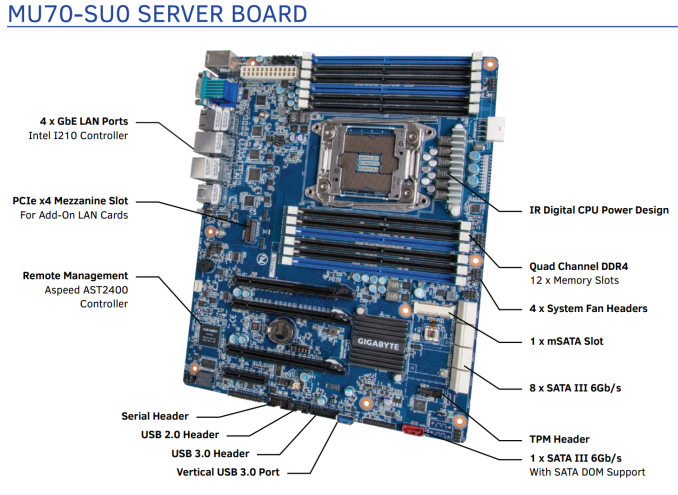 The MU70-SU0 is a single socket workstation motherboard, using the ATX standard but also a narrow LGA2011-3 socket to allow for 3DPC. The arrangement should allow two large PCIe devices along with mSATA and full storage capabilities. This motherboard also has four GbE ports based on Intel's I210 line of controllers.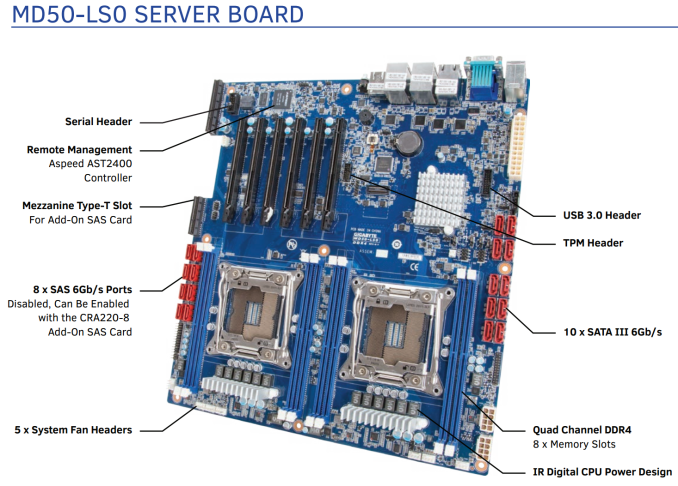 The MD50-LS0 aims more to be a storage board unless riser cables are used, because in this configuration of CPUs and PCIe slots it will be impossible to add in large compute cards. We move up to the larger SSI EEB form factor here, with onboard ports for the Type-T slot. Note there are no extra power connectors for the PCIe slots, perhaps suggesting a non-compute nature.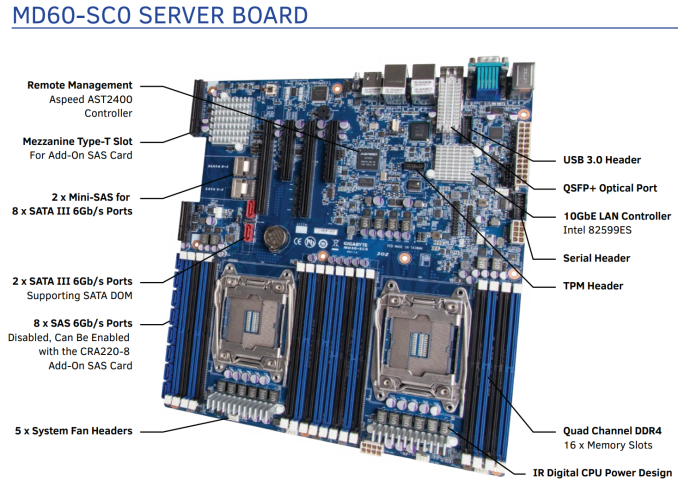 We actually have the MD60-SC0 in for testing, showing a dual narrow socket combined with 2 DPC memory. The CPU sockets are inline rather than staggered, and the board comes with a 10GbE QSFP+ port supporting dual output via a splitter cable. When setting up this board the other day the power connector placement is a little odd, and the PCIe arrangement again is not conducive to large PCIe devices, but the arrangement does allow for directed airflow in a server over the hot components (including that chipset and QSFP+).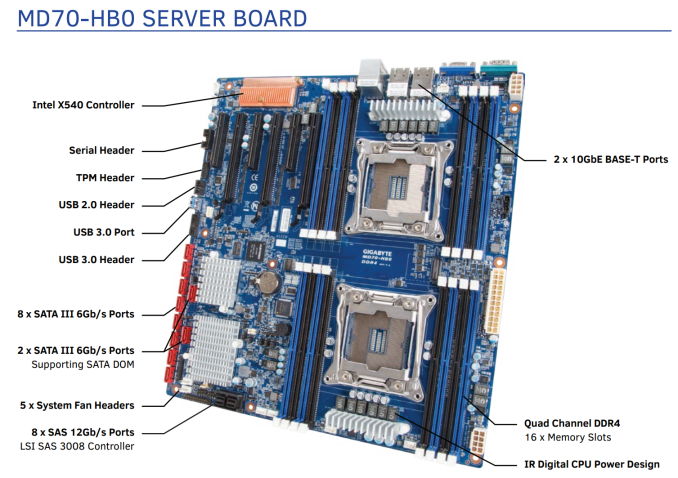 The MD70-HB0 is a bit more of a rearrangement of the MD60-SC0, with the larger version of the LGA2011-3 sockets now inline top to bottom and 2 DPC channel support. The networking is provided by an Intel X540 instead, giving two 10GbE Base-T LAN ports. I have been wondering about the consumer adoption of 10GbE Base-T on motherboards and given the heatsink here to cool it, I am not surprised that it has not made it over yet.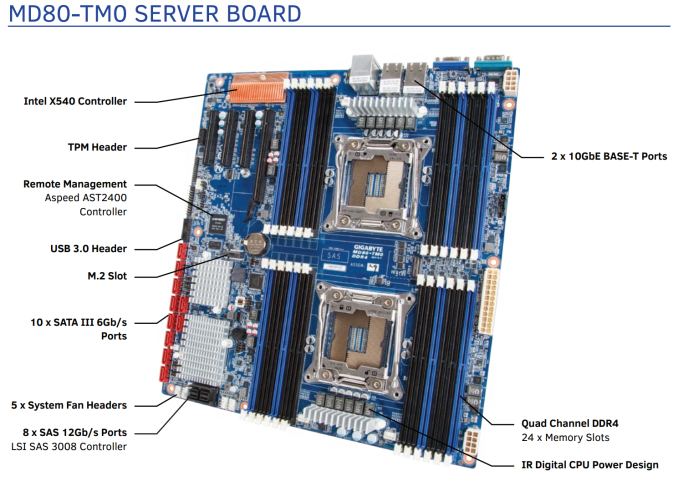 The last motherboard in the list, aside from supporting 3DPC and 10GbE Base-T, breaks the pattern by supporting an M.2 slot. It looks here that only 2280 type devices are supported, and it is unclear if this is PCIe 2.0 x2, x4, or PCIe 3.0 x4. The MD80-TM0 is also an odd size, using a proprietary 305x395mm form factor.
We have no official confirmation on pricing and exact release dates as of yet, although GIGABYTE is sampling to review. We have the MD60-SC0 on hand with some Xeons, so keep your eyes for that article.