Battlefield 4
Our latest addition to our benchmark suite and our current major multiplayer action game of our benchmark suite is Battlefield 4, DICE's 2013 multiplayer military shooter. After a rocky start, Battlefield 4 has finally reached a point where it's stable enough for benchmark use, giving us the ability to profile one of the most popular and strenuous shooters out there. As these benchmarks are from single player mode, based on our experiences our rule of thumb here is that multiplayer framerates will dip to half our single player framerates, which means a card needs to be able to average at least 60fps if it's to be able to hold up in multiplayer.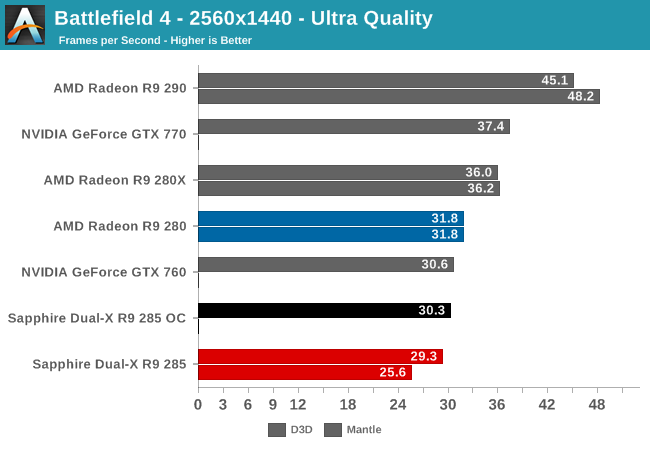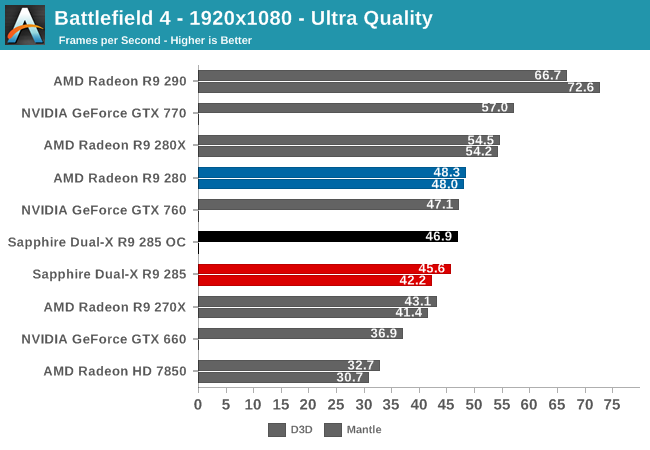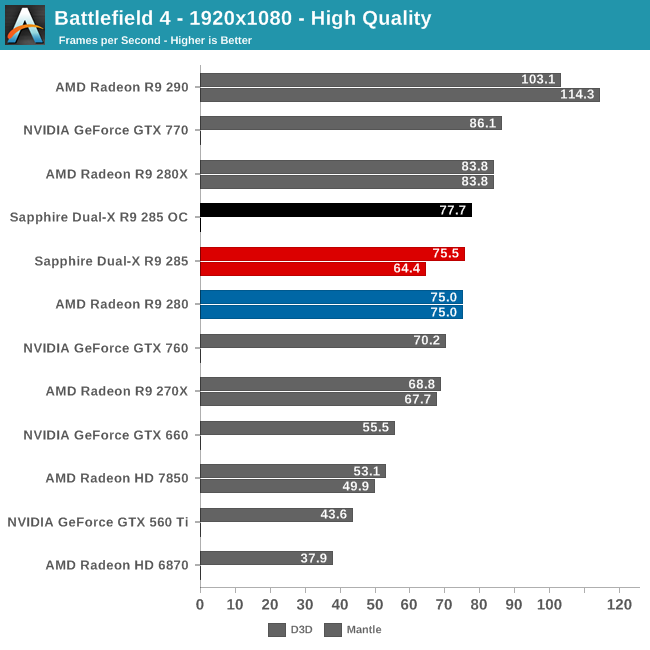 Our first Mantle-enabled game, Battlefield 4 shows the current Mantle R9 285 performance regressions front and center. At every resolution the R9 285 loses performance, sometimes remarkably so. As a result it is limited to Direct3D.
Regressions aside, I feel like Battlefield 4 is a good case for why the R9 285 needs more VRAM, or at the very least it's not a good choice for 2560x1440. The sustained performance at 2560 is too low for this game, and the performance loss compared to the 3GB R9 280 appears to be a direct result of VRAM pressure. If the R9 285 had more VRAM, I suspect it would reach parity with the R9 280, especially given what happens at 1080p with High settings.
In any case, this is also the first game where the R9 285 trades blows with the GTX 760 rather than taking a distinct lead. With both cards limited to Direct3D, both cards are also returning similar performance. Which for R9 285 and its higher price tag is essentially a loss.