While we hopefully have a better understanding of the SoC's underlying architecture and specifications, let's take a look at how it performs in practice. The benchmarks are performed in the performance profile unless mentioned otherwise (No mention means there was little difference between the profiles).
We start off by our usual web-tests: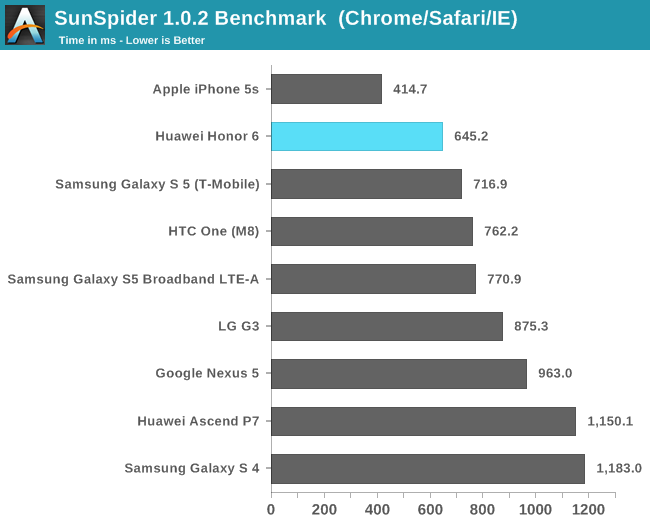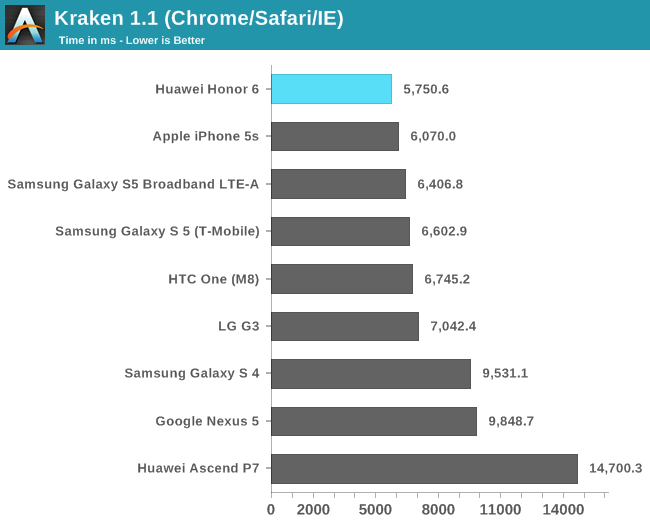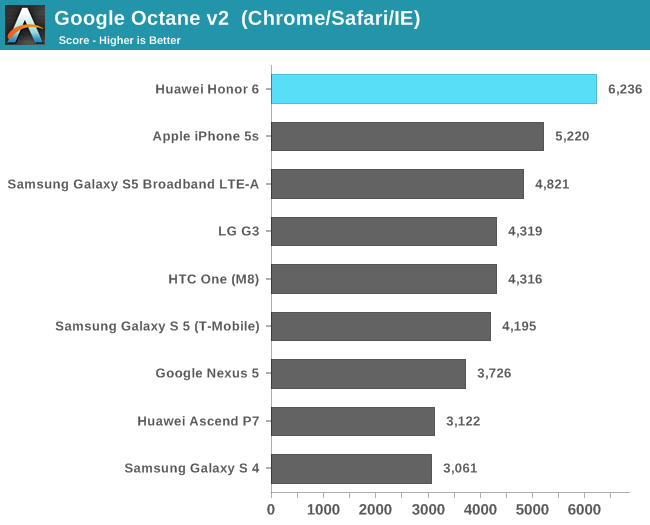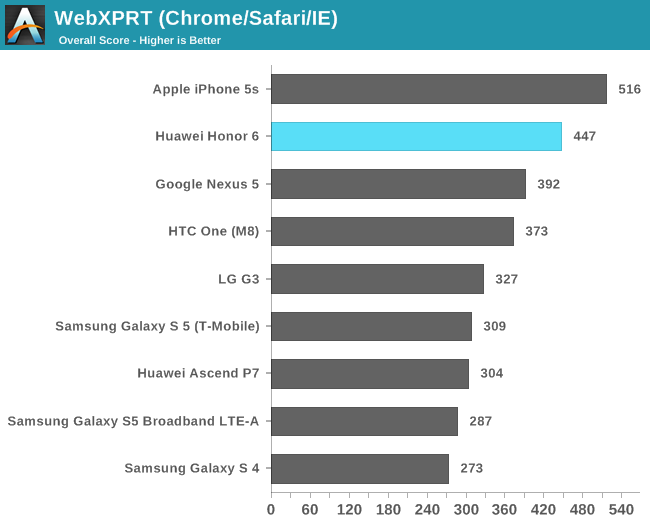 The Honor 6 performs outstandingly in our web benchmarks. It is leading all Android devices and even manages to outperform Apple's iPhone 5S in Google Octane and Mozilla's Kraken. This is a very interesting result that can be explained by one of big.LITTLE's core strengths: very low performance latency.
While traditional SoCs will try to scale the CPU frequency up while analysing a sample period of most often 50-100ms, while taking additional time to reach the maximum P-state, the GTS controlled Kirin 920 is able to do this at a maximum latency of only 26ms from idling, and in a best case scenario <16ms if the big cluster is already on a high frequency. The task at hand gets a higher residency time at full performance over traditional DVFS mechanics. Small and spiky loads such as Javascript test benches and web-page rendering are a perfect fit for big.LITTLE's design.
It is also to be noted that Cortex A15 SoCs have generally always performed very high on the web tests, the Exynos 5410 in the international Galaxy S4 was the first A15 design found in a smartphone and was able to achieve very similar scores when locked at high frequency. There is definitely also an architecture advantage to be found here in comparison to Krait based SoCs from Qualcomm.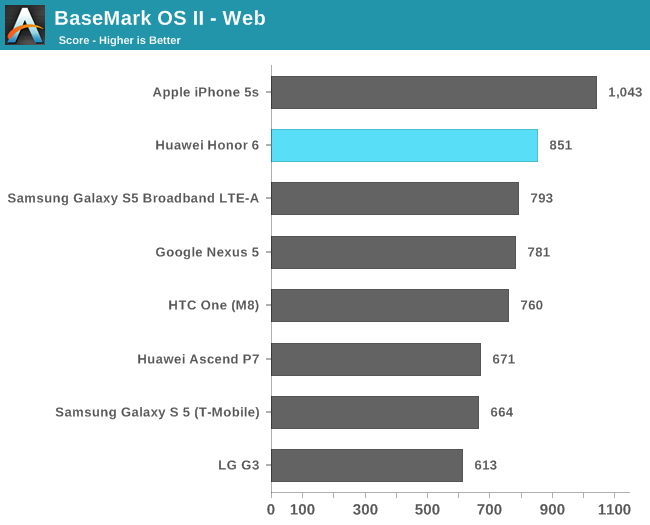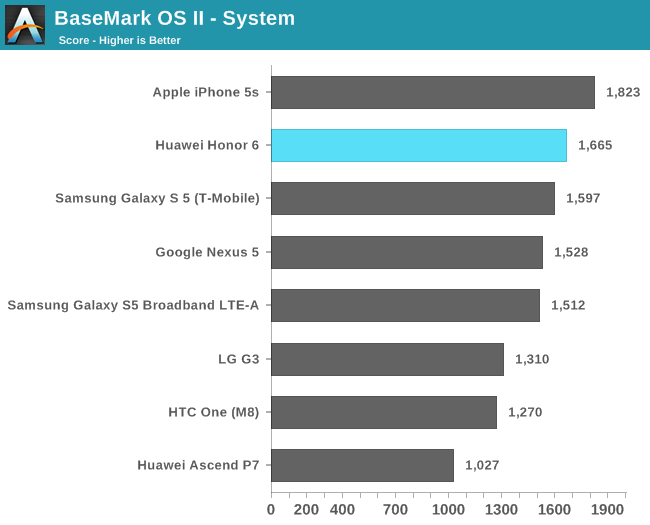 We see a similar picture in the CPU-intensive loads of BaseMark OS II - the Kirin 920 is able to outperform all other Android devices, but still lags behind the year old Apple A7.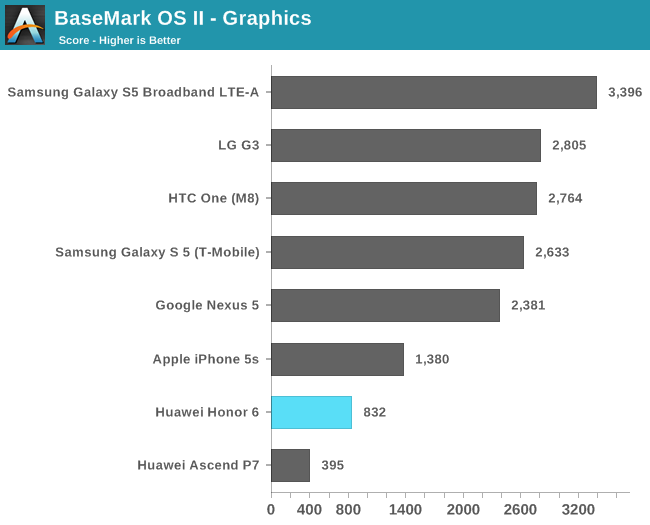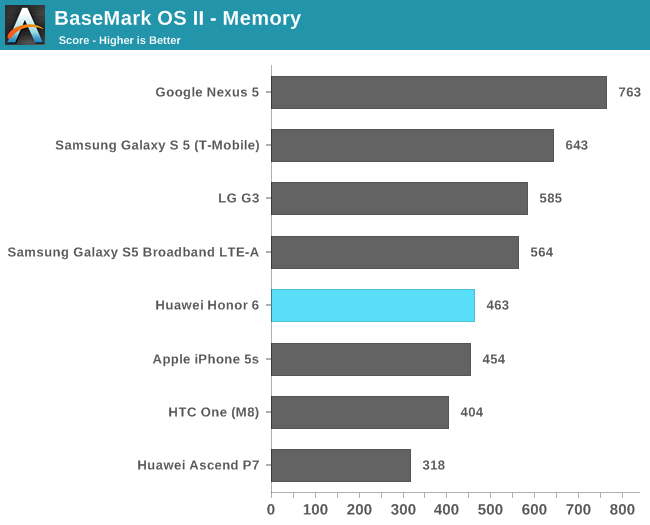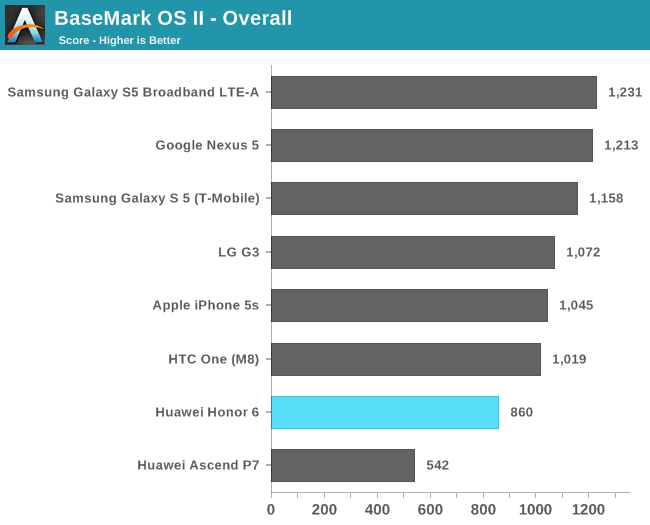 In the end, the abysmal graphics score of the Mali T628MP4 drags the final overall score on BaseMark OS.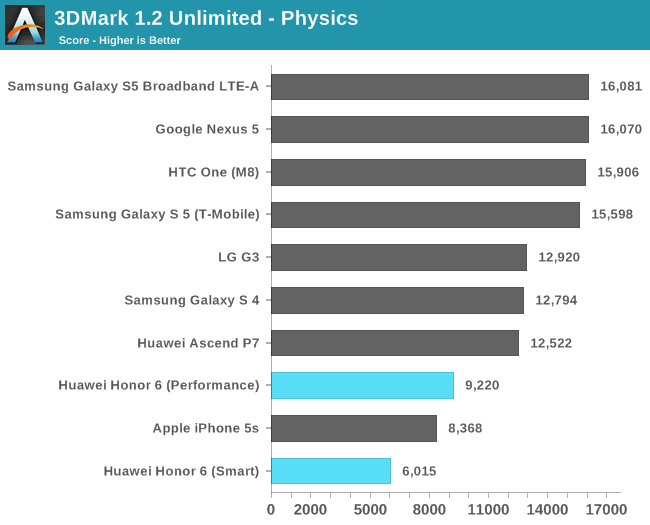 The physics test of 3DMark 1.2 Unlimited which is mainly CPU-bound sees a huge difference between the smart and performance profiles of the device. Because this is a rate-limited CPU benchmark and its load is evenly spread out over time, it provides a perfect case for lowering the HMP parameters and enabling the scheduler to migrate the process over to a big core. This is the largest delta I've been able to measure between the two main profiles that the Honor 6 provides.
Next, let's investigate the GPU performance in more detail.