DDR4
Intel and the DRAM world are switching over to DDR4 and with good reason. DDR4 is a large step forward, and some of the highlights of DDR4 include the following:
Speeds up to 3200 MT/s (1.6GHz Double Data Rate)
Lower DRAM I/O voltage (1.2 instead of 1.5 V VDDQ)
Twice the capacity (using the same DRAM chips)
Improved RAS
The improvements start with the internal organization. A DDR3 chip has eight independent banks, while DDR4 comes with 16 banks, organized in a 4x4 configuration: four bank groups with four banks. More banks mean that more pages can stay open (more page hits, lower latency) at a small power increase, which is completely negated by a whole range of power efficiency features (see further). The power efficiency gains are rather large. Samsung quantifies them in the slide below.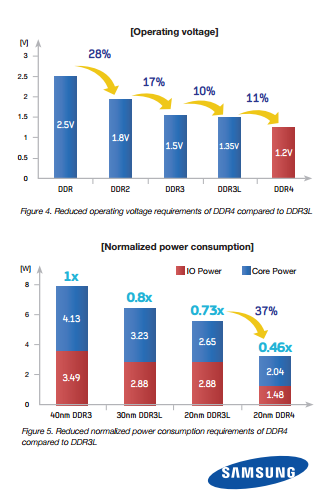 Samsung claims about 21% lower power thanks to the drop in operating voltage (1.5 ->1.2v). Low Power DDR4 will run at 1.05v and will lower the power usage even further. But there is more to DDR4 than lowering the voltage. Samsung claims that, when both are manufactured with the same process technology, the DDR4 runs at 2/3 of the power DDR3L needs.
Micron gives a break down of the features that made DDR4 more power efficient besides the obvious drop in VDDQ.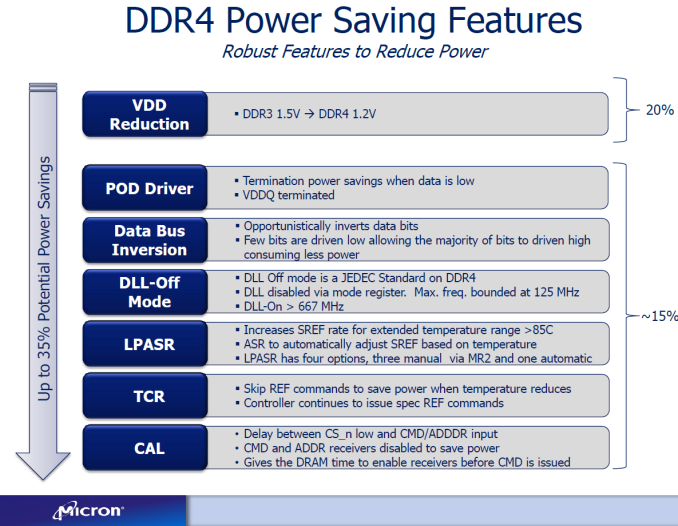 Note that the total power efficiency increase is 30-35%, and this is not just a result of the VDD reduction (20%). In that sense, DDR4 is a larger step forward than previous DDR technology transistions. Of course, the 30-35% improvement in power efficiency is measured with RAM running at the same speed. It's also possible to run DDR4 at much higher speeds (3200 MT/s vs 1866 MT/s) while sacrificing some of the power savings. The DDR4 memory that we are using for testings runs at 2100 MT/s, a good compromise between a mild speed increase and power efficiency.
A more elaborate discussion will follow in our next server memory article, but each bank also has much smaller rows (four times smaller) and thus the cycle time of the DRAM can be much higher. The result is lower latency.
The improved signal to noise ratio and the extra pins for addressing allow DDR4 to support eight DRAM stacks instead of four (DDR3). As a result, DDR4 can support twice the capacity of DDR3 using the same (4-16Gb) DRAM chips. This will require the use of 3D stacking technology, which will take time to implement. However, since 8Gb chips are now used, Registered DIMMs of 32GB should soon be a reality, as well as 64GB LRDIMMs. We'll discuss this in more detail on the next page.