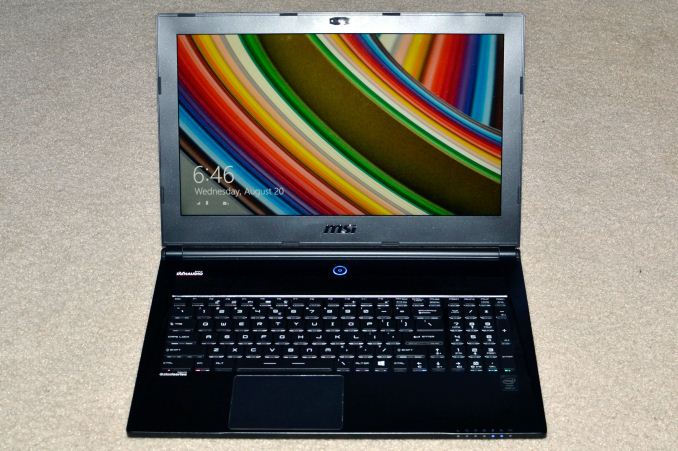 MSI GS60 Ghost Pro 3K Introduction
MSI has several lines of gaming notebooks catering to different types of users. In the past few months we've looked at MSI's top-of-the-line GT70, equipped with NVIDIA's GTX 880M GPU. While that's a great notebook for those who want performance first, the GE60 delivers decent performance in a smaller and less expensive chassis. Somewhere in between those two options sits the GS line of MSI notebooks, and today we have the updated GS60 on our test bench.
As usual, MSI has a few models of GS60 available, with GPUs ranging from the GTX 850M through the GTX 870M. The system we received is near the top of the product stack and includes the HiDPI 3K display along with an i7-4710HQ processor and GTX 870M GPU. This will round out our look at NVIDIA's current high-end mobile GPU options and show us where GTX 870M falls compared to the bigger 880M and the Maxwell-based 860M.
Perhaps more noteworthy with the GS line is that while many elements of the overall design are similar to the GE and GT models – they all have the same multi-colored backlit SteelSeries keyboard for instance – the GS line is slimmer and lighter, thanks in part to ditching the optical drive (RIP, DVD-RW). The GS series also sports a full aluminum chassis on the top and bottom, which gives it much more of a premium feel. Here's what we received for review:
MSI GS60 2PE Ghost Pro 3K Specifications
Processor
Intel Core i7-4710HQ
(Quad-core 2.4-3.4GHz, 6MB L3, 22nm, 47W)
Chipset
HM87
Memory
2x8GB DDR3L-1600 (Max 2x8GB)
Graphics
GeForce GTX 870M 3GB GDDR5
(1344 cores, 941MHz + Boost 2.0, 5GHz GDDR5)

Intel HD Graphics 4600
(20 EUs at 400-1200MHz)
Display
15.6" Glossy IPS 16:9 3K (2880x1620)
(Panasonic VVX16T029D00)
Storage
256GB SSD (2x Kingston RBU-SNS8100S3128GD SuperRAID)
1TB HDD (HGST HTS721010A9E630)
Optical Drive
N/A
Networking
802.11ac WiFi (Intel Dual-Band Wireless-AC 7260)
(2x2:2 866Mbps capable)
Bluetooth 4.0 (Intel)
Gigabit Ethernet (Killer e2200)
Audio
Realtek HD ALC892
Stereo Speakers
Headphone and microphone jacks
Battery/Power
6-cell, 52Wh
150W Max AC Adapter
Front Side
Activity LEDs
Left Side
Headphone and mic jacks
2 x USB 3.0
AC Power Connection
Kensington Lock
Exhaust vent
Right Side
1 x USB 3.0 (Sleep Charging)
Flash Reader (SDXC/SDHC)
1 x HDMI
1 x Mini-DisplayPort
Gigabit Ethernet
Exhaust vent
Back Side
Exhaust vent
Operating System
Windows 8.1 64-bit
Dimensions
15.35" x 10.47" x 0.78" (WxDxH)
(390mm x 266mm x 19.9mm)
Weight
4.31 lbs (1.96kg)
Extras
1080p FHD Webcam
103-Key 3-Zone Colored Backlighting Keyboard
Pricing
Starting at $1991 Online
$2048 as configured
The core features of the GS60 are similar to the GE60 we looked at, except it includes a 256GB SSD array for the OS and applications, it has 16GB of memory, and of course there's the 3K display. It's definitely an attractive system, and if you're more interested in an anti-glare 1080p display you can save about $300 (and lose 4GB RAM and half the SSD storage in the process). The feature set is good, with everything you'd want from a modern PC, including dual-band 802.11ac WiFi. Performance should also be good for gaming or other tasks, though it's worth noting that driving the 3K panel at native resolution in games is likely to prove difficult for even a GTX 880M, let alone the lesser GTX 870M.
The SSD configuration is a bit of a letdown, as MSI is still utilizing two M.2 SATA SSDs in RAID 0 (a single PCIe M.2 SSD could potentially outperform this configuration), but it certainly gets the job done. My only real complaint with the SSDs is that I'd like to see MSI go up to a 512GB configuration, drop the HDD, and hopefully increase battery capacity at the same time. That's something Dell offers with the XPS 15, and we're fast approaching the days where I even want to have a 2.5" HDD bay in a laptop; I'd rather have a good 512GB SSD and more battery life, though others may disagree.