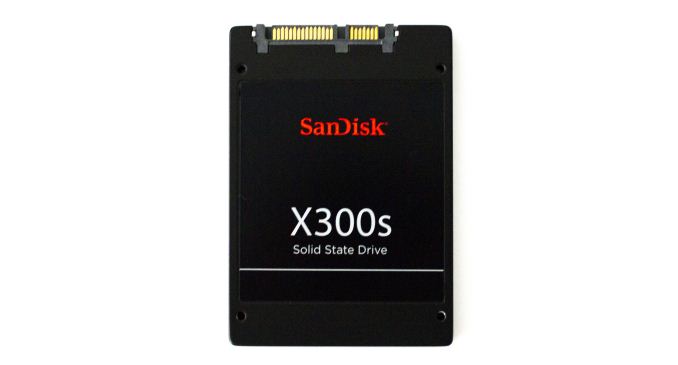 Back in May SanDisk announced the X300s, which is the company's first SED (Self-Encrypting Drive). The X300s is based on the same Marvell platform as SanDisk's client drives but with the differentiation that the X300s is the only drive that supports encryption via TCG Opal and IEEE-1667 (eDrive) standards. Due to the encryption support the X300s is positioned as a business product since the main markets for encrypted drives are corporations and governments, which handle sensitive and confidential data on a daily basis.
In our Intel SSD 2500 Pro review I talked about the cost of a lost corporate laptop in more detail, but in short a lost unencrypted corporate laptop costs an average of $50,000 to the company through the loss of IP and data breaches. (Obviously not every lost laptop will cost that much -- some might not cost anything more than the hardware, but others could be far more valuable.) Encryption is the easiest way to minimize the loss because without access to the data in the laptop, the only loss is the physical laptop and the possible work hours as a result, but frankly that cost is only in the order of a couple of thousand dollars, whereas the loss of IP could result in millions of dollars in damage.
To provide the ease of encryption to everyone, SanDisk is including a license for Wave's EMBASSY Security Center with every X300s. While Windows 8 provides native support for hardware encryption through eDrive, most corporations are still using Windows 7 and that only provides software based BitLocker encryption. Moreover, eDrive has a rather strict set of hardware and software requirements, which can be a dealbreaker if dealing with older hardware with no UEFI and/or TPM support. In addition to Wave, the X300s has been certified by McAfee, WinMagic, Check Point, Softex, and Absolute for Opal encryption in case you or your company already has security software.
SanDisk X300s Specifications
Capacity
64GB
128GB
256GB
512GB
1TB
Form Factor
2.5" 7mm & M.2 2280
Controller
Marvell 88SS9188
Marvell 88SS9187
NAND
SanDisk 2nd Gen 64Gbit 19nm MLC
Sequential Read
510MB/s
510MB/s
520MB/s
520MB/s
520MB/s
Sequential Write
140MB/s
300MB/s
460MB/s
460MB/s
480MB/s
4KB Random Read
71K IOPS
85K IOPS
90K IOPS
92K IOPS
94K IOPS
4KB Random Write
37K IOPS
66K IOPS
80K IOPS
80K IOPS
82K IOPS
Idle Power (Slumber/DEVSLP)
90mW / 5.0mW
90mW / 5.0mW
90mW / 5.0mW
90mW / 6.0mW
95mW / 6.0mW
Max Power (Read/Write)
2.9W /
2.6W
2.9W /
3.6W
3.0W /
4.9W
3.1W /
5.0W
3.1W / 5.0W
Endurance
40TB (21GB/day for 5 years)
80TB (43GB/day for 5 years)
Encryption
TCG Opal 2.0 & IEEE-1667
The X300s is available in both 2.5" and M.2 2280 form factors. The 2.5" version comes in up to 1TB capacity and uses two different controllers depending on the capacity. 256GB and lower use the 4-channel Marvell 9188 (codename Monet Lite), whereas the 512GB and 1TB models use the full 8-channel Marvell 9187 controller (whose codename is surprisingly just Monet). The M.2 2280 is limited to 512GB due to form factor limitations and uses the Monet Lite controller for all capacities.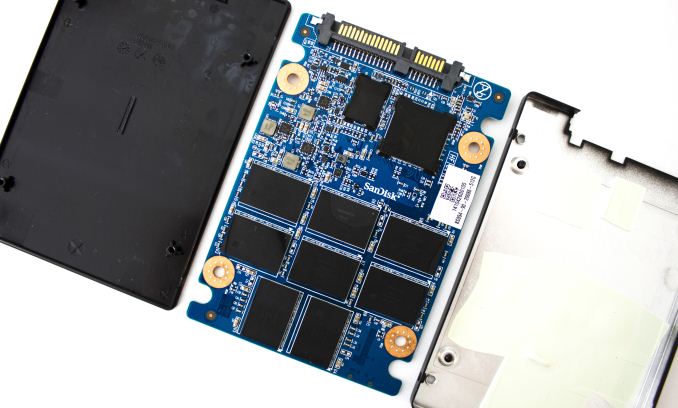 The PCB in the X300s is single-sided and features a total of eight NAND packages. It is quite impossible to see the markings on the chips from this angle due to the residue from the thermals pads, so here is a closer shot of the NAND with light coming from a better angle.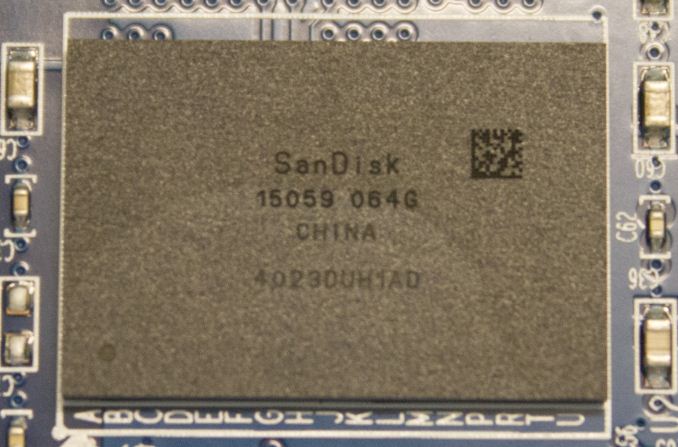 Unfortunately SanDisk's part numbers do not tell much and there is no public part number decoder available, but SanDisk told me that the X300s uses 64Gbit 1Ynm (i.e. second generation 19nm) parts, meaning that our 512GB sample features eight octal-die NAND packages.
Test Systems
For AnandTech Storage Benches, performance consistency, random and sequential performance, performance vs transfer size and load power consumption we use the following system:
| | |
| --- | --- |
| CPU | Intel Core i5-2500K running at 3.3GHz (Turbo & EIST enabled) |
| Motherboard | AsRock Z68 Pro3 |
| Chipset | Intel Z68 |
| Chipset Drivers | Intel 9.1.1.1015 + Intel RST 10.2 |
| Memory | G.Skill RipjawsX DDR3-1600 4 x 8GB (9-9-9-24) |
| Video Card | Palit GeForce GTX 770 JetStream 2GB GDDR5 (1150MHz core clock; 3505MHz GDDR5 effective) |
| Video Drivers | NVIDIA GeForce 332.21 WHQL |
| Desktop Resolution | 1920 x 1080 |
| OS | Windows 7 x64 |
Thanks to G.Skill for the RipjawsX 32GB DDR3 DRAM kit
For Wave EMBASSY Security Center and slumber power testing we used a different system:
| | |
| --- | --- |
| CPU | Intel Core i7-4770K running at 3.3GHz (Turbo & EIST enabled, C-states disabled) |
| Motherboard | ASUS Z87 Deluxe (BIOS 1707) |
| Chipset | Intel Z87 |
| Chipset Drivers | Intel 9.4.0.1026 + Intel RST 12.9 |
| Memory | Corsair Vengeance DDR3-1866 2x8GB (9-10-9-27 2T) |
| Graphics | Intel HD Graphics 4600 |
| Graphics Drivers | 15.33.8.64.3345 |
| Desktop Resolution | 1920 x 1080 |
| OS | Windows 7 x64 |