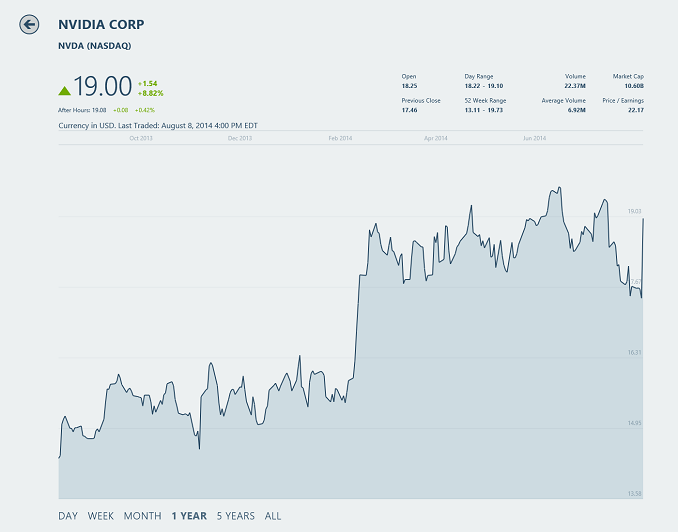 On Thursday August 7th, NVIDIA released their results for the second quarter of their fiscal year 2015. Year-over-year, they had an excellent quarter based on strong growth in the PC GPU market, Datacenter and Cloud (GRID), and mobile with the Tegra line.
GAAP Revenue for the quarter came in at $1.103 billion which is flat from Q1 2015, but up 13% from $977 million at the same time last year. Gross margin for Q2 was up both sequentially and year-over-year at 56.1%. Net income for the quarter came in at $128 million, down 6% from Q1 and up 33% from Q2 2014. These numbers resulted in diluted earnings per share of $0.22, down 8% from Q1 and up 38% from Q2 last year but beating analysts expectations.
NVIDIA Q2 2015 Financial Results (GAAP)
In millions except EPS
Q2'2015
Q1'2015
Q2'2014
Q/Q
Y/Y
Revenue
$1103
$1103
$977
0%
+13%
Gross Margin
56.1%
54.8%
55.8%
+1.3%
+0.3%
Operating Expenses
$456
$453
$440
+1%
+4%
Net Income
$128
$137
$96
-6%
+33%
EPS
$0.22
$0.24
$0.16
-8%
+38%
NVIDIA Q2 2015 Financial Results (Non-GAAP)
In millions except EPS
Q2'2015
Q1'2015
Q2'2014
Q/Q
Y/Y
Revenue
$1103
$1103
$977
0%
+13%
Gross Margin
56.4%
55.1%
56.3%
+1.3%
+0.1%
Operating Expenses
$411
$411
$401
0%
+2%
Net Income
$173
$166
$133
+4%
+30%
EPS
$0.30
$0.29
$0.23
+3%
+30%
The GPU business is the primary source of revenue for NVIDIA, and includes GeForce for desktops and notebook PCs, Quadro for workstations, Tesla for high performance computing, and GRID for cloud-enabled graphic solutions. This quarter, the GPU revenue rose 2% over Q2 2014 with $878 million in revenue. This is down 2% from the previous quarter due to the seasonal decline of consumer PCs. Revenue from the PC GPU line rose 10% over last year and was helped by the introduction of the GeForce GTX 750 and 750 Ti Maxwell based boards. They are also seeing growth in the Tesla datacenter business. Quadro revenue also increased, citing strong growth in mobile workstations.
The mobile side of NVIDIA hasn't seen as many product wins compared to Qualcomm, but the Tegra business is still growing strongly for NVIDIA. Tegra revenue was up 14% from Q1 2015, and 200% from Q2 2014 with a total revenue of $159 million for the quarter. Tegra continues to have strong demand in the automotive infotainment sector, with a 74% growth in that market year-over-year. This could be a lucrative market, with automotive systems generally locking in for at least several years compared to the mobile sector which might see a product replaced in less than a single year. The Tegra K1 has just come to market though, and it has shown itself to be a capable performer and may win some more designs soon.
The last avenue of income for NVIDIA is $66 million per quarter in a licensing deal with Intel.
NVIDIA Quarterly Revenue Comparison (GAAP)
In millions
Q2'2015
Q1'2015
Q2'2014
Q/Q
Y/Y
GPU
$878
$898
$858
-2%
+2%
Tegra Processor
$159
$139
$53
+14%
+200%
Other
$66
$66
$66
flat
flat
The company projected this quarter to be flat on revenue as compared to Q1, and they were exactly right. Projections for Q3 2015 are for revenue of $1.2 billion plus or minus 2%.
During the quarter, $47 million was paid in dividends and NVIDIA purchased 6.8 million shares back from investors. This brings them to $594 million of the $1 billion promised to shareholders for FY 2015. The next dividend of $0.085 per share will be paid on September 12th to all stockholders of record as of August 21st.
It was an excellent quarter for NVIDIA, and their stock prices jumped after the numbers were released. All segments of the company are growing at the moment, and with the recent release of the Tegra K1 they can only be hoping to have another strong quarter of mobile grown in Q3 after a great 200% jump in Tegra revenue since last year. The stronger than expected PC sales have helped their biggest business as well, with the GPU division up 2%. CEO Jen-Hsun Huang has worked to bring the company a more diversified portfolio, and with the recent gains in mobile and datacenter computing, the company has certainly had some recent success.
Source: NVIDIA Investor Relations