Memory Subsystem: Latency
To measure latency, we use the open source TinyMemBench benchmark. The source was compiled for x86 with gcc 4.8.2 and optimization was set to "-O2". The measurement is described well by the manual of TinyMemBench:
Average time is measured for random memory accesses in the buffers of different sizes. The larger the buffer, the more significant the relative contributions of TLB, L1/L2 cache misses, and DRAM accesses become. All the numbers represent extra time, which needs to be added to L1 cache latency (4 cycles).
We tested with dual random read, as we wanted to see how the memory system coped with multiple read requests. To keep the graph readable we limited ourselves to the CPUs that were different.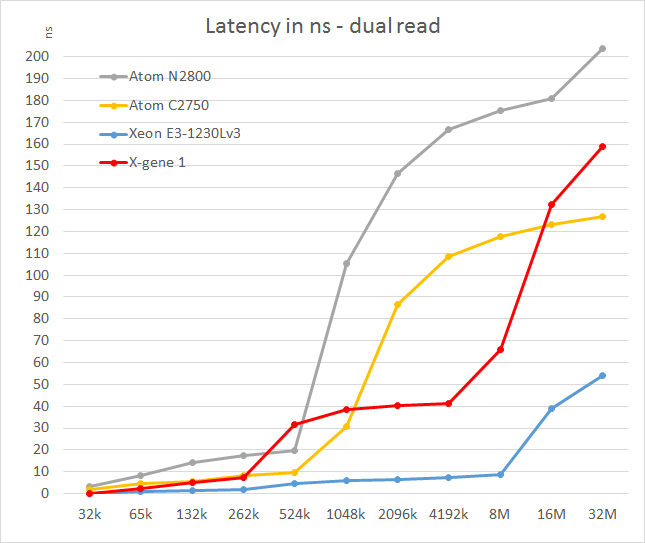 The X-Gene's L2 cache offers slightly better latency than the Atom C2750. That is not surprising as the L2 cache is four times smaller: 256KB vs 1024KB. Still, considering Intel has a lot of experience in building very fast L2 caches and the fact that AMD was never able to match Intel's capabilities, AppliedMicro deserves kudos.
However, the L3 cache seems pretty mediocre: latency tripled and then quadrupled! We are measuring 11-15 cycle latency for the L2 (single read) to 50-80 cycles (single read, up to 100 cycles in dual read) for the L3. Of course, on the C2750 it gets much worse beyond the 1MB mark as that chip has no L3 cache. Still, such a slow L3 cache will hamper performance in quite a few situations. The reason for this is probably that X-Gene links the cores and L3 cache via a coherent network switch instead of a low-latency ring (Intel).
In contrast to the above SoCs, the smart prefetchers of the Xeon E3 keep the latency in check, even at high block sizes. The X-Gene SoC however has the slowest memory controller of the modern SoCs once we go off-chip. Only the old Atom "Saltwell" is slower, where latency is an absolute disaster once the L2 cache (512KB) is not able to deliver the right cachelines.