For new users to the PC industry, or those that migrated towards newer APU platforms, it is worth going back and recalling the AM3+ socket with the 990FX chipset. When the platform was released, it offered several advantages that Intel lacked at the time: a full set of SATA 6 Gbps ports was the main advantage which took Intel another two generations to offer. The chipset, with the right CPU, also offered substantially more PCIe lanes than the mainstream Intel parts which were similarly priced. While the user could have sixteen PCIe 2.0 lanes from an Intel CPU for graphics coupled with eight PCIe 2.0 lanes from the chipset, AMD users had 32 PCIe 2.0 lanes from the CPU for graphics, another six PCIe 2.0 x1 lanes for controllers and four PCIe 2.0 x1 lanes from the chipset. This gave the AMD motherboard manufacturers more bandwidth to add extra ports or adjust their PCIe layout for graphics. Note that this is the latest AMD platform to support SLI, rather than the newer FM1/FM2 platforms that do not.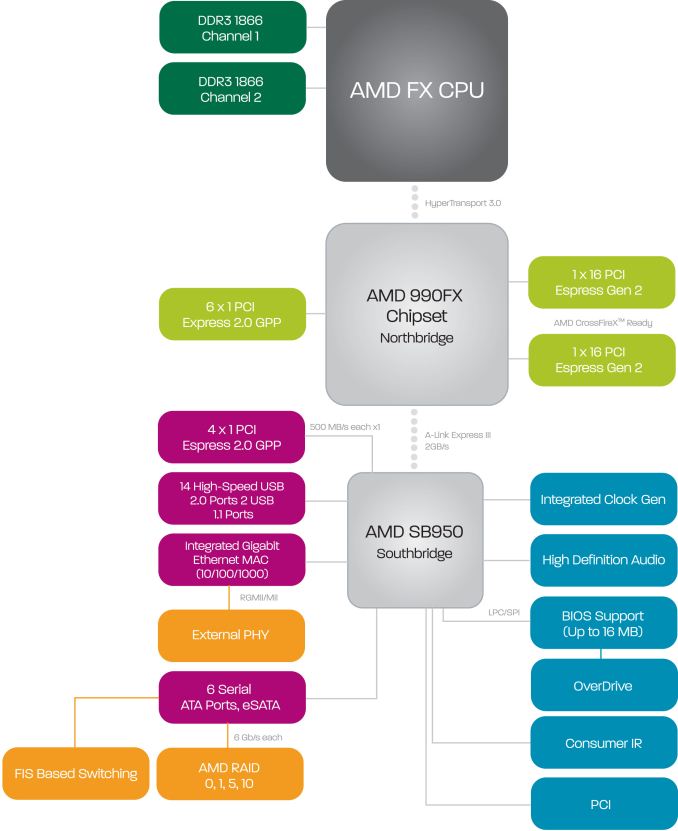 There are a few limitations on the 990FX chipset worth mentioning. When this motherboard we are testing today was released, PCIe 3.0 was gaining momentum. The only way to add PCIe 3.0 to these motherboards was to integrate a PLX chip between the Northbridge and the GPUs which gave PCIe 3.0 capabilities between the GPUs, but it still limited data transfer between the PLX chip and the CPU to PCIe 2.0. The other limitation was one of cost. AMD platforms have historically been low cost markets, at least for end users, which correlates to a reluctance to expand spending on motherboards. This reduces the market for high end motherboard solutions which might incorporate extra features and controllers, and as a result many AM3+ motherboards were aimed at price/performance rather than feature set.
The ASRock 990FX Extreme9 sits near the top of the stack for feature set, and currently retails for $170. To put that into perspective, we discuss $170 motherboards for Intel's latest chipsets as a mid-range point rather than the high end.
Also worth noting that because our last 990FX reviews were with the FX-8150 processor, in order to compare to historical data we also used the Extreme9 with the FX-8150 for comparison points.
ASRock 990FX Extreme9 Overview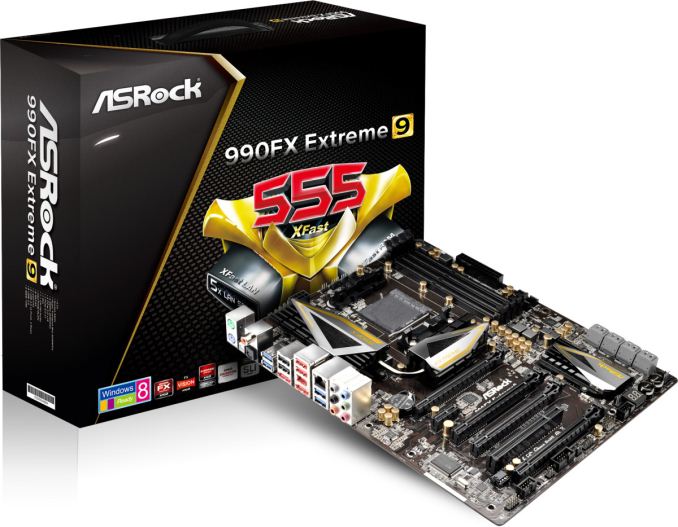 Visual Inspection
Taking the motherboard out of the box for the first time and there are several items worth noting. Firstly the extended heatsink which covers the 12+2 phase power delivery to the side of the socket and the North Bridge just below the socket. ASRock has placed all the power delivery chokes in a line, and uses a CHIL8328 IC for a digital design. This PWM controller powers 6-8 phases, and thus the system uses multiplexing to get the desired 12 for the CPU voltage.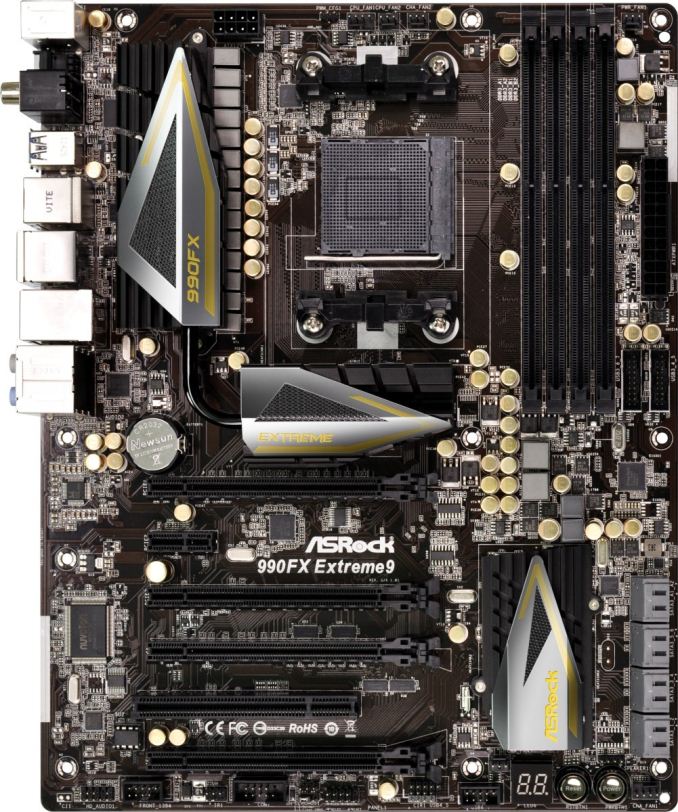 The socket area has four fan headers within immediate reach – two CPU and one chassis header directly above the socket, and a 3-pin PWR header to the top right of the DRAM slots. The other two fan headers on the motherboard are located at the bottom, one to the left of the 2-digit debug and the other to the right of the power/reset buttons. The socket area uses a low heatsink profile combined with a gap to the DRAM that should allow for large air coolers to be used.
The DRAM slots use double sided latch mechanisms and there is ample space to the first major PCIe slot. At the bottom of the DRAM slots, to the right, are two USB 3.0 headers from an Etron EJ188H controller. At the time this motherboard was made, a chassis may have had one USB 3.0 header, and thus ASRock also includes a USB 3.0 panel in the box.
Underneath this are eight SATA 6 Gbps ports, the top two from an ASMedia ASM1061 controller followed by six from the south bridge. In this situation, with an additional controller, I would have preferred if ASRock had used a different color for the ASMedia ports. Below these is a fan header, the power and reset buttons, and the two-digit debug.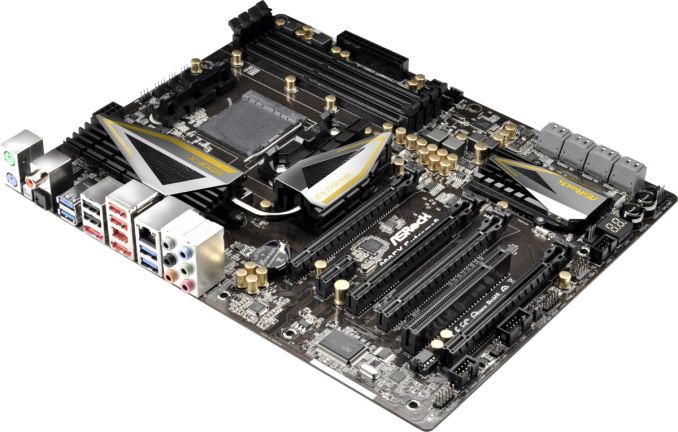 At the bottom of the motherboard is an IEEE1394 header, a COM header, two USB 2.0 headers, an IR header and the front panel headers. Above this is the odd PCIe layout, which combines the 32 PCIe 2.0 lanes from the north bridge with another PCIe 2.0 x4.
The layout is such that the top PCIe slot is an x16, followed by an x1. The second full length slot is a PCIe 2.0 x4, followed by another PCIe 2.0 x16. This slot shares bandwidth with the bottom PCIe slot, whereby if the bottom is populated, they both go to PCIe 2.0 x8. There is also a PCI slot near the bottom.
This means:
Configuration 1: x16/x1/x4/x16/PCI/-
Configuration 2: x16/x1/x4/x8/PCI/x8
Having this layout allows the user to equip the board with three GPUs in the first, third and fourth full length slots. If they are double slot cards, the PCIe 2.0 x4 is left vacant for a sound card, network card, RAID card or other PCIe device. It is worth noting that in terms of audio, ASRock has equipped this motherboard with a Realtek ALC898 codec.

The rear panel uses two PS/2 ports, one for mouse and one for keyboard, followed by a ClearCMOS button and SPDIF outputs. The four blue USB 3.0 ports are powered by another Etron EJ188H controller, and the panel also has four USB 2.0 ports with two eSATA 6 Gbps ports. The IEEE1394 port on the rear is perhaps one of the last consumer oriented motherboard to have this port pre-installed. The Intel NIC on the rear IO might seem a little strange on an AMD motherboard, but this is one of the top line 990FX solutions. The audio jacks round off the set.
Board Features
Board Features
Price
US (Newegg)
Size
ATX
CPU Interface
Socket AM3+
Chipset
990FX + SB950
Memory Slots
Four DDR3 DIMM slots supporting up to 32 GB
Up to Dual Channel, 1066-2450 MHz
Video Outputs
None
Onboard LAN
Intel 82583V
Onboard Audio
Realtek ALC898
Expansion Slots
3 x PCIe 2.0 x16 (x16/x16/- or x16/x8/x8)
1 x PCIe 2.0 x4
1 x PCIe 2.0 x1
1 x PCI
Onboard SATA/RAID
6 x SATA 6 Gbps (Chipset), RAID 0,1,5,10
2 x SATA 6 Gbps (ASMedia ASM1061)
USB 3.0
4 x Rear USB 3.0 (Etron EJ188H)
2 x USB 3.0 Headers (Etron EJ188H)
Onboard
8 x SATA 6 Gbps Ports
2 x USB 3.0 Headers
2 x USB 2.0 Headers
6 x Fan Headers
1 x COM Header
Power/Reset Switches
Dr. Debug LED
Front Panel Connector
Front Audio Connector
Power Connectors
1 x 24-pin ATX
1 x 8-pin CPU
Fan Headers
2 x CPU (4-pin, 3-pin)
3 x CHA (4-pin, 2x 3-pin)
1 x PWR (3-pin)
IO Panel
1 x PS/2 Keyboard
1 x PS/2 Mouse
4 x USB 2.0
4 x USB 3.0
2 x eSATA 6 Gbps
1 x IEEE1394
1 x Intel NIC
Clear CMOS Switch
Audio Jacks
Warranty Period
3 Years
Product Page
Link
If we were making a high end AMD motherboard for 2014, the extra lanes would be perfect for PCIe storage. Pile on a SATA Express and M.2 x4 slot without losing lanes to other functions. Some native USB 3.0 would be nice, or 3.1 via controllers. PCIe 3.0 support would be a must of course, along with a Realtek ALC1150 or more advanced audio codec. ASRock's latest motherboards have featured a water-proof/superhydrophobic coating, or small LCD panels to aid in overclocks, which might be something in AMD meets 2014.