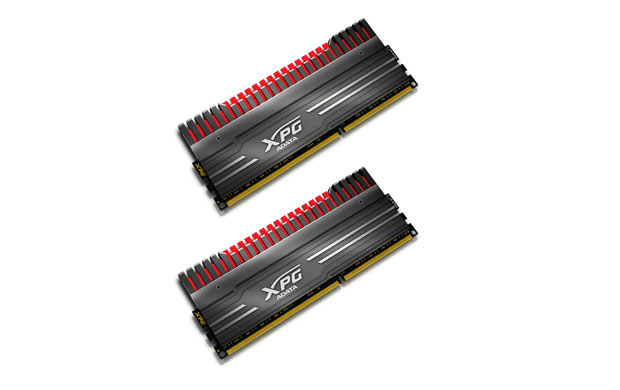 Despite the talk surrounding the introduction of DDR4 to the market, the volume product for the foreseeable future is still DDR3. We have done a number of memory scaling articles in the past [1,2,3], but due to the resurgence of growth in the gaming segments over the last several quarters, there is still a demand for high speed DRAM, especially those that match the style of the build if the user or gamer wants to show it off at an event. This has caused some of the enthusiast DRAM manufacturers to re-launch their high end modules under new names and new skins, with the option of customization. This lies at the heart of ADATA's new XPG V3 DDR3 range.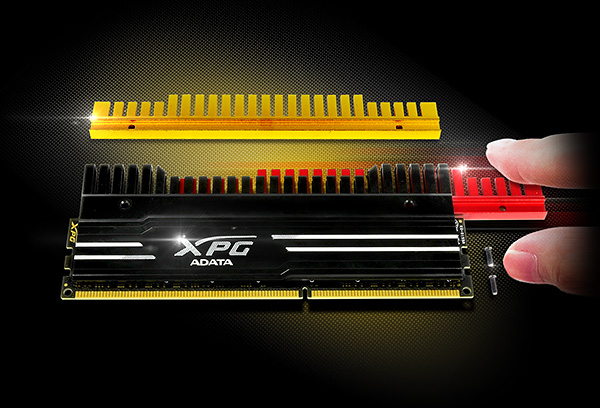 The finned array for the heatsinks can be removed, similar to other high end ranges, and replaced with a custom color. ADATA is saying that the first batches of these modules for retail will include a second set of fins, so users can select between gold and red. There are plans to launch other colors in the future.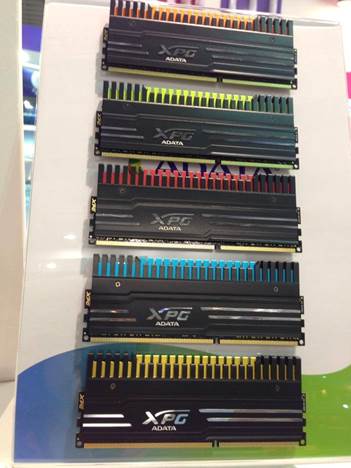 Launched SKUs will first be available in gold/red, in either 2x4 GB or 2x8 GB kits, with the following speeds:
DDR3-1600 9-9-9-24 1.50V
DDR3-1866 10-11-11-30 1.50V
DDR3-2133 10-11-11-30 1.65V
DDR3-2400 11-13-13-35 1.65V
DDR3-2600 11-13-13-35 1.65V
DDR3-2800 12-14-14-36 1.65V
DDR3-2933 12-14-14-36 1.65V
DDR3-3100 12-14-14-36 1.65V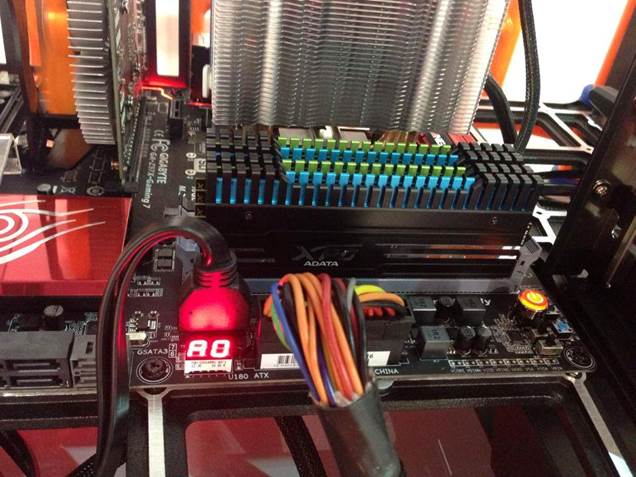 All kits will support XMP 1.3, use 8-layer PCBs with 2oz copper to improve signalling, and Thermal Conductive Technology (TCT), which is a fancy way of saying that the DRAM chips themselves are in contact with the heatsink, so the heatsink may be hard to remove depending on the bonding.
With the high frequency modules, it is always worth noting that these are designed for use with Ivy Bridge and Haswell CPUs, and the quality of the memory controller will determine the maximum speed possible. All the Ivy Bridge and Haswell CPUs I have tested, at stock, will easily do DDR3-2933, and should find DDR3-3100 OK as well with a small base frequency overclock. Overclocking the CPU may reduce the peak memory frequency possible, and thus if running an overclocked system, a balance may be needed as well as the expertise/guide to manage that balance. This is true with any high speed memory, not just the ones here, such as our reviews of the TridentX style or ADATA's own XPG V2 DDR3-2800.
ADATA has offered us a review sample which should arrive shortly. Stay tuned for the review. I am currently awaiting a full list of MSRPs and will update the news when it arrives.
Source: ADATA