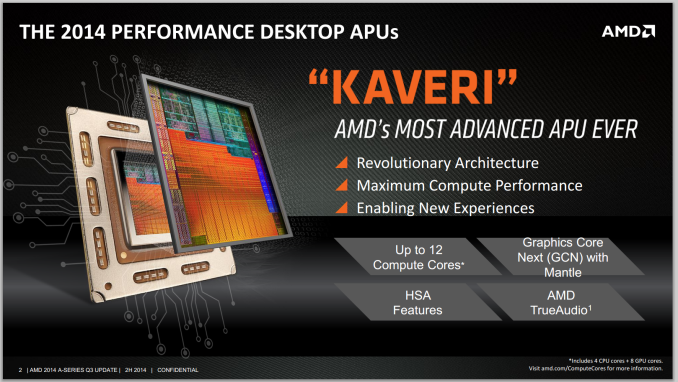 AMD A10-7800 Review: Testing the A10 65W Kaveri
Kaveri was launched as a processor line, on desktop, back in January 2014. At the time we were given information on three of the APUs, the A10-7850K, A10-7700K and A8-7600, and reviewed two of them, including the A8-7600 65W processor. However, at the time, AMD stated that the model we tested was to come out at a later date: that date is today, in a trio of 65W parts. The A10-7800 we are testing today is the locked down version of the A10-7850K, with a slight speed reduction to hit 65W as well as a configurable TDP to 45W.
The Drive to Lower TDP
Previous AMD APU releases have often come with a flurry of processors up and down the price range. Back with the Llano cores and the FM1 platform, two processors were released in the first month followed by six the next and six more by the end of the 2011. With Trinity, it was a similar story: four processors in the first two months, then ten more by the end of the 2012. Richland had eight processors at launch, then other 8 by the end of 2013 and three more for 2014. This is what makes Kaveri a little different: two 95W processors at launch at the start of 2014, and three 65W for July 2014, six months later. Not only is this a large time gap between expanding the processor range, but also a small number of SKUs. That being said, CPU-World lists another 65W APU for release after this trio, and then no more Kaveri until the end of the year when four 'PRO' (aka 'Business Class') models enter the arena.
Having your mainstream platform headed up by two 95W APUs of the latest generation architecture for so long does nothing for the low power crowd, and AMD's official reasons for delaying the launch of their 65W parts is due to the lower power message AMD wants to convey, especially in terms of configurable TDP.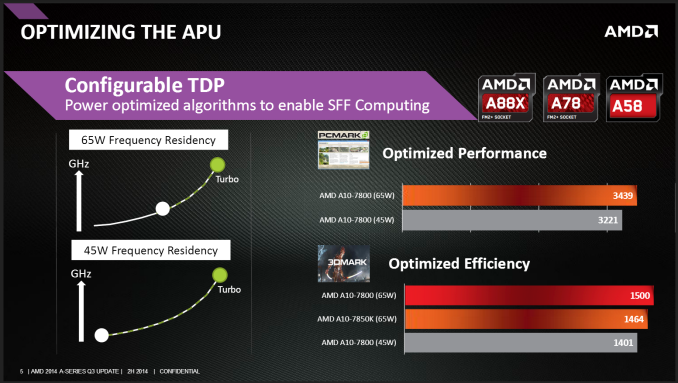 Each of the new 65W parts released today has two modes of operation. Out of the box, they will run in 65W mode, using a restricted range of processor frequency in the faster end of operation but with ultimately less efficiency. With an adjustment in the BIOS, they will operate at 45W, which will adjust the base frequency of the processor, relying more on turbo for single threaded workloads. AMD's numbers above quote a 6-7% dip in performance for a 31% drop in TDP.
If we consider Intel's strategy and AMD's older strategy into the mix, CPU manufacturers would release two processors, one at 45W and one at 65W, in order to offer this difference. That way each die could be tuned for frequency or voltage, as well as processor graphics residency. For whatever reason, AMD decided to consolidate the differing power options, perhaps in order to reduce the number of SKUs on the shelves and make the customer's choice an easier one.
But therein lies an issue. The number of users prepared to go into the BIOS and adjust the frequency is slim at best, which leads on to system integrators to implement this change in the units they sell. But which system integrators are going to sell products to their customers that do not perform at the maximum performance? It only works when the APU is for a specific design, like an off-the-shelf HTPC or digital signage. The other implementation could be that in order to make the product stack work, it helps to have a few SKUs such that everyone pays more even if they use less – having 45W APUs in the stack might drive sales away from the higher performing models.
The New APUs
AMD's nomenclature on Compute Cores sums up the number of CPU threads and the number of Compute Units in the processor graphics to give a total number. The previous APUs released were rated at 12 compute cores (A10-7850K) and 10 compute cores (A10-7700K), and the new APUs released today have 12 (A10-7800), 10 (A8-7600) and 6 (A6-7400).
AMD Kaveri APUs
A10-7850K
A10-7800
A10-7700K
A8-7600
A6-7400K
TDP
95W
65W
95W
65W
65W
Compute Cores
4 CPU +
8 GPU
4 CPU +
8 GPU
4 CPU +
6 GPU
4 CPU +
6 GPU
2 CPU +
4 GPU
Modules / Threads
2 / 4
2 / 4
2 / 4
2 / 4
1 / 2
Base Frequency
3700
3500
3400
3100
3500
Turbo Frequency
4000
3900
3800
3800
3900
L1 Cache
192 KB I$
64 KB D$
192 KB I$
64 KB D$
192 KB I$
64 KB D$
192 KB I$
64 KB D$
96 KB I$
32 KB D$
L2 Cache
4 MB
4 MB
4 MB
4 MB
1 MB
Graphics
R7
R7
R7
R7
R5
GPU Cores
512
512
384
384
256
GPU Clock
720
720
720
720
756
Max DDR3
2133
2133
2133
2133
1866
SSRP
$173
$155
$155
$105
$77
One might imagine that AMD would at some point offer APUs at the same frequency with the same name but without the 'K' monitor for overclocking, but the distinct numbering difference is occompanied by the respective frequency adjustments. In this case, the A10-7800 is 200 MHz less on the base frequency than the A10-7850K but +100 MHz over the A10-7700K.
AMD confirmed with us after the initial press call the number of streaming processors in the processor graphics, as well as their frequencies. Based on these numbers, the two 78xx APUs have the full complement at 720 MHz, with the 77xx and 76xx reducing down to 6 compute cores. The A6-7400K is interesting in that the frequency is increased to 756 MHz, perhaps indicating that removing one of the CPU modules and half the IGP gives them extra room to play with for frequency. The A6 model does have another metric to set it apart – official memory support is down to DDR3-1866. This differentiation was also present on the Richland 65W A6 and Trinity 65W A6 processors as well.
AMD 65W Bulldozer Based APUs
Trinity
Richland
Kaveri
Model
A6-
5400K
A8-
5500
A10-
5700
A8-
6500
A10-
6700
A10-
7800
A8-
7600
A6-
7400K
Microarchitecture
Piledriver
Steamroller
Socket
FM2
FM2+
Modules /
Threads
1 / 2
2 / 4
1 / 2
CPU Base Freq
3600
3200
3400
3500
3700
3500
3100
3500
Max Turbo
3800
3700
4000
4100
4300
3900
3800
3900
TDP
65W
L1 C$
64/32
128 KB C$
64 KB D$
192 KB C$
64 KB D$
96/32
L2 C$
1 MB
2 x 2 MB
1 MB
Graphics
HD
7540D
HD
7560D
HD
7660D
HD
8570D
HD
8670D
R7
R7
R5
GPU Cores
192
256
384
256
384
512
384
256
GPU Clock
760
760
760
800
844
720
720
756
Max DDR3
1866
1866
1866
1866
1866
2133
2133
1866
Current Price
$60
$99
N/A
$119
N/A
$155
$105
$77
Kaveri APU Features
In our initial Kaveri coverage and review of the A10-7850K, AMD spent a large amount of time with the press going over their new features for the Kaveri line of APUs. At the time, Mantle support was the big headline, along with HSA (Heterogeneuous System Architecture) that afforded several compute features which could accelerate certain workloads.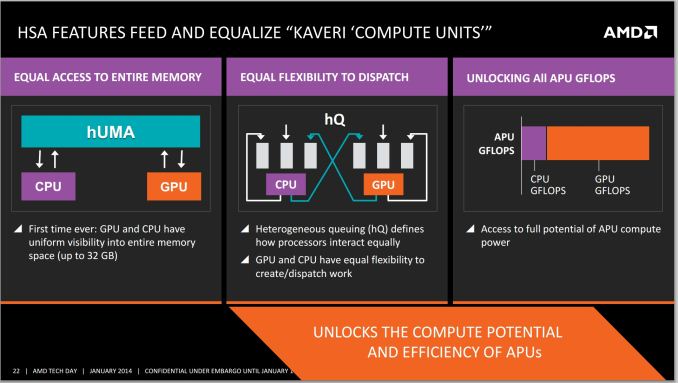 Rahul's deep dive on HSA is well worth a read, beyond my simple coverage here. The main principles allow the processor threads and integrated graphics to both access the same areas of DRAM (known as a Unified Memory Architecture) without expensive memory copies and maintaining the data structure.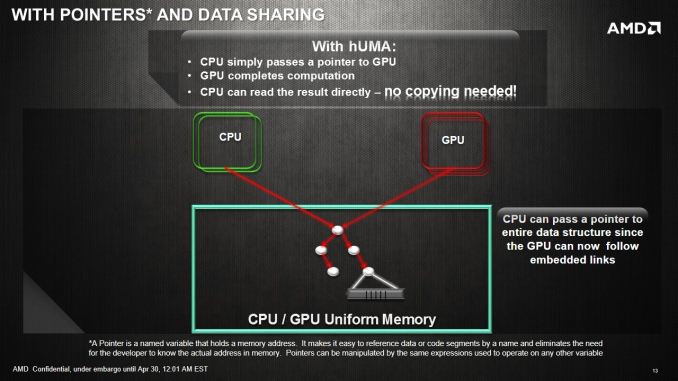 With heterogeneous queuing, both the CPU threads and integrated graphics can generate extra work for the other, allowing for dynamic asynchronous compute.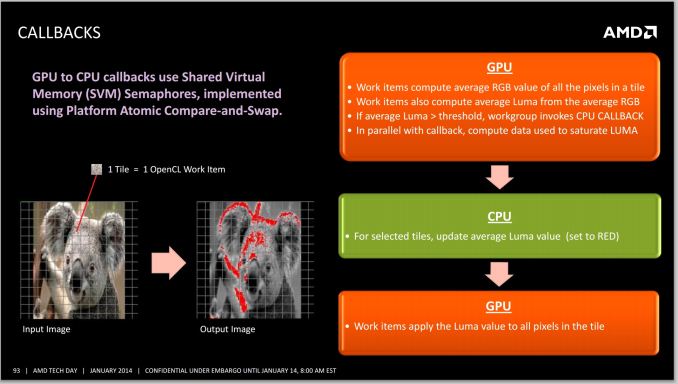 These features, along with working with software developers to optimize their workflow, allow AMD to quote improvements. In our PR pack with this launch AMD is quoting up to 69% faster upscaling in Adobe Photoshop CC for A10 vs. i5, up to 7x faster in LibreOffice for A8 vs. i3, and up to 65% faster JPEG decoding time on A6 vs. Pentium.
For gaming, alongside Mantle support due to the use of GCN, AMD has also implemented the TrueAudio DSP on the Kaveri APU line. Rather than use CPU power or shaders for complex directional audio affects, the DSP is designed to speed these up and reduce stress on other components of the system for better frame rates. The two games being quoted for TrueAudio are Thief and Lichdom Battlemage.
The other feature using the GCN cores is HEVC Compute support with PowerDVD 14, using OpenCL to speed up decoding for high definition content. With a soon-to-be released update, AMD Fluid Motion Video should also be supported.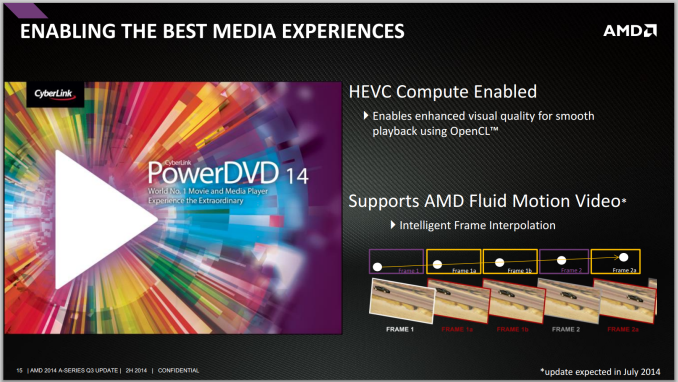 Launch Deal
With the launch of the 65W APUs, AMD is going to run a promotion for any user purchasing an A10 between August and October – purchase an A10 APU and have a choice of a free game between Thief, Sniper Elite III and Murdered Soul Suspect.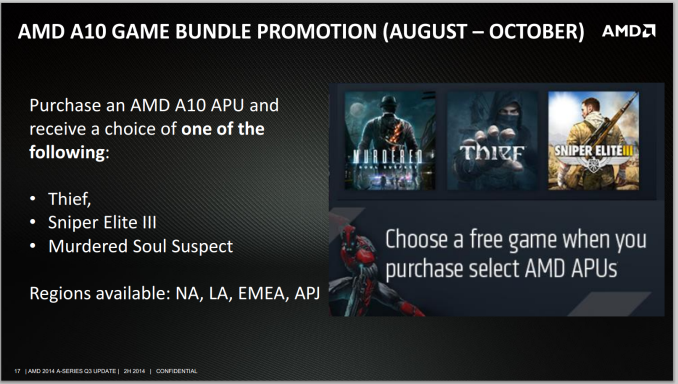 Test Setup
As these APUs are still part of the Kaveri line, they should work with any FM2+ motherboard, although depending on the motherboard manufacturer it may require a BIOS update. We suggest that you contact the retailer to ensure that the motherboard BIOS is up to date and compatible with the new APU.