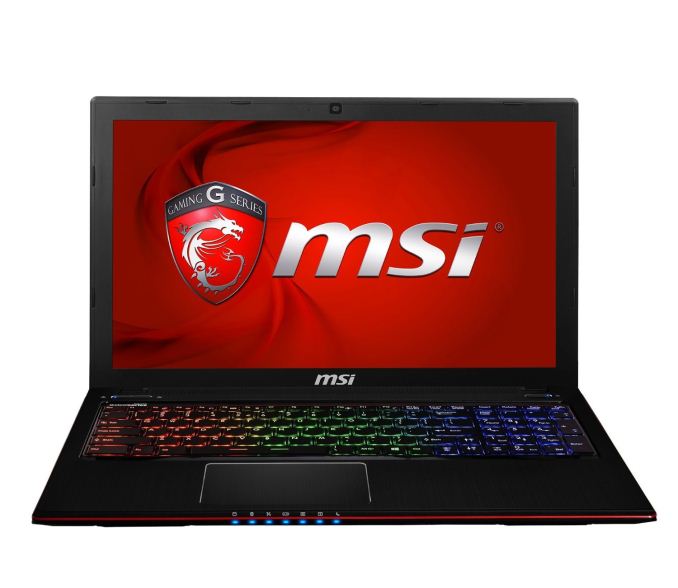 MSI GE60 Introduction
Earlier this year, NVIDIA launched their latest and "greatest" GPU architecture, codenamed Maxwell. The first parts launched on the desktop in the form of the GTX 750 and GTX 750 Ti, but given the improvements in efficiency relative to Kepler, Maxwell seemed a perfect fit for gaming notebooks. A month later, NVIDIA confirmed the use of Maxwell in several new GTX 800M mobile GPUs, but there's a catch: not all of the new 800M GPUs use Maxwell, and in fact certain models (GTX 860M in particular) are available in both Kepler and Maxwell flavors. While we weren't able to test the new GPUs at launch, we now have shipping hardware in hand, courtesy of MSI's updated GE60.
For those unfamiliar with MSI's notebook lineup, the breakdown goes something like this, starting at the top in terms of performance and pricing. The GT series comes equipped with the fastest GPUs and CPUs and targets the enthusiast notebook gaming sector; one step down from that in performance is the GS series, which comes with sleeker and more refined designs, but also slightly slower configurations (generally speaking). Below that sits the GE series, which is more of a mainstream gaming platform, delivering reasonable levels of performance at a price point that won't break the bank.
At present, MSI has three shipping GE series laptops: the GE40, GE60, and GE70; we're of course looking at the 15.6" GE60 variant, and while some of what we say will apply to the GE40 and GE70, there are differences in the components, display, and chassis design that you'll need to consider when shopping for one of the GE series notebooks. There are several models of each notebook as well as "whitebook" offerings that can be further customized by notebook resellers; the specific model we received for review is the GE60 Apache Pro-003, with the following specifications:
MSI GE60 Apache Pro Specifications
Processor
Intel Core i7-4700HQ
(Quad-core 2.4-3.4GHz, 6MB L3, 22nm, 47W)
Chipset
HM87
Memory
1x8GB DDR3L-1600 (Max 2x8GB)
Graphics
GeForce GTX 860M 2GB GDDR5
(640 cores, 1019MHz + Boost 2.0, 5GHz GDDR5)

Intel HD Graphics 4600
(20 EUs at 400-1200MHz)
Display
15.6" Matte PLS 16:9 1080p (1920x1080)
(Samsung 156HL01-102)
Storage
1TB HDD (HGST HTS721010A9E630)
Optical Drive
DVDRW (HL-DT-ST DVDRAM GTA0N
Networking
802.11ac WiFi (Intel Dual-Band AC-3160)
(1x1:1 433Mbps capable)
Bluetooth 4.0 (Intel)
Gigabit Ethernet (Killer e4200)
Audio
Realtek HD ALC892
Stereo Speakers
Headphone and microphone jacks
Battery/Power
6-cell, 11.1V, 4400mAh, 49Wh
120W Max AC Adapter
Front Side
Flash Reader (SDXC/SDHC)
Left Side
Headphone and mic jacks
2 x USB 3.0
1 x HDMI
1 x USB 2.0
Exhaust vent
AC Power Connection
Kensington Lock
Right Side
Optical drive
1 x USB 3.0 (Sleep Charging)
1 x VGA
Gigabit Ethernet
Back Side
N/A
Operating System
Windows 8.1 64-bit
Dimensions
15.08" x 9.82" x 1.27-1.48" (WxDxH)
(383mm x 249.5mm x 32.3~37.6mm)
Weight
5.72 lbs (2.60kg)
Extras
720p HD Webcam
103-Key 3-Zone Colored Backlighting Keyboard
Pricing
Starting at $1200 Online
The core components are definitely sufficient for gamers on the go, with the i7-4700HQ processor backing the GTX 860M (Maxwell) dGPU, and of course NVIDIA's Optimus Technology is also present. I'm also pleased with the inclusion of a 1920x1080 wide viewing angle LCD using Samsung's PLS technology. In fact, everything looks good until we get to the storage configuration, where we encounter a pure HDD storage solution and a DVD-RW drive. I'm not too worried about the latter – I rarely use DVDs these days, but some people still like to have that option without resorting to a USB peripheral – but the pure HDD storage definitely rears its head when it comes to everyday tasks like booting up the laptop (or resuming from hibernation), loading applications and games, etc.
Considering we now have 512GB SSDs like the Crucial MX100 selling for $220, or 128GB SSDs starting at just $75, skipping SSD storage entirely is a painful omission. The good news is that MSI has other GE60 models available with SSD + HDD storage configurations; the bad news: finding a store that carries one of the SSD-equipped versions who doesn't charge a "too much" price premium can be difficult/impossible. Bottom line: if you want to get the GE60 with an SSD in place of the hard drive, either plan on doing the upgrade yourself, or look at some of the notebook vendors (e.g. Powernotebooks) and customize the build to your liking for a bit more money. Personally, I'm at the point now where it's painful to go back to pure HDD storage, and 512GB for $220 is enough that I really don't need a secondary internal drive. YMMV.
On the connectivity front, the GE60 is once again pretty good, with a few small concessions. MSI uses an Intel 3160 dual-band 802.11ac solution, but this is only a 1x1 solution so maximum throughput is limited to 433Mbps on 5GHz channels or 150Mbps on 2.4GHz. Additional networking support comes via Killer Gaming Network's Gigabit Ethernet adapter, Bluetooth 4.0 (also from the Intel 3160), two USB 3.0 ports, two USB 2.0 ports (one for charging devices while the system is asleep), and HDMI and VGA video connections. Some might prefer seeing all USB 3.0 ports, and the lack of DisplayPort (or mini-DP) for video is also a bit odd.
Overall, the core specifications look good, with only a few small omissions to help keep prices in check. If your primary concern is gaming performance, the GE60 has plenty going for it, and the price of $1200 for the model we're looking at is quite reasonable. Competing laptops with the GTX 860M include the $1100 Lenovo Y50, MSI's own bulkier 17.3" GE70 for $1050, 17.3" Gigabyte P27Gv2-CF1 for $1280, and if you really aren't too concerned with size or weight there's the 17.3" ASUS G750JM-DX71 for $1279. Of those, I'd say the Y50 is the most compelling alternative, but all of these notebooks are viable contenders depending on your specific needs.