Introduction
be quiet! is a German company that is slowly making their way into the North American market. As you might guess from the name, be quiet! specializes in low-noise computer PSUs and coolers. (And yes, if you're wondering, the exclamation point is part of the company name, and it's supposed to be all lowercase as well.) Although they currently have a large number of interesting products, we've only had a chance to review a few of their products. It's been some time since we last looked at any of their PSUs, but be quiet! has sent us their Power Zone 850W CM, one of their most popular products right now.
The Power Zone is be quiet!'s "Gaming" series, meaning that they are not meant to be top performers but balanced between high performance, aesthetics, and value. As the name of our sample suggests, it has a maximum output of 850 Watts at 50 °C and is a modular (CM = cable management) unit. It is also 80 Plus Bronze certified and covered by a 5-year manufacturer's warranty, which is good for a middle-range product. be quiet! has a very long and impressive list of features for this unit, which we will examine in this review. However, the most surprising part about the Power Zone 850W CM PSU is not its list of features but the retail price. At $159.99 plus shipping, it is one of the most expensive 850W units available, regardless of specifications. Does it really worth such a steep price tag? Read on to find out.
Power specifications ( Rated @ 50 °C)
AC INPUT
100 - 240 VAC, 50 - 60 Hz
RAIL
+3.3V
+5V
+12V
+5Vsb
-12V
MAX OUTPUT
25A
25A
70A
3.0A
0.3A
160W
840W
15W
3.6W
TOTAL
850W
Packaging and bundle
be quiet! supplies the Power Zone inside a sturdy cardboard box with a dark theme based on the series logo. The rear of the box has a short overview of the product, with adequate information about the unit and its features. We found the unit very carefully packed inside the box, protected by cardboard pieces, polyethylene foam slabs, and a cloth bag.
The bundle is minimalistic with only a manual, an AC power cable, a few cable straps, and black screws included. Note that these screws are longer than your typical M3 case screw and are necessary for the installation of the Power Zone 850W CM inside a case, as typical screws are not long enough.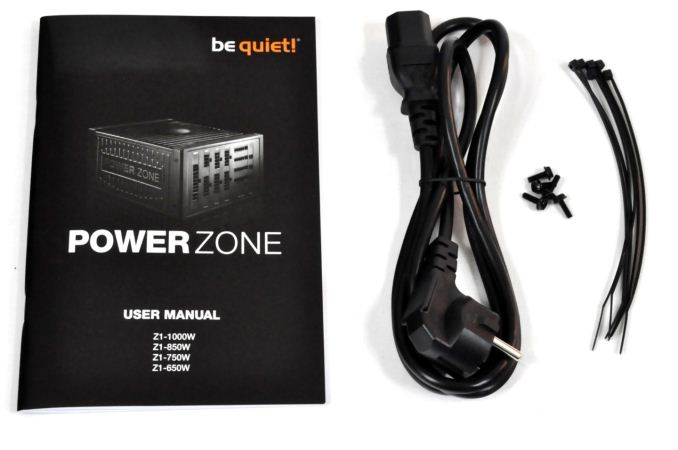 The cables of the Power Zone 850W CM are all sleeved and with color-coded wires, yet the sleeving is not so typical. Instead of using plain black sleeving, be quiet! uses a dense sleeving with orange-red thread traces. The sole exception is the fan power cables, which use two plain black/white wires. Four cable straps hold the cable packs together and can be repurposed after the PSU has been installed inside a case.