From disappearing balloons to vanishing motherboards
It is not surprising that at VTF 2001 there is quite a bit of conversation surrounding motherboard chipsets. There are actually two different pressures that motherboard manufacturers are facing as they prepare to design and launch motherboards based off of recently announced chipsets. The first pressure is from Intel.
Naturally, Intel is not too happy about the launch of VIA's P4X266 chipset. The fact that VIA is promoting a DDR SDRAM solution isn't really what bothers Intel the most; it's the fact that VIA is defying Intel by not claiming to need to purchase a license for the Pentium 4 bus because of their acquisition of S3. Could VIA just license the bus from Intel? Absolutely, but for some reason the pricing they've offered VIA on licenses is much greater than what they've offered ALi and SiS. There is quite a bit of animosity at Intel towards VIA and it's obvious that they'd rather allow VIA's competitors to come to market with their DDR solutions than see VIA succeed with the P4X266. Is this the start of an "Anything But VIA" campaign over at Intel? After VIA's recent successes it wouldn't be too surprising.
Although VIA insists that they are fully licensed to use the Pentium 4 bus in their P4X266 chipset, motherboard manufacturers are still unwilling to upset Intel. This is very reminiscent of the situation surrounding the release of the first Slot-A Athlon motherboards. P4X266 boards that were initially present on the VTF show floor have been strangely disappearing throughout the conference. The manufacturers we have spoken to say that they are playing it safe until the legal issues surrounding the P4X266 are worked out. Luckily, we were able to grab a few shots of some P4X266 solutions before they disappeared, as shown below.
While we understand that the major players in the motherboard market (for example, ASUS, MSI) and those with close ties to Intel (for example, ABIT, Iwill) won't be releasing P4X266 boards anytime soon, this is really the time for the smaller and lesser known manufacturers to step forth and steal the lime light. It's almost shocking that we haven't seen a P4X266 board from FIC; usually they are the first with VIA chipsets due to their extremely close ties to the company but this time around things seem to be different for some reason.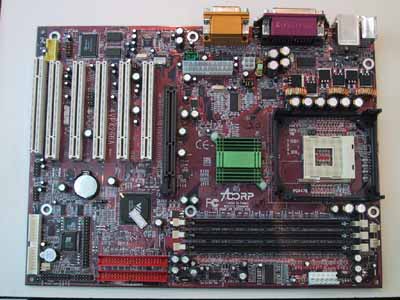 Click to Enlarge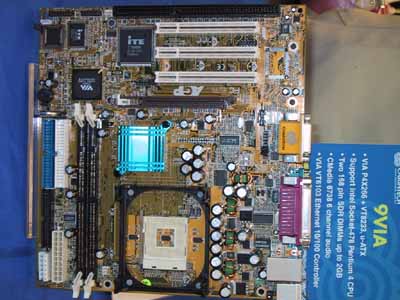 Click to Enlarge
Companies like Acorp and Shuttle need to seize the moment and get as many of these P4X266 motherboards into the hands of reviewers and even more importantly into the channel. This is the only time that they won't have to worry about competition from the bigger manufacturers in the marketplace and they don't even have to be worried about being compared to ABIT and ASUS in reviews as well.