Concluding Remarks
Intel's Core i7-4770R, despite being announced along with the rest of the Haswell family, had been impossible for consumers to source throughout 2013. Earlier this year, GIGABYTE became the first to come out with a PC based on that. The fact that they managed to cram the silicon into a NUC-sized motherboard in the BRIX Pro was no mean engineering feat.
After evaluating the BRIX Pro in detail over the last six months, we can say that it will turn out to be a trendsetter for compact gaming PCs. It has already made boutique PC vendors sit up and take notice. Recently, both iBUYPOWER and CyberPowerPC introduced SFF gaming PCs which use the BRIX Pro and provide consumers with options to complete the build (and create an off-the-shelf solution). In addition, GIGABYTE has already exhibited a number of different configurations in the same form factor.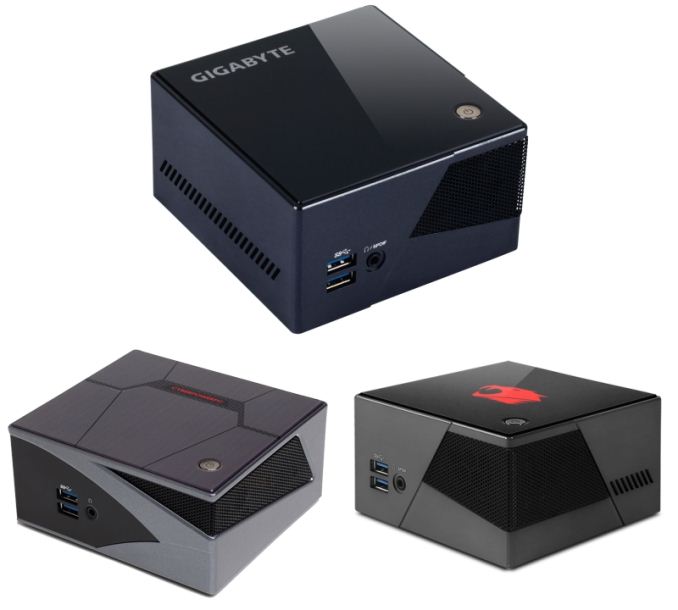 However, with great power, we end up with much noise too. We simply can't recommend the unit for users who want a quiet HTPC for madVR capabilities or casual office work. But, the unit definitely excels as a compact machine for gaming with medium quality settings. In fact, it comprehensively beats what qualified as a bonafide mini-PC targeting gamers (the ASRock Vision 3D 252B) less than a couple of years ago. The powerful CPU makes sure that extensive multi-tasking as well as heavy duty office work can be carried out without any problems (as long as the acoustics are not a matter of concern). In terms of internal components, it is good to see that the 2.5" drive support is much easier to utilize compared to the Intel D54250WYKH NUC kit. We were a bit worried about the Realtek WLAN solution being foisted on consumers, but it turns out to be a surprisingly good performer (particularly with the Broadcom-based Netgear R7000 in our testbed).
On the whole, the GIGABYTE BRIX Pro has plenty going for it. The only aspect that we would like to see addressed in future versions is the thermal solution. Even while maintaining the same motherboard size, it might be possible to go in for a larger heat sink at the cost of increasing the unit's height. This might allow for better acoustics and extract even better performance from the processor by avoiding the throttling. In our opinion, the target market (gamers) would probably not mind it.