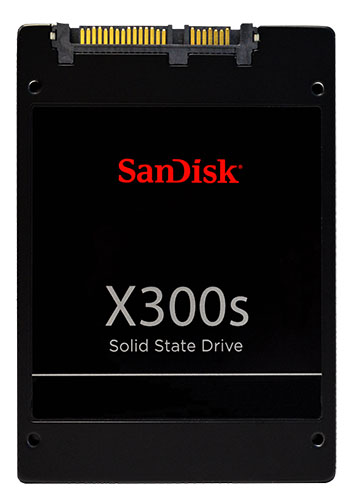 While most SSD manufacturers are likely holding their product announcements until Computex next month, SanDisk has today announced a new model to their business SSD portfolio: the X300s. Most manufacturers tend to have just two lineups, one for the clients and the other for enterprise, but it's not unheard of for manufacturers to include a third, business-oriented lineup as well. SanDisk has been doing this for quite some time now and Kingston is doing it with their KC300 series.
Even though most business-oriented SSDs are just derivatives of client models, the idea behind the separation of the two is that businesses tend to require a more sophisticated feature set, which the manufacturers use to cash in. The manufacturers know that features like hardware encryption are vital in business use but not in average consumer use, so by limiting some features to business models the manufacturers are able to make an extra profit. Obviously not all manufacturers do this, for instance Crucial and Samsung have decided to not have a separate business lineup and has improved their client drives instead, but SanDisk's strategy is to have the business drives as their own entity.
With a brief outline of product segments out of the way, let's focus on the X300s. It will be available in June through SanDisk's Commercial Business Channel, meaning that it's unlikely that you will be able to find this drive in retail. There will be two form factors, 2.5" 7mm and M.2 2280, and the capacities will range from 64GB to all the way to 1TB. The M.2 version will only be available in up to 512GB, which is due to the fact that SanDisk has opted for a single-sided design in order to make the drive slightly thinner and thus more suitable for Ultrabook designs.
Capacity
64GB
128GB
256GB
512GB
1TB
Controller
?
NAND
SanDisk 1Ynm MLC
Sequential Read
450MB/s
510MB/s
510MB/s
520MB/s
TBD
Sequential Write
140MB/s
300MB/s
450MB/s
460MB/s
4KB Random Read
68K IOPS
80K IOPS
89K IOPS
96K IOPS
4KB Random Write
35K IOPS
63K IOPS
77K IOPS
79K IOPS
Idle Power (slumber/DEVSLP)
80mW / 3.5mW
80mW / 4.0mW
80mW / 4.5mW
80mW / 5.0mW
Max Power (read/write)
2.3W /
1.95W
2.35W /
2.75W
2.35W /
3.8W
2.45W /
3.85W
Endurance
40TB (21GB/day for 5 years)
80TB (43GB/day for 5 years)
Encryption
TCG Opal 2.0 & IEEE-1667
SanDisk is being very tight-lipped about the hardware inside the X300s and they wouldn't even reveal whether the controller is in-house or third party. However, I'm fairly confident that it is a Marvell's 88SS9189 because the X210 used a 88SS9187, and the lower DEVSLP power numbers suggest the 9189 as it brought some DEVSLP optimizations at the silicon level. It's certainly possible that the controller hasn't changed from the X210 and SanDisk was able to fine tune the firmware to lower DEVSLP power consumption, but either way it is very likely a Marvell controller.
As for the NAND, SanDisk lists it as 1Ynm MLC, which translates to second generation 19nm NAND. The NAND and SSD manufacturers don't always disclose the exact lithography and use the letter X, Y and Z instead to refer to the generation of the NAND (X refers to first generation, Y to second and so on). We know that SanDisk's first generation 10nm-class (i.e. 10-19nm) lithography was 19nm (1Xnm) and we also know that the second generation is also 19nm (1Ynm). I went through the reasons why both lithographies are called 19nm in one of our recent reviews but shortly put the first generation had a cell size of 19nm*26nm, while the second generation has 19nm*19.5nm, meaning that both can technically be marketed as 19nm even though there is a quite dramatic difference in actual cell size. The second generation 19nm NAND is the same as what Toshiba refers to as A19nm or Advanced 19nm since the companies have a joint-venture that produces the NAND.
Now, the features. Probably the biggest addition in the X300s is the support for TCG Opal 2.0 and IEEE-1667 standards, which together bring support for Microsoft's eDrive. Furthermore, SanDisk is including Wave's Embassy Security Center software with every X300s, which includes some additional encryption features that businesses may find handy (e.g. can authorize computers to access the drive remotely). The X300s has also been certified by several other encryption software providers, such as McAfee and AbsoluteSoftware, so there is no need to migrate to a new software in case your existing software is in the list of comptible software vendors.
All in all, the X300s seems to be a relatively modest, yet needed upgrade from the X210. It brings the much desired support for hardware encryption while providing a decent upgrade in performance (at least based on the specifications). The newer NAND should also ensure that pricing is competitive, though unfortunately SanDisk hasn't released any MSRPs. Even though the X300s isn't a retail product, we are trying to get review samples from SanDisk to see how the X300s stands up with the retail Extreme II.