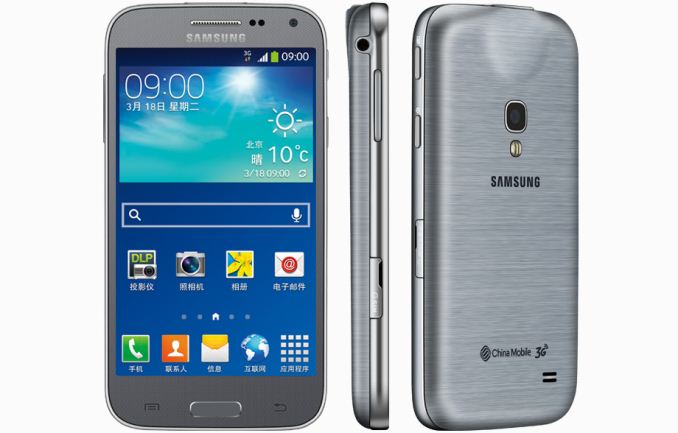 Back in 2010 Samsung launched the original Samsung Galaxy Beam i8520. The phone ran Android 2.1 which was a bit outdated at the time as Android 2.2 launched just a few months prior. It was powered by a 720MHz OMAP 3440 processor paired with 384MB of RAM and a PowerVR SGX 530 GPU driving a 3.7" WVGA Super AMOLED display. Next to Samsung's flagship Galaxy S smartphones the Galaxy Beam seemed comparatively weak. However, the device appealed to a certain group of users with its built in pico projector which could project images up to 50" in size at WVGA resolution.
The phone sold well enough to warrant an updated version which was revealed at MWC 2012. The updated Galaxy Beam i8530 launched with Android 2.3.6 and packed a NovaThor U8500 CPU with two 1GHz Cortex-A9 cores, 786MB of RAM, and a Mali-400 MP GPU. Today it seems Samsung has introduced another device into its Galaxy Beam lineup and based on its frequency support and Samsung's images it's destined for China Mobile's TD-SCDMA network.
Detailed specifications are not yet posted but according to Samsung's webpage the device sports a 4.66" WVGA LCD display and a quad core 1.2GHz processor with support for 802.11 b/g/n at 2.4GHz and Bluetooth 4.0. Other specifications include MicroSD support up to 64GB, a 2600mAh battery, and Android 4.2 Jelly Bean. On the outside the device sports a metallic looking plastic build that is reminiscent of the Samsung ATIV S Windows Phone.
The site doesn't list the China launch date and currently there is no information about a wider release. With this sort of niche device it may never see one. However, Samsung seems confident that it is the type of device that can sell in the Chinese market. There is definitely appeal to being able to project photos, videos, and webpages for everyone to see rather than huddling around a tiny device.
Source: Samsung China