The Competition
It is no secret that AMD is attempting to fire a shot across Intel's Bay Trail. The low power x86 desktop space is almost all AMD vs. Intel (VIA still produces x86 parts), and the socketed direction for AMD's Kabini is a new approach in this area. The claim of low power, quad core and low cost is something that entry-level desktop integrators might find hard to ignore – in fact AMD have stated that the feedback from their Latin America integrators for an upgradeable Kabini solution is very good.
While we have not necessarily looked at Bay Trail from a desktop perspective, there are products on the market today. In the UK for example, it is easy enough to purchase an Intel Celeron J1800-based motherboard and have it shipped next-day delivery.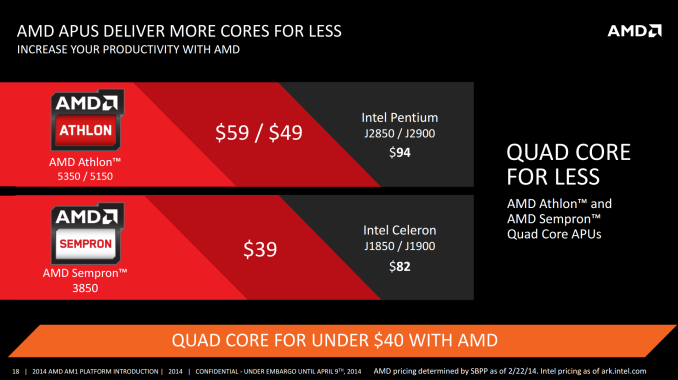 AMD considers the Athlon 5350/5150 parts (quad core, 2.05 GHz and 1.6 GHz) in line with Intel's Pentium J2850/J2900, and the Sempron 3850 with the J1850/J1900 - all Silvermont based SoCs. In fact, I think the 5350 vs the J1900 is a better fit:
AMD Athlon 5350 vs. Intel Celeron J1900
Athlon 5350
Celeron J1900
CPU Architecture
Jaguar
Silvermont
CPU Cores
4
4
CPU Frequency
2.05 GHz
2.0 GHz
2.4 GHz Turbo
GPU Cores
128 SPs
4 EUs
GPU Frequency
600 MHz
688 MHz
Memory Interface
1 x 64-bit
2 x 64-bit
Memory Frequency
1600 MHz
1333 MHz
L2 Cache
2 MB
2 MB
TDP
25 W
10 W
Price
$55
$82
The big issue that AMD will point out is the price of the J1900. One of AMD's big selling points will be the price of an APU and a motherboard, which as we discussed earlier should stretch from $56 to $90 depending on the APU/motherboard. On ark.intel.com, Intel does list the tray price of the J1900 as $82, however you can find a motherboard with integrated J1900 at Newegg for $92. Now either the motherboard manufacturer is getting a good deal on the CPU below tray price (most likely), or Intel is subsiding the cost, or the tray price is incorrect. We can only speculate, but it does mean that the Athlon 5350 and J1900 square off in terms of cost.
For CPU core counts and frequency, the 5350 and J1900 are closely matched with both being quad core parts at ~2.0 GHz, although the J1900 can boost up to 2.4GHz. AMD likely holds the GPU advantage with its R3 graphics/Radeon HD 8400 compared to Intel's 4 EU HD Graphics. With the Athlon there is a higher supported memory frequency, but only a 64-bit wide memory interface. That might hamper the IGP in our testing, and provide memory limited benchmarks an easy ride on the J1900. There's a pretty substantial TDP difference between the two as well, with Intel holding the theoretical power advantage. Intel does make a 20W Silvermont based SKU, the Atom C2750, although that is an 8 core module aimed at servers and costs $171.
The Test
Our AM1 Kabini coverage will be in two parts due to time constraints. This first part of the review is to explain the ecosystem with some Athlon 5350 numbers to compare against other platforms including a couple of Bay Trail and older Intel parts. We aim to publish a second review next week with more numbers, specifically a wider range of Kabini APUs and the key battle of the 5350 against the J1900. We were unfortunate to not be able to source a J1900 in time for this launch.
Our main Kabini Test Setup is as follows:
Test Setup
CPU
AMD Athlon 5350
Quad Core, 2.05 GHz
Motherboard
GIGABYTE AM1M-S2H
Memory
2x4GB DDR3-1600 9-10-10
SSD
SF-2281
Power Supply
Antec High Current Pro 1200
Graphics
Integrated
Graphics Drivers
14.3 Beta
For other platforms:
Test Setup
CPU
Motherboard
Platform
Cores /
Threads
Frequency
IGP
AMD
A6-5200
ASRock
IMB-A180-H
Kabini
4
2.0 GHz
HD 8400
Intel Celeron
J1800
GIGABYTE
J1800N-D2H
Bay Trail
2
2.4 GHz
HD (Ivy)
Intel Atom
C2750
ASRock
C2750D4I
Avoton
8
2.4 GHz
None
Intel Celeron
G1101
MSI
Big Bang Fuzion
Nehalem
2
2.3 GHz
Not Tested
no IGP outputs
Intel Celeron
G465
ASUS
Maximus V Gene
Sandy Bridge
1 / 2
1.9 GHz
HD (Sandy)
Intel Celeron
G2030
ASUS
Maximus V Gene
Ivy Bridge
2
3.0 GHz
HD (Ivy)
Other results in this review were taken from our AMD Kaveri launch review.