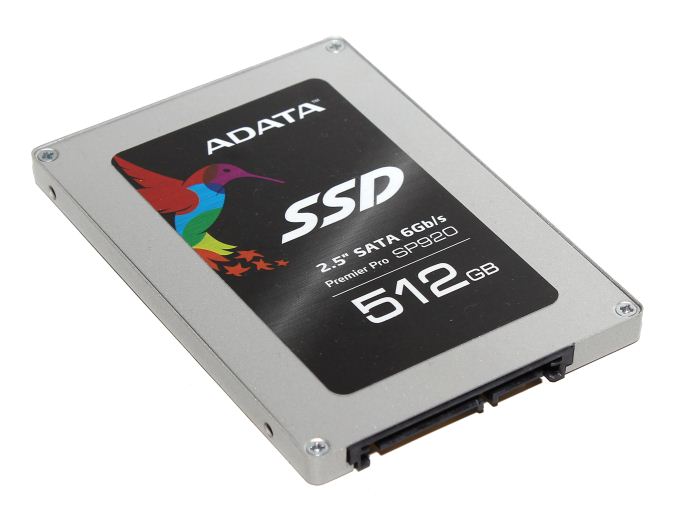 This spring has turned out to be the time for nearly all SSD OEMs to update their lineups. A little over a month ago Intel introduced the SSD 730 and a bit over a week ago Crucial/Micron added the M550 to its portfolio. Today it's ADATA's time to join the game with their Premier Pro SP920...and FYI, there will be no April Fools jokes here.
While we are still a quarter or two away from wider availability of PCIe drives and the next big wave of SSDs, the recent product releases in the NAND department have made it economically reasonable for OEMs to update their drives. Both IMFT's 128Gbit 20nm MLC and Toshiba/SanDisk's second generation 64Gbit 19nm NAND are now available in volume, and given the higher density and thus lower price, it makes sense for tier two OEMs (i.e. the ones without NAND fabs) to adopt the new NAND into their products.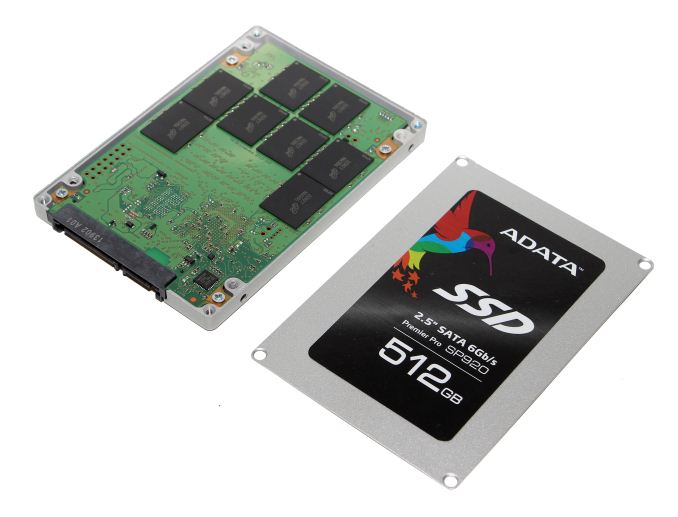 The SP920 is actually the first non-Crucial/Micron SSD to use Micron's 128Gbit 20nm MLC NAND. As a matter of fact, the SP920 adopts far more than just the 128Gbit 20nm NAND from Micron—the SP920 is more or less a rebranded M550. Everything from the PCB and chassis designs to the component choices are a match with the M550. In fact, even the firmware in the SP920 is listed as "MU1", which is the same as in the M550 and Crucial/Micron in general is known to use MUx firmware names. Thus, we're basically looking at a rebranded M550.
Crucial M550 vs ADATA SP920
Crucial M550
ADATA SP920
Controller
Marvell 88SS9189
Marvell 88SS9189
NAND
Micron 64/128Gbit 20nm MLC
Micron 128Gbit 20nm MLC
Capacity
128GB
256GB
512GB
1TB
128GB
256GB
512GB
1TB
Sequential Read
550MB/s
560MB/s
Sequential Write
350MB/s
500MB/s
180MB/s
360MB/s
500MB/s
4KB Random Read
90K IOPS
95K IOPS
80K IOPS
96K IOPS
98K IOPS
4KB Random Write
75K IOPS
80K IOPS
85K IOPS
45K IOPS
80K IOPS
88K IOPS
Endurance
72TB (~66GB/day)
72TB (~66GB/day)
Warranty
Three years
Three years
The only difference between the SP920 and M550 is that the SP920 uses 128Gbit NAND in all models, whereas the M550 only uses that in the 512GB and 1TB models and the smaller capacities use 64Gbit NAND. That gives ADATA a slight price advantage (128Gbit die has higher density and is thus cheaper) but in turn the performance of 128GB and 256GB models is worse due to fewer dies. At the bigger capacities ADATA is a bit more optimistic with the performance figures, which is something that's fairly common for the tier two OEMs. The likes of Intel, Crucial/Micron and Samsung like to be conservative and round the numbers down, whereas smaller OEMs will advertise every single IOPS and MBps they can get out of the drive.
ADATA obviously can't comment on the similarity for contract reasons but they are not denying that the SP920 is rebrand. They did disclose that the firmware is from a third party, which further confirms that we are looking at an M550 with different branding.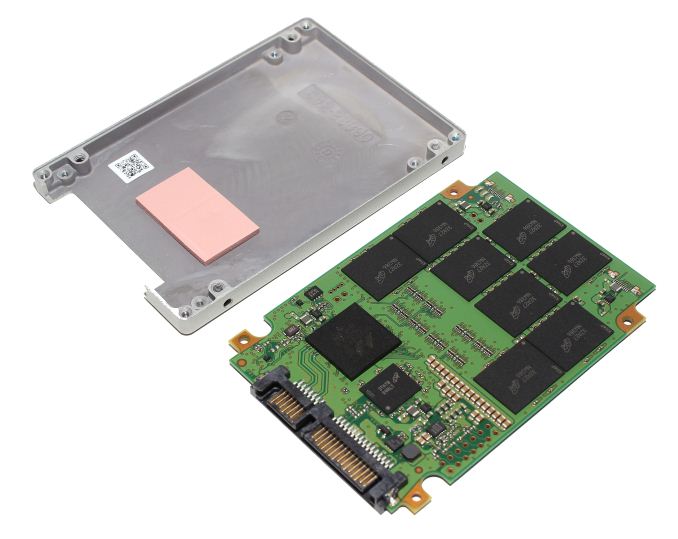 I'm generally not a big fan of rebrands because they don't really bring anything new to the market but I do see the business reasons behind it. In order for companies to be profitable, they must focus on their core competence and the actual product doesn't have to be that. If your sales channels or marketing for instance are more efficient that your competitors', you may be able to sell the exact same product and make more profit than the others. I have no doubts that ADATA has better sales channels in Asia and other markets close to its home ground and hence it can be viable to sell a rebranded drive. In the end, more competition is always welcome.
| | | | | |
| --- | --- | --- | --- | --- |
| Advertised Capacity | 128GB | 256GB | 512GB | 1TB |
| Raw NAND Capacity | 128GiB | 256GiB | 512GiB | 1024GiB |
| # of NAND Packages | 8 | 16 | 16 | 16 |
| # of Die per Package | 1x16GiB | 1x16GiB | 2x16GiB | 4x16GiB |
| DRAM | 256MB | 256MB | 512MB | 1GB |
Similar to the M550, the SP920 features full support for Microsoft eDrive thanks to TCG Opal 2.0 and IEEE-1667 standards. Power loss protection is also included. Since the SP920 is almost an exact copy of the M550, please read our M550 review for more in-depth coverage of the included features and their purposes. As for the ADATA SP920, the main difference we'll see here is in performance of the 128GB and 256GB models, so let's get to the benchmark.
EDIT: The SP920 doesn't actually support TCG Opal 2.0 or IEEE-1667. This seems to be a feature Micron is keeping to themselves.