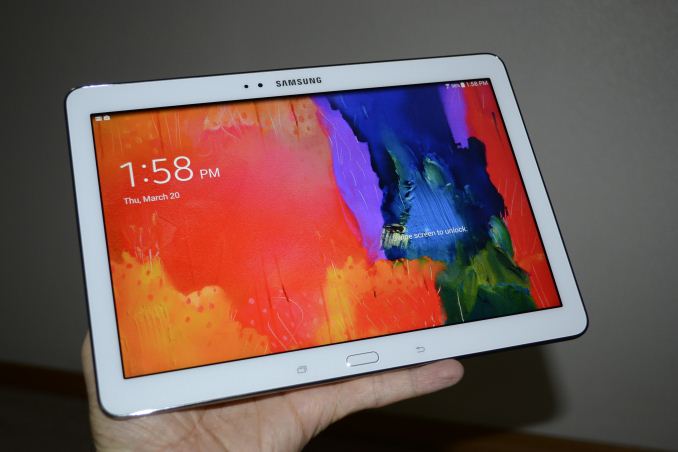 Introducing the Samsung Galaxy Tab Pro Lineup
Samsung Galaxy series of tablets and smartphones have been well received since they first started appearing on store shelves, and with good reason. Not all manufacturers really get industrial design, aesthetics, and the goal of building a cohesive whole that doesn't cut corners. With the latest Pro series of tablets, Samsung looks to improve on their existing devices, with better performance, some tuning of the industrial design, and some software updates as well. We have the 8.4" and 10.1" Galaxy Tab Pro models in house, though there's also a larger 12.2" model and a Note version of the 12.2" model that includes a Stylus as well as some other tweaks. Also worth mentioning is the that the Note 10.1" 2014 model appears to be nearly identical to the 10.1" Tab Pro, other than the fact that it has a stylus (S Pen). Here's the short overview of the current Galaxy Pro product stack:
Overview of Samsung Galaxy Tab/Note Pro/2014 Models
Galaxy Tab Pro 8.4
Galaxy Tab Pro 10.1
Galaxy Note 10.1 2014
Galaxy Tab Pro 12.2
Galaxy Note Pro 12.2
Dimensions
128x219x7.1mm
(5.1"x8.6"x0.28")
243x171x7.3mm
(9.6"x6.7"x0.29")
244x173x7.6mm
(9.6"x6.8"x0.31")
296x204x8mm
(11.6"x8.0"x0.31")
295x204x7.9mm
(11.6"x8.0"x0.31")
Display
8.4" WQXGA
(1600x2560)
10.1" WQXGA
(2560x1600)
10.1" WQXGA
(2560x1600)
12.2" WQXGA
(2560x1600)
12.2" WQXGA
(2560x1600)
Weight
332g (WiFi)
(0.73 lbs.)
470g (WiFi)
(1.03 lbs.)
541g (WiFi)
(1.19 lbs.)
751g (WiFi)
(1.65 lbs.)
732g (WiFi)
(1.61 lbs.)
SoC (CPU)
Snapdragon 800
(Qualcomm MSM8974)
(4 x Krait 400 @ 2.3GHz)
Exynos Octa 5420
(big.LITTLE up to 1.9GHz,
4+4 Cortex-A15+A7)
Exynos Octa 5420
(big.LITTLE up to 1.9GHz,
4+4 Cortex-A15+A7)
Exynos Octa 5420
(big.LITTLE up to 1.9GHz,
4+4 Cortex-A15+A7)
Exynos Octa 5420
(big.LITTLE up to 1.9GHz,
4+4 Cortex-A15+A7)
SoC (GPU)
Adreno 330
Mali-T628
Mali-T628
Mali-T628
Mali-T628
Connectivity
802.11ac WiFi
802.11ac WiFi
802.11ac WiFi
802.11ac WiFi
802.11ac WiFi
Memory
2GB
2GB
3GB
3GB
3GB
Storage
16GB
16GB
16GB/32GB
32GB
32GB/64GB
Battery
25.4Wh (~10 hours)
31.2Wh (~10 hours)
31.2Wh (~9 hours)
36.1Wh (~13 hours)
36.1Wh (~13 hours)
Online Price
$399
$499
$549/$599
$649
$749/$849
Many of the core elements in the new line of Galaxy Pro offerings are similar –the displays for example are all WQXGA, and frankly that's probably the biggest selling point right there. Coming from the world of laptop reviews, it's awesome – and a little disheartening – to see such great displays on tablets. I've been asking for good laptop displays for years, and while we are starting to see a shift in the marketplace, most budget laptops still have lousy displays. Not all tablets come with awesome displays, but just about every tablet out there right now at least uses an IPS panel, and more and more we're seeing high resolution displays as an added bonus. Worth note is that the 10.1 and 12.2 models are available in either black or white versions, but the 8.4 only comes in white (for now?); I actually prefer the white version, though, so that's not a problem.
Obviously the size and weight of the three core models differs, and the Note versions with their S Pen weigh a bit more, but somewhat surprisingly the SoCs aren't all the same. The odd man out here is the Galaxy Tab Pro 8.4, which uses a Snapdragon 800 processor whereas the other four all use the Exynos 5 Octa 5420. (Reportedly the LTE versions of the Pro 10.1 models appear to also use the Snapdragon 800.) What's ironic about this bifurcation is that in most of our benchmarks the Snapdragon 800 and up being faster than the Exynos 5420. It's not a major difference in performance, but it is measurable. Battery life on the other hand appears to be better on the Exynos SoC, so it's not a clear victory regardless. Basically, not all SoCs are created equal in every area.
Wrapping up our quick overview, the amount of RAM varies slightly; the 8.4 and 10.1 "Tab Pro" models come with 2GB, but the 10.1 Note and 12.2 models come with 3GB memory. Battery capacity also varies, with the larger devices having larger batteries – presumably to help power the larger displays, though in practice it often means the larger tablets also get better battery life. The cameras are the same 8MP rear/2MP front, with a flash on the rear camera as well. There are of course different storage capacities available, though they're more limited than what you might see with, e.g. Apple, as some of the devices only have one eMMC size. The 8.4 and 10.1 Tab Pro models we received have 16GB, with the 10.1 Note 2014 having 16/32GB options; the 12.2 Tab Pro gets bumped to 32GB (only) while the 12.2 Note has 32/64GB options. At least all the models come with an SD card slot (up to 64GB SDXC supported), though that doesn't necessarily help with (all) applications.
In terms of pricing, the 8.4 is the least expensive of the devices, with an MSRP of $399. The 10.1 costs $499 ($50 extra for the S Pen in the Note, and another $50 to go to 32GB eMMC storage) and the Tab Pro 12.2 costs $649 while the Note Pro 12.2 costs $749 ($849 with 64GB eMMC). LTE versions of the 10.1 and 12.2 devices will typically add another $100 or so (off contract), but there's no LTE 8.4 option. While none of these are inexpensive tablets, I do have to say that after using the 8.4 and 10.1-inch models, I find myself gravitating towards the 8.4-inch form factor. It's small enough to be easily transportable and you can hold it with one hand, but it's significantly larger than any smartphone so it doesn't overlap that use case. I also generally like using the 8.4 in portrait mode, though some of that is certain personal preference. The fact that it also happens to be a bit faster in many cases doesn't hurt either, though it would be nice to have a 32GB option.
Let's move on to a subjective overview of the two devices we received for testing.