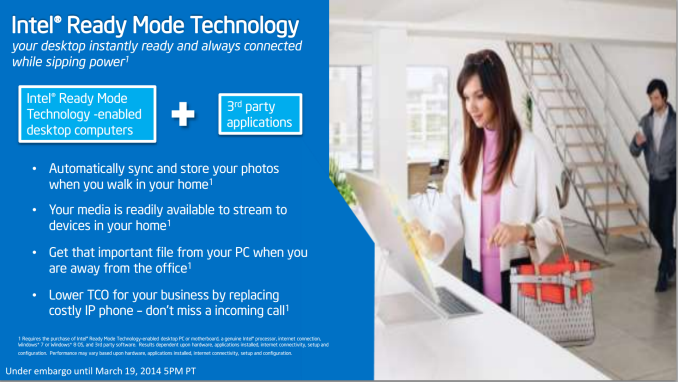 Intel's conference call this week featured some elements on the progression of the desktop. Lisa Graff, VP and GM of Intel's Desktop Client Platforms Group tells us that while Notebooks outsell Desktops by 57:43, key segments within the Desktop platform are actually growing rapidly – as much as 50% year-on-year for the 'Tiny PC' space such as NUCs but also in the all-in-one market. Desktop is therefore a big part of the market, and this includes business more so than consumer based on shipments. Intel is also keen to point out that 2013 was a record year for i5/i7 shipments. Intel wants to spend 2014 accelerating the AIO side of desktop, grow the tiny PC side, and maximize the enthusiast segment. These all sound like buzz-words, but identifying areas of growth helps keep a business going.
The new feature wrapped around the AIO and Tiny PC segments is called Ready Mode Technology. This is the utilization of low C-states in Haswell CPUs to allow users to continue to use their PCs in non-traditional ways. The examples we were given include instant photograph synchronization when a mobile device enters the home network, or streaming across a network to a portable device such as a smartphone, tablet or portable AIO.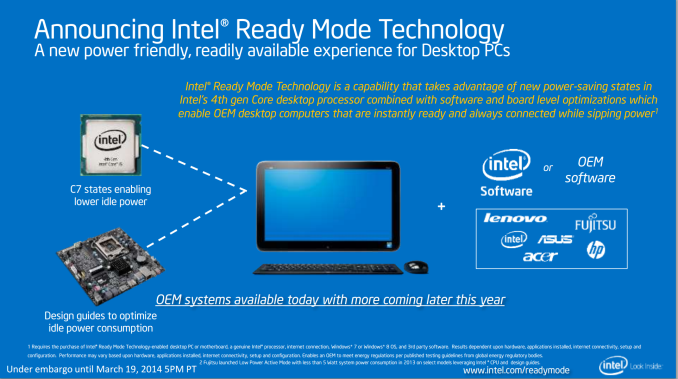 Ready Mode will require a software element to a Haswell equipped Windows PC, although OEMs such as Lenovo, ASUS, Acer, Fujitsu and HP will provide their own skinned versions for their user base. It was mentioned in the conference call that a compatible chipset was required, and we have requested which chipsets will be supported. One would assume that this feature will also be present on Broadwell based systems later in the year. Ready Mode is designed to work with the C7 power state of a processor, allowing the system to draw less than 10W while these processes are happening. OEMs prebuilding systems and devices will have a better handle on the exact power draw of their systems; however the software is available for self-build machines as well. Intel tells us that Ready Mode differs from Connected Standby due to its broader OS support, enabling both traditional desktop and metro applications. Ready Mode uses a combination of the newer power-saving states in Haswell, along with motherboard and power supply optimizations to leverage Microsoft's 'Away Mode' for the Ready Mode experience. All 8-series and 9-series chipsets will support Ready Mode.
Combined with this, Intel wants to expand the 'portable All-in-One' market. Even as an enthusiast, the phrase 'portable AIO' slightly confuses me. AIOs are typically 17-27 inch devices in the home based around the touch screen / everything behind the panel. Portable AIOs are designed to house a large battery and be transported around the home for multi-user collaboration. At this point in time we are told that there are 10 portable AIOs in the market, using a variety of operating systems (mostly Windows and Android). What Intel wants to do with the pAIO market is provide a reference system to OEMs so they can copy features that Intel has developed. In fact at CES this year, Intel was showing (to their OEM customers) a reference design based on mobile Broadwell, with features such as Intel's RealSense camera and a quad-array microphone arrangement. We have asked Intel if they are considering selling direct to the end user, like the NUC, but we were told that Intel currently has no plans to sell it under their own branding. Intel will have this system, called Black Brook, at Computex 2014 on show so I'm sure we will get a look at it then.