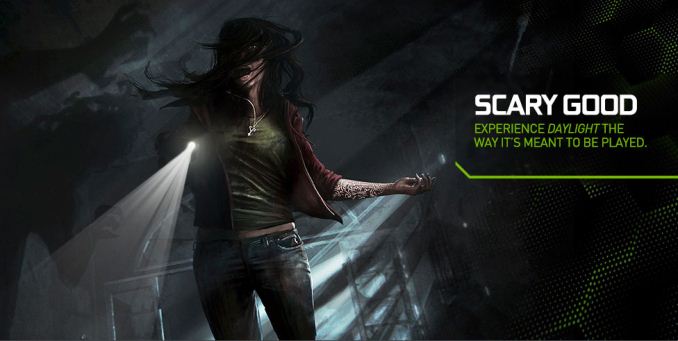 Coinciding with this week's launch of the GeForce 800M series, NVIDIA is back in the saddle with another set of bundles to help promote GeForce video card and laptop sales.
Replacing the Assassin's Creed IV bundle that had been running for the last couple of months, NVIDIA's spring bundle will be a two tier affair. For purchasers of the GeForce GTX 660/760 and above, NVIDIA will be including a voucher for a Steam copy of the survival horror game Daylight.
Daylight is a game we have admittedly not heard much about thus far, but a bit of research tells us that it comes from Zombie Studios, the developers responsible for the Spec Ops and Blacklight series of games, among others. More excitingly, this will be the first game released that uses Unreal Engine 4, coming out ahead of other titles such as Epic's own Fortnite. Daylight is set to retail for $15, so this won't be quite as aggressive a bundle that the outgoing AC4 bundle was.
NVIDIA Spring 2014 Game Bundles
Video Card
Bundle
GeForce GTX
760/770/780/780Ti/Titan
660/660Ti/670/680/690
Daylight
GeForce GTX 650/650Ti/750/750Ti
$150 Free-To-Play
(Warface, Heroes of Newerth, Path of Exile)
Select GTX 700M/800M-based Notebooks
$150 Free-To-Play
(Warface, Heroes of Newerth, Path of Exile)
GeForce GT 640 (& Below)
None
Meanwhile for customers purchasing GTX 650 and GTX 750 series cards, along with "select GTX 700M/800M-based notebooks," NVIDIA is launching another one of their free-to-play currency bundles. This spring F2P bundle will be for Warface, Heroes of Newerth, and Path of Exile, with NVIDIA providing a voucher good for $50 of currency in each game. At $150 the retail value of this bundle technically exceeds the value of the cards it's bundled with, but it goes without saying that NVIDIA is clearly not paying retail prices here. Whereas the fact that they're offering this bundle with laptop sales is quite interesting, since NVIDIA doesn't typically promote laptop sales in this manner.
Finally, as always, these bundles are being distributed in voucher from, with retailers and etailers providing vouchers with qualifying purchases. So buyers will want to double check whether their purchase includes a voucher for either of the above deals. Checking NVIDIA's terms and conditions, the codes from this bundle are only good through May 31st, so we don't expect this bundle will run any longer than 2 months.
Source: NVIDIA