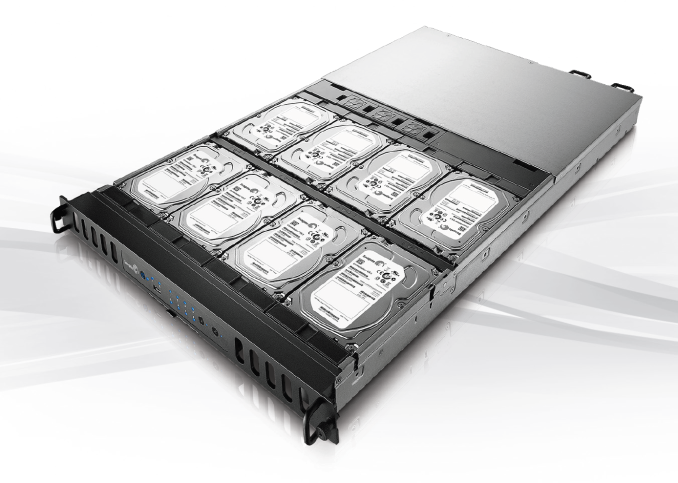 Introduction
Seagate's acquisition of LaCie in 2012 made quite a bit of sense as most of their product lines were complementary in nature. However, they had a bit of an overlap in the NAS market, particularly in the SOHO ARM-based segment. Early last year, we reviewed the LaCie 5big NAS Pro, a desktop form factor x86 NAS with an embedded Linux OS developed in-house by LaCie. With Seagate not having a presence in this space, it was an ideal segment to target with the help of LaCie's expertise. The result of the attempt is the Business Storage 1U rackmount lineup.
The Seagate Business Storage 1U Rackmounts come in 4-bay and 8-bay varieties. The Business Storage lineup also includes 1-4 bay versions based on a Cavium chipset, but the OS running on those is not based on LaCie's NAS OS. There is also a 4-bay Windows Server. The Cavium-chipset based units as well as the Windows Server come in the desktop tower form factor, while the units based on LaCie's OS are all rackmounts.
The specifications of the Seagate Business Storage 8-Bay Rackmount unit being reviewed today are provided below.
Seagate Business Storage 8-Bay 32TB Rackmount (STDP32000100) Specifications
Processor
Intel Celeron G1610T (2C/2T @ 2.3 GHz)
RAM
4 GB DDR3 ECC RAM
Drive Bays
8x 3.5" SATA 6 Gbps HDD [ Populated with 8x ST4000NM033 Constellation® ES.3 SATA 6Gb/s 4-TB Hard Drives ]
Network Links
2x 1 GbE
USB Slots
3x USB 2.0
eSATA Ports
None
Maximum Capacity
8-bays
VGA / Console / HDMI
VGA
PSU
Redundant (2x) 250W
Full Specifications Link
Seagate STDP32000100 Specifications (PDF)
Suggested Retail Pricing
US $5100
After taking a brief look at our testbed setup and testing methodology for the unit below, we will move on to the hardware and setup impressions. Following that, we will cover performance in single client scenarios and our usual multi-client tests. The final section will cover rebuild times and power consumption numbers while also providing some closing thoughts.
Testbed Setup and Testing Methodology
Our NAS reviews use either SSDs or hard drives depending on the unit under test. While rackmounts and units equipped with 10GbE capabilities use SSDs, the others use hard drives. Despite being a rackmount, the STDP32000100 was evaluated with the bundled drives because of the vendor's market positioning. Evaluation of NAS performance under both single and multiple client scenarios was done using the SMB / SOHO NAS testbed we described earlier.
AnandTech NAS Testbed Configuration
Motherboard
Asus Z9PE-D8 WS Dual LGA2011 SSI-EEB
CPU
2 x Intel Xeon E5-2630L
Coolers
2 x Dynatron R17
Memory
G.Skill RipjawsZ F3-12800CL10Q2-64GBZL (8x8GB) CAS 10-10-10-30
OS Drive
OCZ Technology Vertex 4 128GB
Secondary Drive
OCZ Technology Vertex 4 128GB
Tertiary Drive
OCZ RevoDrive Hybrid (1TB HDD + 100GB NAND)
Other Drives
12 x OCZ Technology Vertex 4 64GB (Offline in the Host OS)
Network Cards
6 x Intel ESA I-340 Quad-GbE Port Network Adapter
Chassis
SilverStoneTek Raven RV03
PSU
SilverStoneTek Strider Plus Gold Evoluion 850W
OS
Windows Server 2008 R2
Network Switch
Netgear ProSafe GSM7352S-200
Thank You!
We thank the following companies for helping us out with our NAS testbed: