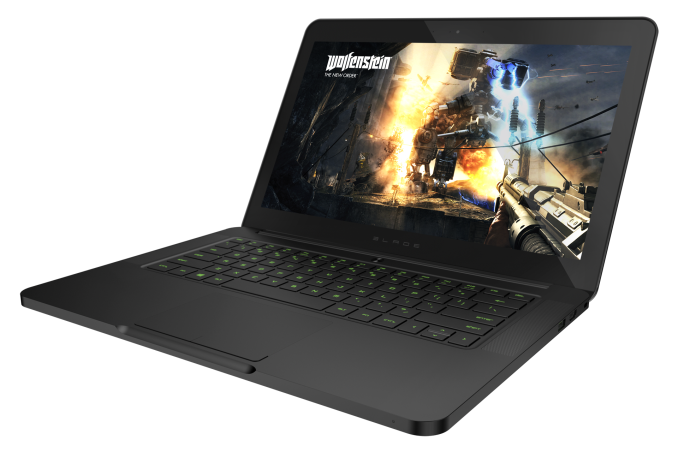 Gaming based laptops have boomed in recent months and quarters. There are plenty of companies getting their feet wet and some are trying to push the limits. QHD+ is starting to look like a new standard in the higher end laptops, as seen in the 13.3" Lenovo Yoga 2 Pro and the 15" Dell XPS 15 (read Jarred's review of the XPS 15 here), and Razer are deciding to go with something similar for the 2014 Razer Blade refresh.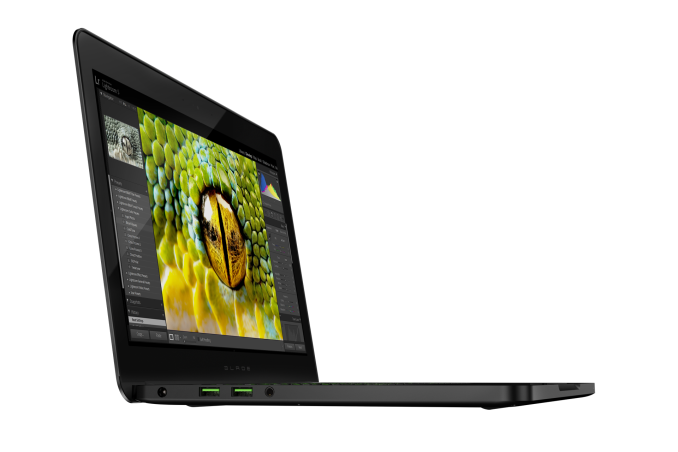 Aside from the touchscreen 14" QHD+ panel, which is an IGZO panel rather than the pentile screen seen on the Lenovo, the New Razer Blade 2014 edition is equipped with an Intel Core i7-4702HQ quad core processor, 8GB of DDR3L-1600 and the recently announced NVIDIA GTX 870M. That sounds like a beefy machine to begin with, and beats out the old Razer Blade that only had a 1600x900 panel and a GTX 765M.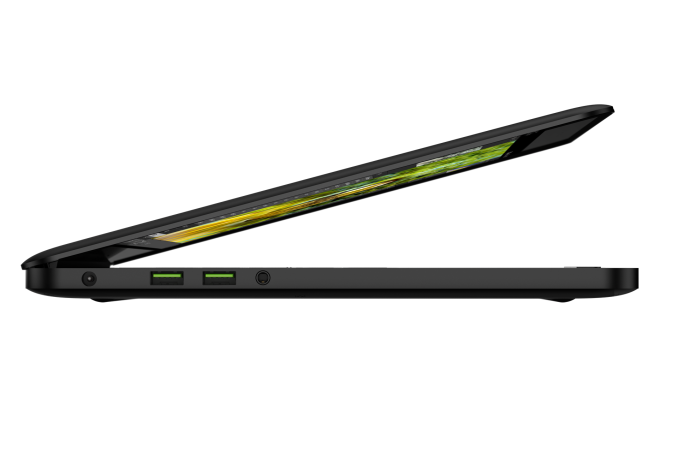 This new device measures 345x235x17.9mm, which Razer likes to point out is smaller than a dime. The machine isn't the lightest, weighing in at 4.47 lbs (2.03 kg), but we do get an Intel 7260 2x2 802.11ac WiFi module in there as well as a choice of SATA M.2 drives. Razer is accepting preorders based solely on the size of the M.2 drive: $2200 for a 128GB, $2400 for 256GB and $2700 for 512GB.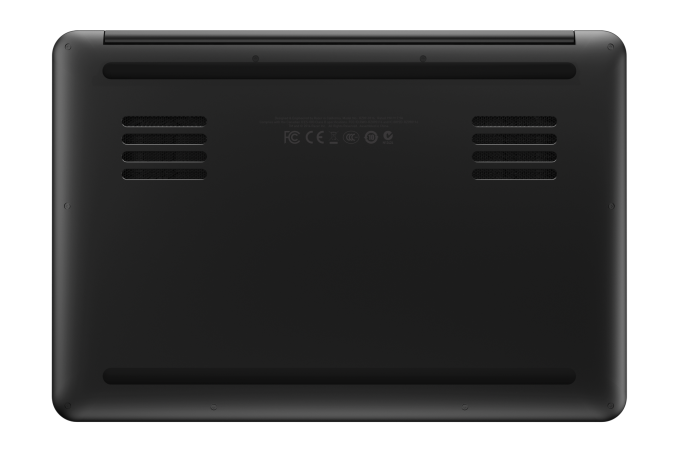 The keyboard is fully backlit in green, and the laptop uses a 70Wh battery with a 150W power adapter. This makes sense, given the CPU is a 37W part and the GPU is set to be rated around 100W. This would reinforce the image on Razer's website of dual fans in the chassis. Connectivity comes via three USB 3.0 ports, a HDMI 1.4a port and headphone/microphone jacks.
Razer Blade 14-Inch Specifications
2013
(Current)
2014
(New)
Processor
Intel Core i7-4702HQ
(4x2.2GHz + HTT, Turbo to 3.2GHz, 22nm, 6MB L3, 37W)
Intel Core i7-4702HQ
(4x2.2GHz + HTT, Turbo to 3.2GHz, 22nm, 6MB L3, 37W)
Chipset
Intel HM87
Intel HM87
Memory
8GB DDR3L-1600
8GB DDR3L-1600
Graphics
NVIDIA GeForce GTX 765M 2GB GDDR5
768 CUDA cores,
797MHz/863MHz core
4GHz memory
128-bit memory bus

Intel HD 4600 Graphics
(20 EUs, up to 1.15GHz)
NVIDIA GeForce GTX 870M 3GB GDDR5
1344 CUDA cores,
941 MHz core
5 GHz memory clocks
192-bit memory bus

Intel HD 4600 Graphics
(20 EUs, up to 1.15GHz)
Display
14" LED Matte 16:9 900p
AU Optronics AUO103E
14" IGZO 16:9 3200x1800
Multitouch with LED Backlight
Hard Drive(s)
Samsung PM841 256GB
mSATA 6Gbps SSD
128GB / 256GB / 512 GB
SATA M.2
Optical Drive
-
-
Networking
Killer Wireless-N 1202
Dual Band 2x2 802.11a/b/g/n
Bluetooth 4.0
Intel Wireless-AC 7260HMW
Dual Band 2x2 802.11a/b/g/n/ac
Bluetooth 4.0
Audio
Realtek ALC269 HD audio
Stereo speakers
Combination mic/headphone jack
?
Battery
70Wh
70Wh
Front Side
-
-
Right Side
USB 3.0
HDMI 1.4a
Kensington lock
USB 3.0
HDMI 1.4a
Kensington Lock
Left Side
AC adapter
2x USB 3.0
Combination mic/headphone jack
AC adapter
2x USB 3.0
Combination mic/headphone jack
Back Side
-
-
Operating System
Windows 8 64-bit
Windows 8.1 64-bit
Dimensions
13.6" x 9.3" x 0.66"
345mm x 235mm x 16.8mm
13.6" x 9.3 " x 0.70"
345mm x 235mm x 17.9mm
Weight
4.1 lbs
1.88 kg
4.47 lbs
2.03 kg
Extras
Webcam
USB 3.0
Killer Networks wireless networking
Backlit anti-ghosting keyboard
2.0 MP Webcam
USB 3.0
Intel 2x2 802.11ac
Backlit anti-ghosting keyboard
Warranty
1-year limited
?
Pricing
$1,799
Starting at $2200 for 128GB
Powering 5.76 million pixels in QHD+ rather than 2.07 million of 1080p means an almost three-fold increase, and 4x over the older Razer Blade at 900p. That begs the question as to what frame rates we might see at 3200x1800 in this new device. I doubt that BF4 will be running at some high quality settings at 3200x1800, but I like the fact that the industry is headed to higher density panels in a smaller chassis.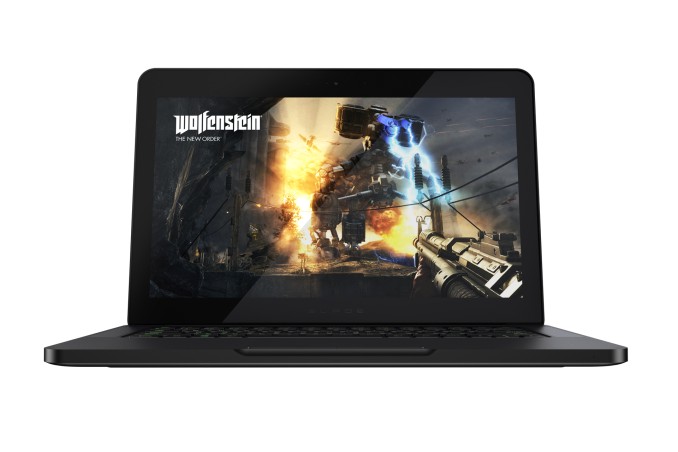 Because I have been lax at being a proper gamer these past few years, my eyes would really open to a version of this without the discrete GPU – give me a high density, top quality panel with a lot of battery life and my usual OS, and all is good. However for running around to a LAN, it would either be an SFF machine or something like this that would fit right in.
Razer is taking pre-orders for shipping next month. In an interview with TechCrunch, Razer CEO Min-Liang Tan explained how the company has listened to their customers, and aim to help alleviate the previous issues regarding keeping up with demand. Markets like Russia and Taiwan will follow after North America.