Dell XPS 15: Gaming Performance
With that lengthy preface about throttling, let's just make it clear that all of the benchmark results here are from post-reboot testing, so throttling should not be present. What we find is that the GT 750M is a reasonable mainstream mobile GPU that can easily handle our "Value" settings and outside of the most demanding titles (e.g. Metro: Last Light) it can run our "Mainstream" settings as well. Not surprisingly, "Enthusiast" quality is mostly out of the question, except with older and/or less demanding titles. As for gaming at the native 3200x1800 resolution, that's generally more than you can hope to get out of the GT 750M. Some games will certainly break 30 FPS at low to moderate settings, but in most cases opting for a lower resolution with higher quality settings will provide the better experience.
I also want to make note here that with 2014, we're going to be reducing the number of games we test in our laptop reviews. There's a real concern that running too many GPU-centric tests can distract from the overall target market for a device. While I've gone ahead and included most of the games from our 2013 test suite in Mobile Bench, moving forward we have decided to focus on just four games. Our current list consists of Bioshock Infinite, GRID 2, Metro: Last Light, and StarCraft II: Heart of the Swarm. These should provide a sufficient amount of data that we'll be able to say how well a system handles gaming workloads. In some reviews we will also include other titles (e.g. if there's a new GPU that warrants additional investigative work), including some less demanding games that will better illustrate the "casual gaming" aspect.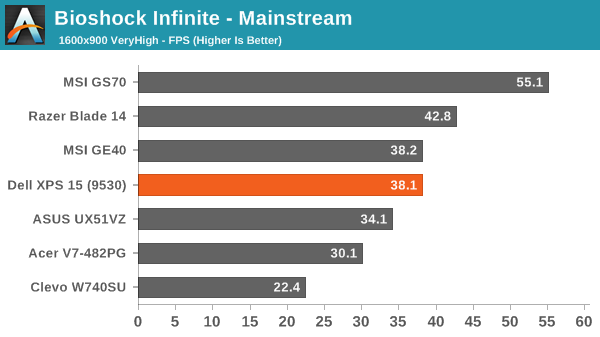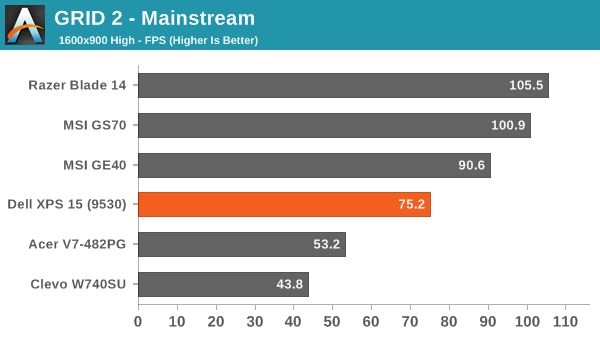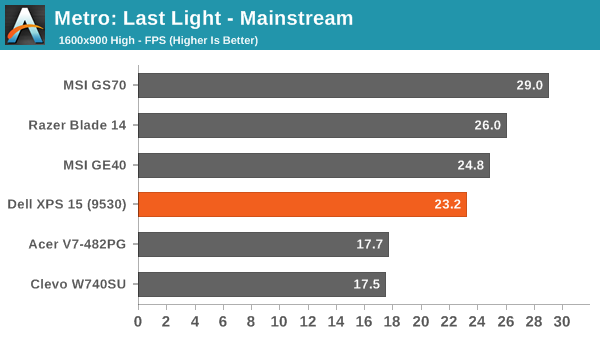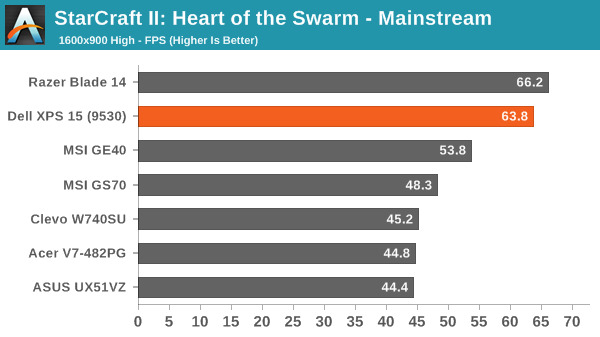 Considering this isn't really being targeted at a gaming audience – Dell has their Alienware brand if that's what you're after – the XPS 15 still manages to hold its own in the gaming tests. Throttling concerns aside, when the fans and GPU are running as expected, gaming at one fourth the native resolution and high detail settings is easily accomplished, and even 1080p medium/high detail is possible.