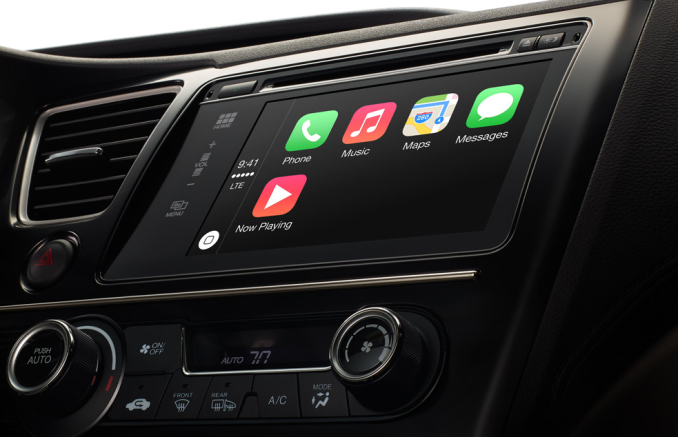 Earlier this morning Apple officially branded its iOS in the Car initiative as CarPlay. At a high level CarPlay allows iPhone 5/5c/5s users to access certain apps on their phone via an in-car infotainment display. It's effectively iPod integration on steroids. One of the biggest departures from the iPod integration efforts we've seen in previous vehicles is the user interface appears to be consistent across vehicles. Large, iOS 7-styled application icons adorn the UI rather than something that varies by auto maker. There's a virtual home button as well as icons for phone, music, iOS Maps and messages. Apple's CarPlay website lists a handful of apps that are supported by the technology, with the promise of more to come.
Interacting with CarPlay can be done via buttons/knobs or directly by touch (if available). It's important to note that CarPlay likely won't replace the need for checking an expensive box on your car's option list. The OEM still needs to provide the underlying hardware/interface, CarPlay simply leverages the display and communicates over Apple's Lightning cable.
The technology will show up in select new vehicles arriving this year. Ferrari, Honda, Hyundai, Jaguar, Mercedes-Benz and Volvo are launch partners, with the first cars likely being shown off at this year's Geneva Motor Show later this week.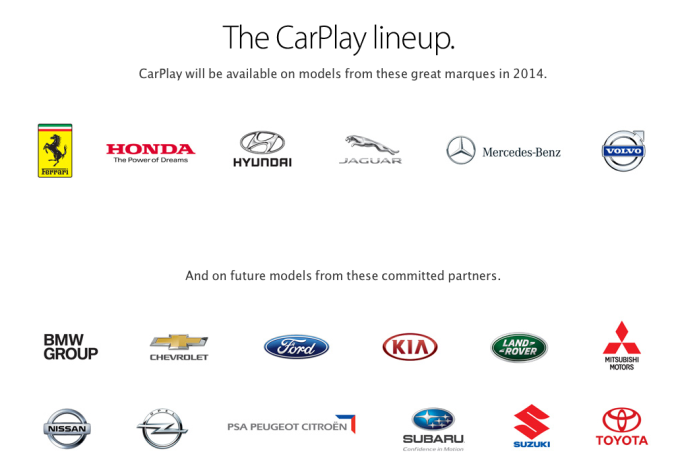 Apple's approach to CarPlay seems to be more integrated than previous efforts, however it's unclear how strict/specific the hardware requirements are for automakers. We'll have to wait and see what actual implementations end up looking like, but I rarely encounter a car maker that seems to "get it" when it comes to integrating a fast and intuitive infotainment system. CarPlay clearly attempts to at least control the Apple side of the interface, I just can't help but wonder if the right solution for revolutionizing compute in vehicles is one step below at the platform level. In fact, if we look at Apple's preferred solution to most problems it almost always involves controlling the complete experience rather than just one portion of it.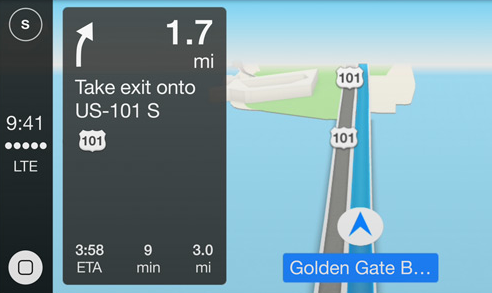 Google is of course working on its own in-car solution based on Android. The Open Automotive Alliance is composed of Audi, GM, Honda, Hyundai, Google and NVIDIA. NVIDIA's inclusion implies more of a platform level play. The first Android powered cars will show up later this year.
Source: Apple