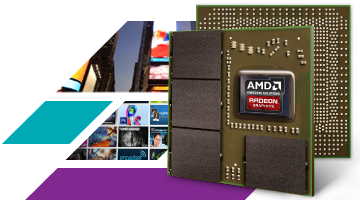 For the integrated market, there are several levels of capability that manufacturers need to consider. This is a market driven by sales, thus OEMs that require specific resources are usually catered for. Thus despite the fact that AMD have an aggressive APU line up on the embedded side (and have the embedded related warranties and support), there is scope for something more powerful. This is the purpose of the E8860.
The E8860 is a 37W multi-chip-module FCBGA part, with the package measuring 37.5mm x 37.5mm. The GPU has a PCIe 3.0 interface and implements 640 SPs at 625 MHz. The GPU uses GCN similar to the HD7000 series, and is paired with 2GB of GDDR5 at 1125 MHz (4.5 GHz effective). Aside from the usual DX11.1, OpenCL 1.2 and OpenGL 4.2 compatibility we normally see with this GCN, AMD offer a variety of SKUs to cater for the following display output requirements:
AMD E8860 MXM 3.0 (A) + 5 DisplayPort
AMD E8860 PCIe + 2x DVI + mDP
AMD E8860 PCIe + 5x mDP
AMD E8860 PCIe + 4x mDP LPX
Performance is officially listed as achieving P2689 in 3DMark-11 when paired with an AMD R-464L APU. So the big question here is if the E8860 can be paired with either a BGA or socketed APU in dual graphics mode. On the consumer side at least, this could result in some nice GPU performance if an APU could be paired with something like this, leaving a PCIe x8 slot for other devices. It could even act as a mid-range part in the laptop space, although 37W will need to be catered for, or a mini-ITX motherboard where the other PCIe lanes are used for SATA controllers for extra storage.
Due to the use in the embedded market, interested parties will need to contact their local AMD representative for pricing and information.
Source: AMD