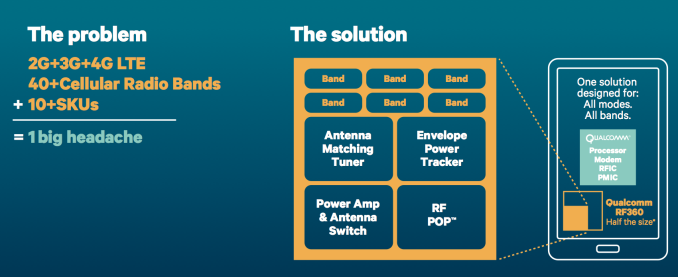 Today at MWC Qualcomm announced ZTE will be the first smartphone customer to ship with Qualcomm's CMOS Power Amplifier, a part of its RF360 front end solution. This is a very big deal. We somehow missed covering the RF360 announcement in great detail last year, so I'm going to quickly recap it here first.
We often talk about two major parts of the cellular connectivity story in our reviews: the cellular modem and transceiver. The diagram below does a good job of illustrating the chain: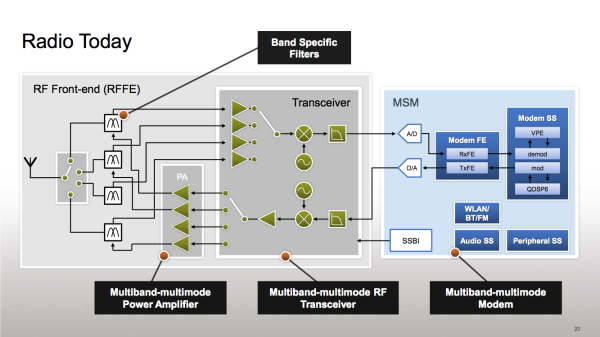 In front of the transceiver you have antennas, switches, band filters and power amplifiers. Each band you need to support has a filter, power amp (PA) and antenna switch. In the old days it was one PA per band but now you can have multiple bands handled by a single PA. All of these components consume power and take up board area. More importantly, as you want to support more bands in a single device you need to scale up the number of switches, filters and PAs, which in turn consumes more board area. Larger PCBs lead to larger devices, which isn't always desirable.
Qualcomm's RF360 front end is an attempt to consolidate everything ahead of the transceiver in order to reduce power consumption, board area and enable support for more bands in a single device. While mobile operators may fight over limiting what bands are enabled on their devices, being able to support more in a given board area is incredibly useful from a manufacturing perspective. Smartphone vendors want to build as few SKUs as possible to service the world.
So what is Qualcomm's RF360? The front end is comprised of four parts: the QFE11xx Envelope Power Tracker, QFE15xx Dynamic Antenna Matching Tuner, QFE23xx Integrated Power Amp and Antenna Switch, and QFE27xx RF PoP.
The envelope tracker (QFE1100) was deployed in Samsung's Galaxy Note 3, Nexus 5, and in an APT (Average Power Tracker) mode in the LG G2 (QFE1101), and helps reduce power consumption/thermal footprint by dynamically varying voltage across the PA depending on the waveform of the transmitted signal (instead of leaving it as a fixed value).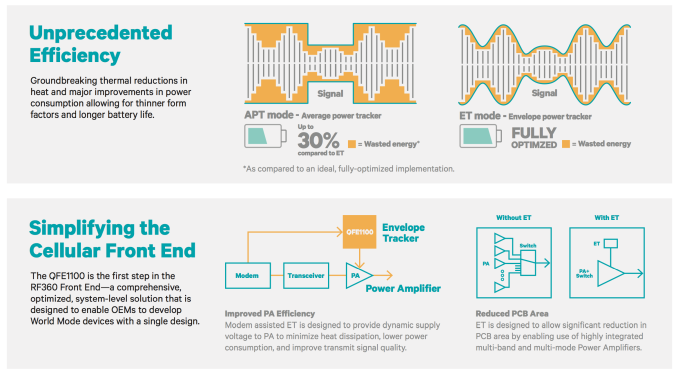 The dynamic antenna matching tuner showed up in Nokia's Lumia 1520 and actively tunes attached antennas depending on current conditions. The next piece of the RF360 puzzle is the QFE23xx power amp. This is a 28nm power amp built in CMOS at a 28nm process, which moves conventional front end analog circuitry into a smaller, scalable CMOS package. The CMOS power amp needed quite a bit of validation/field verification testing, which contributed to a fairly long time to market. Today Qualcomm announced that ZTE is its first partner to design in its QFE23xx CMOS power amps with the new Grand S II LTE.
ZTE uses two Qualcomm CMOS power amps in its design (QFE2320, QFE2340), in addition to Qualcomm's QFE1100 envelope tracker.
The last piece of the RF360 puzzle is the QFE27xx RF PoP. This is a package-on-package design that takes the CMOS power amps, and moves the band filters off of the PCB and onto the power amp itself, thereby reducing board space. Qualcomm expects to see the first full RF360 implementation in a smartphone later this year (likely about a quarter after today's announcements).
The benefits are obvious. Reducing board area and power consumption has a direct impact on the size, weight and battery life of a device. Smaller PCBs can be leveraged to either build smaller devices, or support more bands while keeping the device size the same. It's wonderful to see Qualcomm being more aggressive in talking about its connectivity wins, and I'm very excited to see that RF360 is nearly completely here. This is a very big deal.