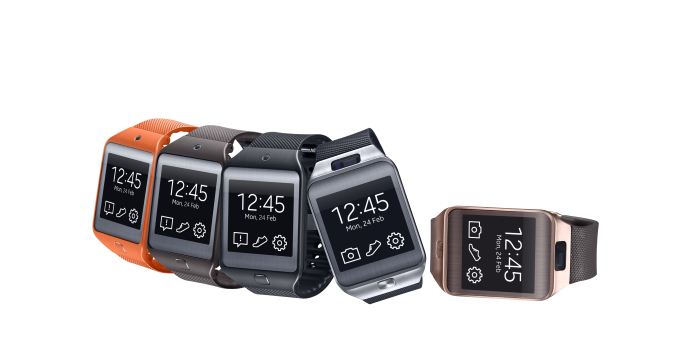 This morning Samsung dropped some news ahead of its Unpacked 5 event with the announcement of a refresh of its smart watch lineup, the Gear 2 and Gear 2 Neo. We reviewed the original Android 4.2 based Samsung Galaxy Gear, which offered an interesting combination of unique features in the smartwatch category (a strap mounted camera, Android platform, and bluetooth calling capabilities), but found that battery life left a lot to be desired partly thanks to it running the entire platform on an Exynos 4212. The new Gear 2 drops the "Galaxy" prefix and Android with it, instead opting for Samsung's own Tizen platform. Samsung doesn't call out an SoC specifically, but the Gear 2 is based on a dual core platform with maximum clocks of 1.0 GHz – previously Galaxy Gear was based on the dual core 4212 platform but with one core disabled and a maximum frequency of 800 MHz. The Gear 2 and Gear 2 Neo appear to be primarily differentiated by the presence of a body-mounted camera, with the 2 Neo eschewing the camera and likely coming in at a lower price point.
Galaxy Gear
Gear 2
Gear 2 Neo
Display
1.63 inch 320x320 SAMOLED
1.63 inch 320x320 SAMOLED
SoC
800 MHz Exynos 4212 Dual Core Cortex A9
1 GHz "Dual Core"
OS
Android 4.2
Tizen
Camera
2.0 MP w/AF
2.0 MP w/AF
N/A
Video
720p30
720p30
N/A
Memory
4 GB + 512 MB RAM
4 GB + 512 MB RAM
Dimensions
36.8 x 56.6 x 11.1 mm, 73.8 g
36.9 x 58.4x 10.0 mm, 68g
37.9 x 58.8 x 10.0mm, 55g
Battery
Li-ion 315 mAh
Li-ion 300 mAh
Connectivity
BT 4.0
Bluetooth 4.0, IrLED
Sensors
Accelerometer, Gyroscope
Accelerometer, Gyroscope, Heart Rate
The Gear 2 series adds some new functionality, including a heart rate sensor for health and fitness applications, IR led for controlling appliances with WatchOn, and the ability to change the wrist strap since the camera is now integrated into the body of the watch rather than on the strap.
There also appears to be a hardware home button mounted below the display, although overall industrial design appears relatively unchanged from the original Galaxy Gear. Samsung also purports that battery life is now 2-3 days on the Gear 2, likely thanks to the change in software platform. Gear 2 will be available in April and we hope to get hands on with the watches as soon as possible.
Source: Samsung