Meet The Reference GTX 750 Ti & Zotac GTX 750 Series
For the launch of the GTX 750 series NVIDIA is doing a pure virtual launch. NVIDIA's partners will be launching with custom cards from day-one, and while NVIDIA has put together a reference board for testing and validation purposes, the partners will not be selling that reference board. Instead we'll be seeing semi-custom and fully-custom designs; everyone has their own cooler, a lot of partners will be using the NVIDIA reference PCB, and others will be rolling out their own PCBs too. Since these are sub-75W/sub-$150 cards there's not a lot of room for variation – expect single and dual fan open air coolers – but we'll have to see just what the partners cook up. GM107 should be suitable for fully passive designs and low-profile designs, and while we've seen one low-profile design so far we haven't seen any passive designs yet.
Meanwhile for the purposes of the GTX 750 Ti launch NVIDIA has seeded the press with the GTX 750 Ti reference board for evaluation purposes. They have not seeded the press with GTX 750 boards, so we'll be looking at a retail board in that scenario.
Reference GeForce GTX 750 Ti

The reference GeForce GTX 750 Ti is fairly typical of what retail boards will be like. NVIDIA's cooler of choice on the reference GTX 750 Ti is a small but effective open air double-wide cooler. NVIDIA's using a low-profile aluminum heatsink that covers roughly half the card, topped with a 55mm fan. This is the cooler style that most partners will mimic, as the 60W TDP of the GTX 750 Ti does not require a particularly large cooler. As is common with open air coolers, the heatsink itself doesn't make contact with the on-board RAM, so RAM cooling is left to airflow coming off of the fan.
NVIDIA's RAM of choice for the GTX 750 Ti is their traditional favorite, Hynix 6GHz GDDR5, with NVIDIA using Hynix's new 4Gb modules to get 2GB with just 4 modules. The use of 6GHz RAM, which will be common across this product, means that the GTX 750 Ti will have some memory overclocking headroom right out of the box, memory bus willing. NVIDIA uses 4 pieces of it in a 4x32bit configuration, with 4 more pads on the back of the card for another 4 pieces for 4GB cards should the need arise.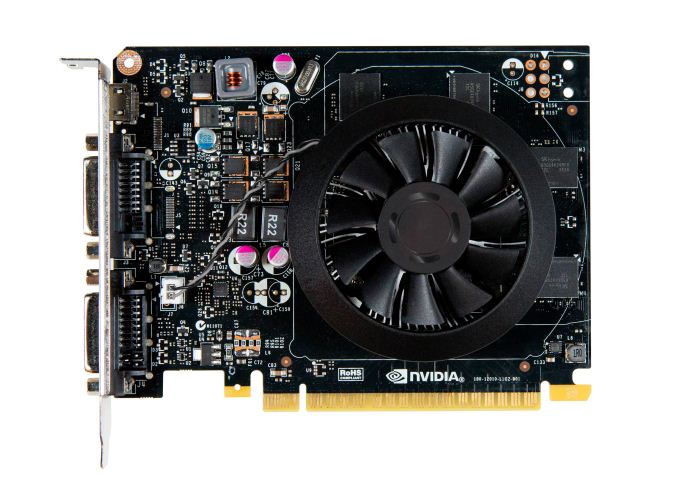 Moving on, the PCB itself is largely lifted from the GTX 650 and GTX 650 Ti, the similar TDPs allowing partners to get their customized cards out right away, and indicating that GM107 doesn't have significantly different I/O or power delivery requirements than GK107. This puts the length of the card at 5.75" – about as short as a PCIe x16 card can be – in a full-profile form factor. There is a spot on the board for a PCIe power socket, and while it's not used nor necessary on the reference design, this does leave the door open to more aggressive overclocking designs on partner cards.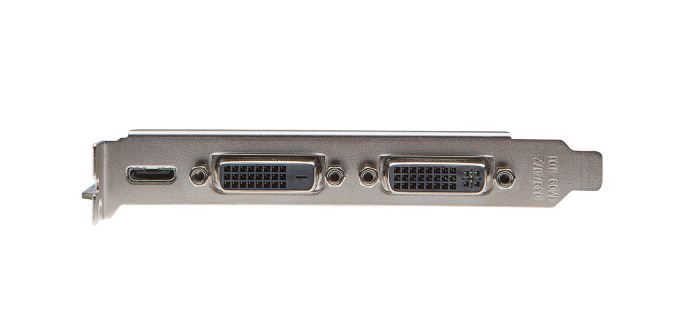 Finally, display connectivity is provided by 1 DL-DVI-I port, 1 DL-DVI-D port, and a mini-HDMI port. Since Maxwell GPUs support 4 displays the GTX 750 Ti can drive up to 3 displays via these connectors in any combination and configuration. The lack of a DisplayPort is disappointing, but not surprising. With most partners opting for 2x DVI and 1x mini-HDMI on their GTX 650 series cards, the PCB reuse means the GTX 750 Ti launch cards will be of a similar makeup. As a result we will see some DisplayPort enabled cards, and we wouldn't be surprised if this shifted a bit over the coming months as partners move inventory and can take the time to do more customization to their designs. NVIDIA's G-Sync technology would be a good match for these cards given the lower framerates we typically see, so having DisplayPort connectivity here will be important for NVIDIA's G-Sync initiative as the first native G-Sync monitors hit the market later this year.
Zotac GeForce GTX 750 Series
GeForce GTX 750 Series Specification Comparison
GeForce GTX 750 Ti (Ref)
Zotac GeForce GTX 750 Ti
Zotac GeForce GTX 750
Base Clock
1020MHz
1033MHz
1033MHz
Boost Clock
1085MHz
1098MHz
1098MHz
Memory Clock
5.4GHz
5.4GHz
5.0GHz
VRAM
2GB
2GB
1GB
TDP
60W
60W
55W
Width
Double Slot
Double Slot
Double Slot
Length
5.75"
6"
6"
Warranty
N/A
3 Year (Upon Registration)
3 Year (Upon Registration)
Price
$149
$149
$119
For retail cards we were able to get our hands on Zotac's entry level GeForce GTX 750 series cards. As both of these cards use the same PCB and cooler, we'll be referring to them together unless otherwise noted.
As is often the case, Zotac's entry level GeForce GTX 750 series cards end up being very similar to the NVIDIA reference design. The PCB as far as we can tell is identical to the reference PCB, so all of the power delivery and clockspeed properties are the same.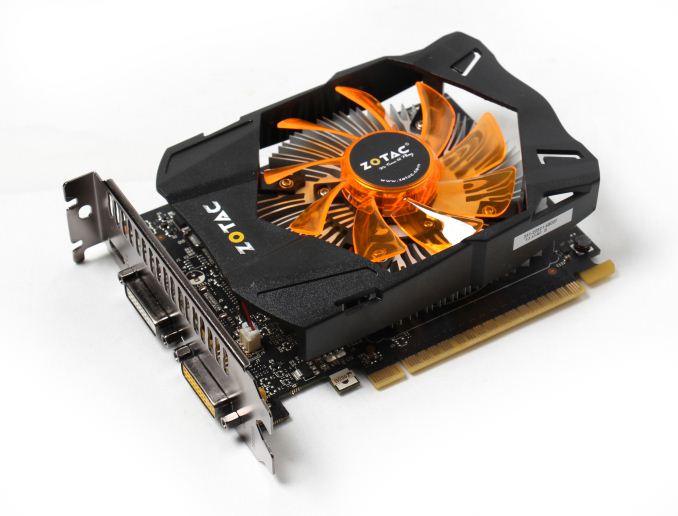 Zotac's cooler of choice is lifted from their GTX 650 Ti, and like NVIDIA's reference design is an open air cooler. Zotac is using an 85mm fan suspended over a mid-profile aluminum heatsink that covers just over half the card, with a minimal shroud around it. The heatsink only makes contact with the GPU, so cooling for the RAM and VRM components is supplied via airflow alone. The similarity between the Zotac and NVIDIA designs means that it has the same double-slot width, while the shroud pushes the length of the card out to 6" flat.
Meanwhile from a specification point of view Zotac has goosed their entry level cards slightly. Both cards start at one boost bin above NVIDIA's reference, putting them at 1033MHz for the core clock as opposed to 1020MHz for a reference card. Zotac has not changed the RAM specifications however, so we're still looking at 5.4GHz for GTX 750 Ti and 5.0GHz for GTX 750.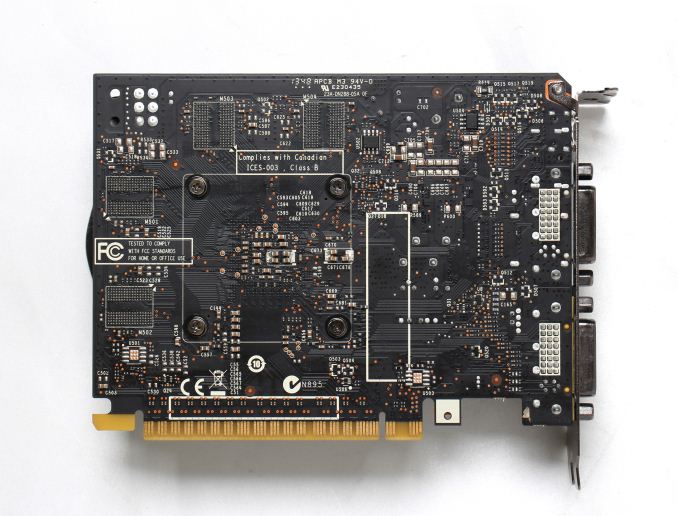 Speaking of RAM, looking at the Zotac GTX 750 we can get an idea of what to expect for RAM on a GTX 750 card. Zotac is using a 4x32bit configuration of Hynix H5GC2H24BFR-T2C, an interesting 2Gb module that can run at either 6GHz at normal voltages (1.5v), or 5GHz at low voltages (1.35v). We're not able to tell which voltage mode Zotac is using, but given the configuration we wouldn't be surprised to see them using 1.35v for extra power savings. Otherwise this means that the RAM on this card is significantly overpowered, which would be good for memory overclocking.
Meanwhile since Zotac's PCB is identical to NVIDIA's reference PCB, the I/O options are also the same: 1 DL-DVI-I port, 1 DL-DVI-D port, and a mini-HDMI port. Zotac tells us that they will also be releasing an OC edition card alongside these entry level cards, and that OC card will have a DisplayPort in order to be G-Sync ready.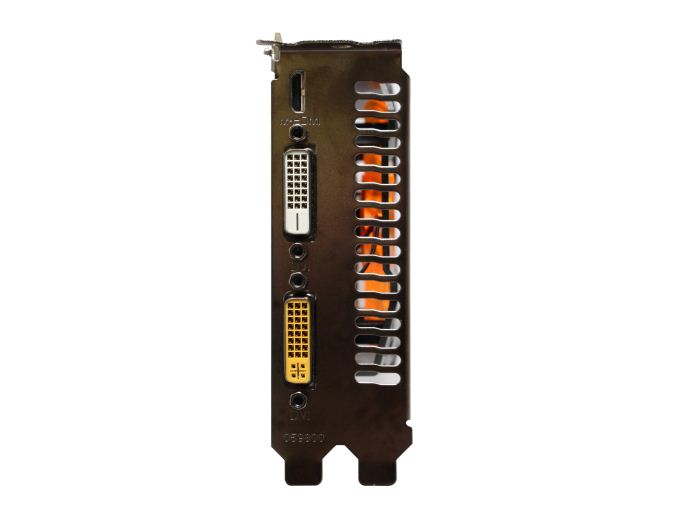 Rounding out the package is the usual collection of a DVI-to-VGA adapter, Zotac's "Boost Premium" OEM trialware, and the obligatory quickstart guides. Since these are entry level cards Zotac is sticking to NVIDIA's MSRPs, putting their GTX 750 Ti card at $149 and their GTX 750 card at $119. Meanwhile for the warranty Zotac is offering a base 2 year warranty, which can be extended to a 3 year warranty by registering the card within 30 days.