GIGABYTE G1.Sniper Z87 BIOS
When I first reviewed the GIGABYTE Z87 BIOS, we had some issues – it was still in development, and it had a relative dislike of my 2560x1440 monitors. Fast forward several months and while the screenshot function is slightly off, we at least get full HD mode to play around with. This is GIGABYTE's high definition mode for the BIOS, aimed at displaying more information and giving the user a better experience. We are still limited to a 30 Hz refresh rate in the BIOS, something which we would enjoy seeing upgraded in the future.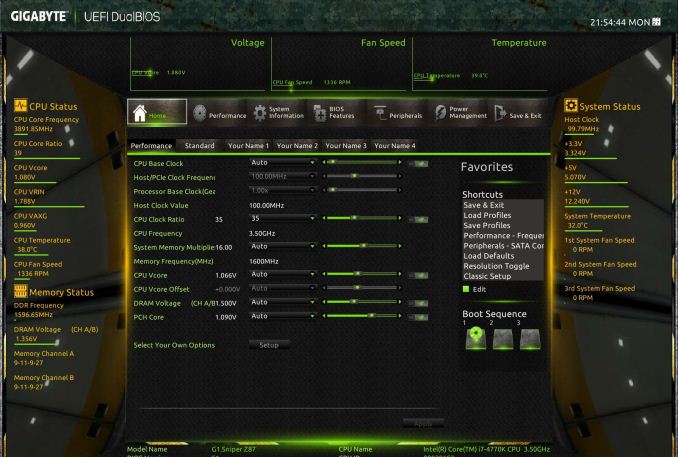 In HD mode, GIGABYTE provides the user with the most salient information – we have the name of the motherboard in use, the CPU installed, CPU information (speed/voltage/temperature), DRAM information (frequency/voltage/sub-timings), system information (temperatures/fan speeds/voltages) and even value against time graphs at the top for voltage, fan speed and temperature. This is persistent on every screen in HD mode - users can switch off HD mode and remove the banner, or switch to classic mode, indicating that the GIGABYTE BIOS has subsequent layers. The BIOS chip is still a 64 Mbit IC, and thus GIGABYTE has been able to fit the added aesthetics without needing to move up a BIOS chip size (and adding cost).
The first screen when entering the BIOS is the Home menu, showing the initial performance options. There is no easy mode, we are straight into the advanced mode, and this menu shows mainly CPU options relating to base clock, multiplier and voltages. DRAM multipliers and voltages are adjustable here as well.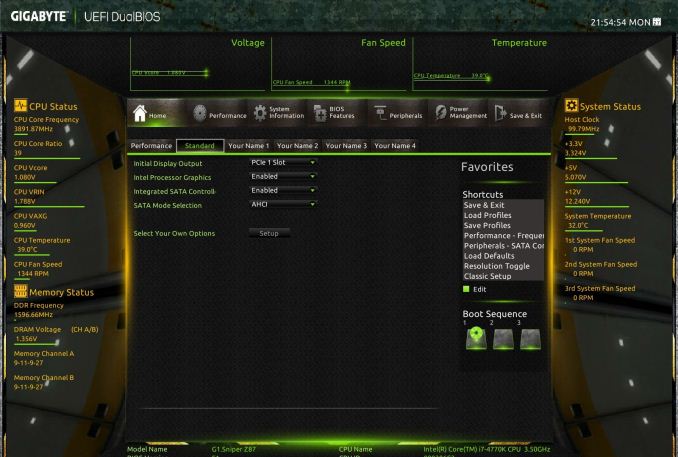 In the Standard menu, features like SATA mode and Display Output selection are listed. Next along the tabs are a series of customizable menus, allowing users to piece together the BIOS options that most suit them. For example, when performing a CPU overclock, I might require the CPU Multiplier, the CPU Voltage and the CPU temperature in one screen – that is the purpose here. Elsewhere in the BIOS the user can select the system to access a specific menu on booting, rather than requiring navigation.
The Performance tab along the top lists GIGABYTE's preferred option arrangement under five tabs: Frequency, Memory, Voltage, PC Health and Miscellaneous. These option layouts are similar to GIGABYTE's classic mode, and also reminiscent of advanced mode in Z77.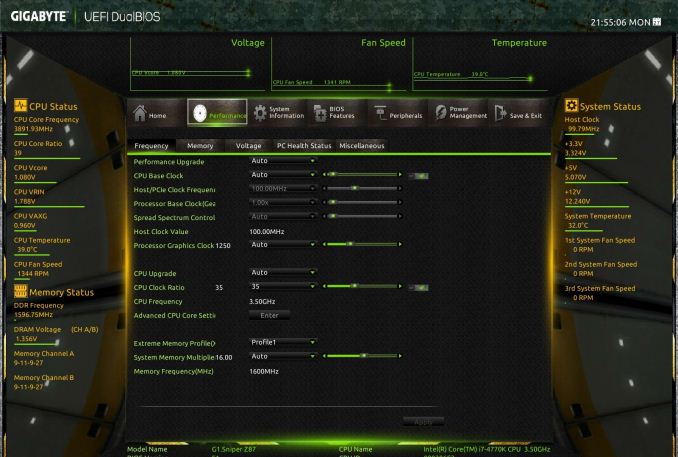 To help extreme overclockers with memory settings, GIGABYTE's in-house overclocker HiCookie and overclockers from TeamAU have helped prepare a number of pre-overclocked memory profiles. Only users of extreme performance memory kits need apply: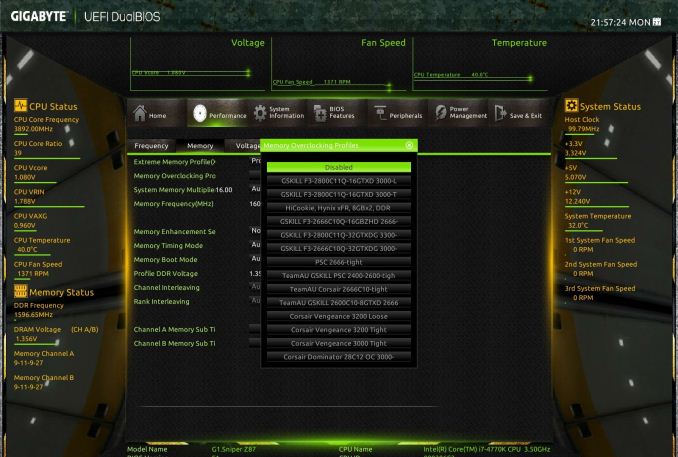 For fan controls in the BIOS, users need to head to Performance -> PC Health Status. As the motherboard has one CPU fan and four SYS fans, these are controllable in three groups: CPU, 1st SYS, 2nd/3rd SYS, and users have the option of increasing and decreasing the gradient. This is listed as 'PWM/°C', which translates as 'add X power to the fan every degree celsius', where the power is a number between 0 and 255. This hides the underlying fact that fans are not directly proportional in the fan speed depending on the power applied, however GIGABYTE address this in their OS software.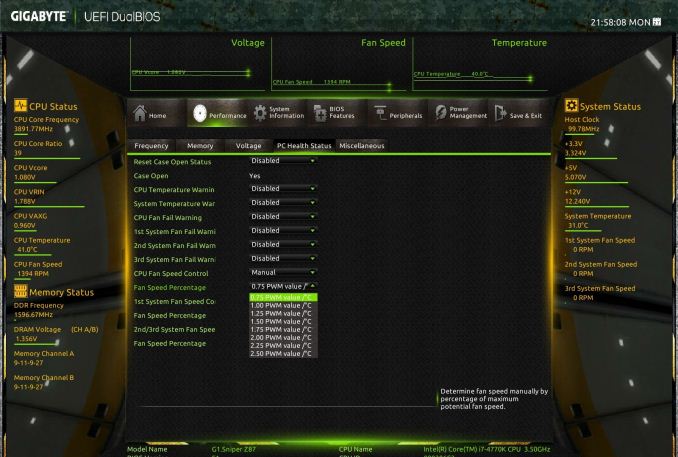 Elsewhere in the BIOS we have system information, BIOS features, BIOS flashing, peripheral configuration and boot override.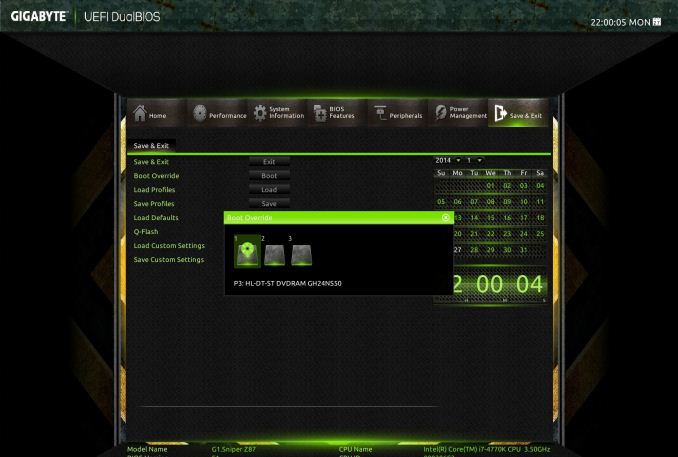 GIGABYTE also keeps the classic mode available for users more accustomed to that layout.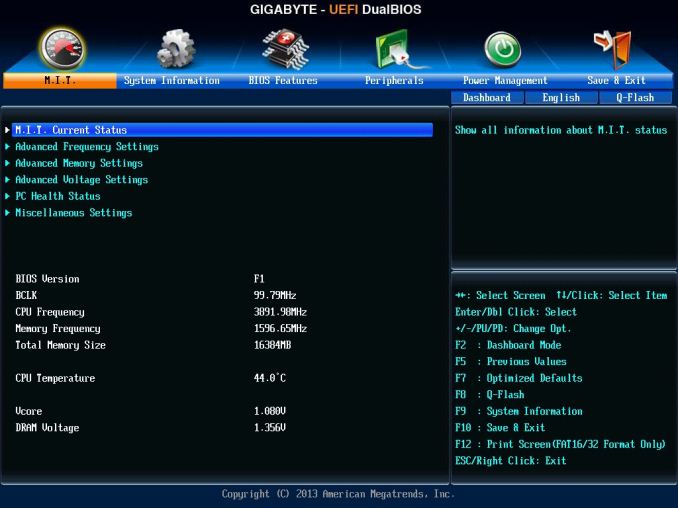 GIGABYTE G1.Sniper Z87 Software
We covered GIGABYTE's range of Z87 software back in our review of the Z87X-UD3H, including the new installation methods as well as the new version of EasyTune. The new version of EasyTune has been requested for a while (the old one was looking dated and needed new features), and this new model allows for all of GIGABYTE's apps to be under one central 'App Center'.

Within this are options for automatic overclocking, fan controls (GB still need to produce graphs of RPM vs ºC from the data they collect), BIOS update tools, USB Blocker, EZ Setup (SRT, RST), ON/OFF Charge, TimeClock and 3D Power.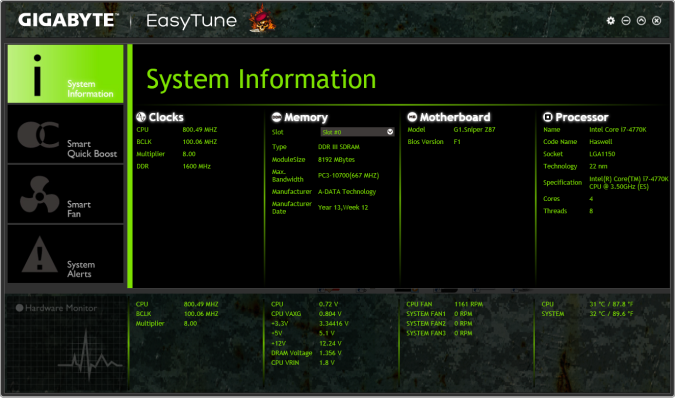 GIGABYTE's app tool has options of three different color modes due to their three different lines of motherboards (channel = blue, overclocking = orange, gaming = green). There is a point worth mentioning – the driver CD asks to install Norton Internet Security. I would rather the package made this an optional opt-in installation.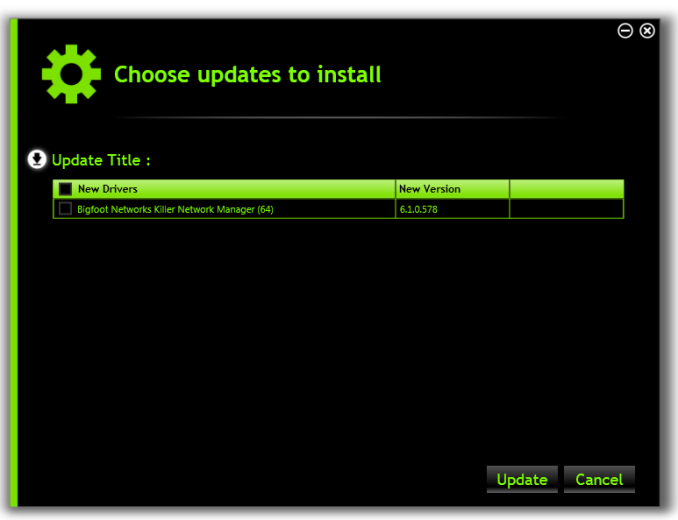 GIGABYTE's auto-update tool has been improved since we last looked at it, with it ignoring software we have not selected to install (Norton) and accurately giving a list of the latest drivers and updates. I would prefer the system to list the size of the download before the system performs the download and install.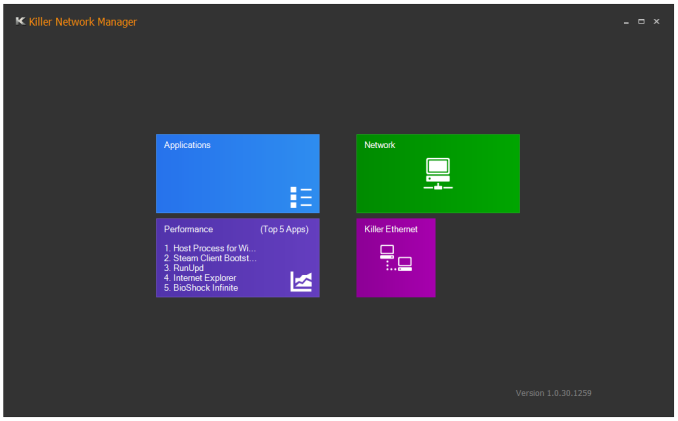 Due to the use of an Atheros Killer E2201 network port, this gives GIGABYTE the use of the Killer software. The new look of the software from Atheros is in the Windows 8 style, but still works in Windows 7. Users can select which programs have high priority, and the software shows a simple array of statistics for traffic and usage.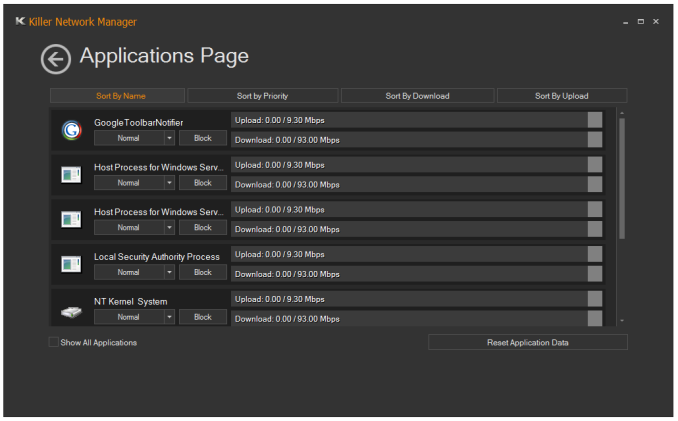 As the G1.Sniper Z87 has a Creative audio codec on board, we also get access to the Creative Sound Blaster range of software. This offers features such as CrystalVoice, WhatUHear and Scout mode – all of which have to be turned off for an accurate reading in our audio testing.