Laptops
There are two main kinds of laptops shown at Computer 2001, with the differences based on size and performance.  Some of the laptops are relatively large, with more features and higher performance, that could serve as desktop replacements. Of course the larger size makes them less portable, so the secoind type of laptop is focused on mobility, but sacrifices some features and performance.
The first laptop manufacturer we came across was Fujitsu, who was able to show us a few very interesting models.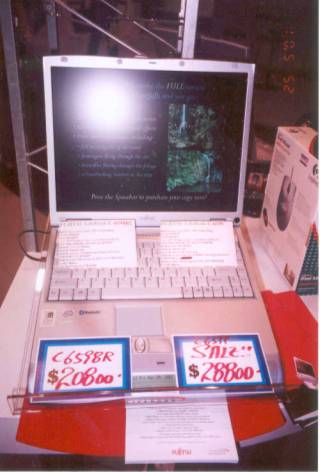 The above laptop is the new Fujitsu C-6599.  It uses Intel's Pentium III running at 850MHz with SpeedStep technology. The screen is a relatively large 14.1 inches.   Also included are 256MB of memory, a 30GB hard drive, and integrated Bluetooth. Bluetooth technology allows you to connect all kinds of wireless devices more easily.  With all these features, this laptop is pretty good for home use, but also comes at a premium price of around US$3700.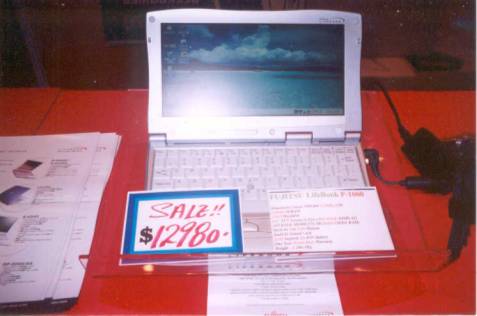 Here we can also see that Fujitsu has joined Sony in offerring a laptop using Transmeta's Crusoe processor.  The above is the P-1000, using the TM5400 Crusoe with an 8.8 inch screen.  The laptop only weighs about 3 pounds, making it a good choice for those on the go.  At a price of around US$1666, this notebook is a little bit cheaper than the Sony PCG-C1VMT (the Asian version of the Crusoe-based Picturebook), but sacrifices a bit in terms of CPU clock speed.
Thanks to the small screen and the low powered Crusoe, the P-1000 has a relatively long battery life.  The standard battery lasts about four hours, with the optional quad-battery going strong for 11 hours straight.  Compared to the 2-3 hours we typically see, the P-1000 is great for those who do a lot of traveling, especially with its light weight.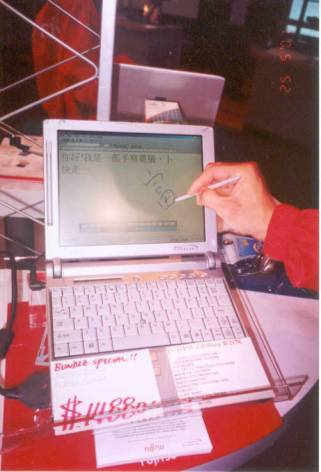 Fujitsu has also developed a laptop with touch screen functionality - a major plus for users in Hong Kong, since you can now write Chinese directly on the screen, rather than learning awkward Chinese input methods. Like a PDA, the computer is designed to recognize your writing automatically and convert it to standard characters on screen.  This laptop comes with a Celeron 500MHz processor and a 10 inch screen, all for a price of US$1900.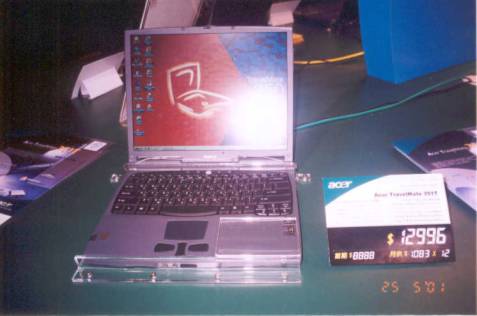 Acer TravelMate 351T
Over at the Acer booth, a relatively well-known brand in Hong Kong, we saw quite a few laptop solutions on display.  The most impressive, however, was the TravelMate 351T laptop shown above.  The laptop weighs a bit less than 4lbs and is only 0.8 inches thick.  At a price of US$1666, the notebook comes with a Pentium III 700MHz chip, 128MB memory, and a 13-inch display.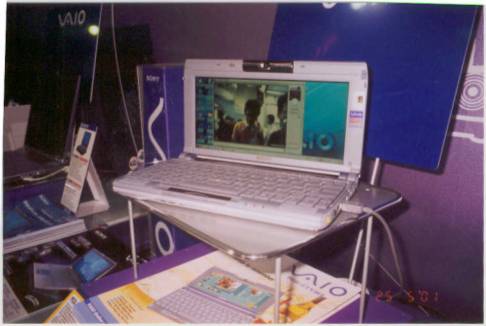 Sony PCG-C1VMT
Over at the Sony booth, they were showing the PCG-C1VMT, which uses the Transmeta Crusoe TM5600 processor.  The laptop also has an integrated camera at the top of the screen for multimedia purposes. All this comes at a bit of a price premium, right around US$2100, some of which undoubtedly is for the Sony name.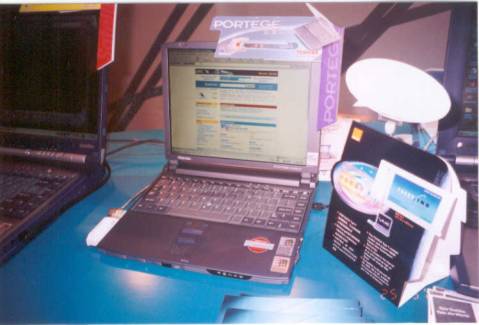 While Toshiba wasn't showing their newest Libretto laptop during Computer 2001, they were pushing their new partnership with one of the wireless service providers in Hong Kong.  Using their notebook and a special PC card, you will be able to connect to the Internet without any physical connections.  The PC card acts like a wireless LAN card, but with a much longer range.  While the connection is not very fast, you should be able to check email and do some basic web browsing.