Computer 2001
This year's Hong Kong International Computer Show ran from 5/24 to 5/27.  It was the seventeenth year of the show in Hong Kong and, as usual, it attracted quite a few people.  The show was held in the new Hong Kong Convention and Exhibition Center, but the show floor was considerably smaller than that at Computex or Comdex.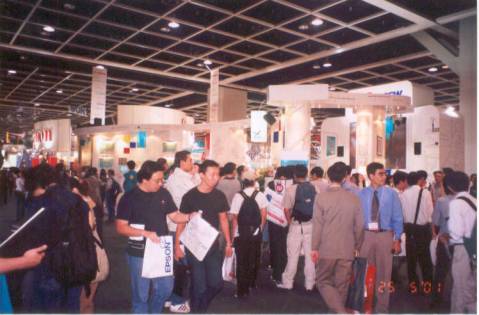 The show floor was quite crowded
Because of the limited floor space, the types of booths seen here were also different from those we have seen in the past.  Instead of manufacturers having their own booths, displaying their own products, the trend here is local distributors that group several brands of products together into their booth.  One reason for this could be that most manufacturers are busy preparing for Computex, which is going to be held in Taipei next week, so they simply don't have time for another show.  Despite these reasons, we still saw large booths from Microsoft, Sony, Epson, Canon, and Acer. Otherwise, most of the booths were relatively small.
In addition to the different style of booths, the types of products available at the show were very different from those at other trade shows.  Usually we see a lot of computer components such as motherboards, video cards, chipsets, CPUs, etc., but things are all different at Computer 2001.  Instead, products shown here are geared more towards the local market.
For those who don't know, Hong Kong is a densely packed city with a population of around seven million.  Of course, space is at a premium, with the result being that many families cannot afford a large computer system, much less more than one system per household.  So it's no surprise that slim PCs were huge at Computer 2001 since they take up very little space and come in at a relatively low price.
Another result of this lack of space is the popularity of LCD monitors in Hong Kong.  For most families, owning a 17-inch or 19-inch CRT monitor at home is out of the question due to size constraints.  Clearly, LCD monitors become a much more feasible solution. As LCDs have gained popularity, that has allowed economies of scale to take over and lower prices, making them even more popular in a positive feedback cycle.
Yet another feasible solution for small households is to have a laptop system, something we also saw quite a bit of at the show.  They are also priced relatively lower than those in the US thanks in part to their popularity.
Neverthelesss, we still saw quite a few motherboards around at Computer 2001.  Although space is sometimes a factor, the "do it yourself" market in Hong Kong is still thriving.  For those who don't know, you can find virtually any product you want at the Golden Shopping Center in Sham Shui Po, Hong Kong.  Of course, that means quite a few people are still eager to learn about the latest developments in hardware components.
Unlike most other trade shows, you can actually purchase many of the products right off the show floor.  Of course, this is the result of the showing being driven by vendors, rather than manufacturers who do not sell things in small quantities.
We will divide our coverage into five parts: laptops, slim PCs, LCD monitors, and motherboards, with the last section devoted to other random and interesting things we came across during the show.